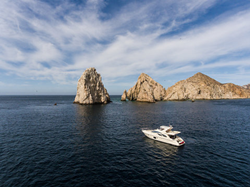 Glamping in Chichen Itza, Golden Spa Treatment, Serenade from 50 Mariachis, Chopper Over the Sea of Cortez & More Offered for an Unforgettable Milestone Birthday
PUERTO VALLARTA, Mexico (PRWEB) July 29, 2019
There are benefits to aging—especially at Velas Resorts, where October has been declared the month of "Cincuentañeros," or 50 year olds. The resort collection will help 50-year-old guests celebrate their first five decades with a variety of multi-day experiences, from exclusive amenities to one-of-a-kind services offered as packages.
"Cincuentañeros" are widely celebrated in Latin culture, considered a birthday milestone, where those turning 50 can opt for a days-long event held in their honor. The events mark the 50-year-old's health, wealth, and love, making 50 a reason to celebrate.
In October, guests at Velas Resorts turning 50 this year can enjoy the following Cincuentañeros package offerings:
At Grand Velas Riviera Maya, 50-year-old guests will arrive in the region via a private plane, then be whisked to the resort in a limousine. They'll stay in the 2793 sq. ft. Grand Class Presidential Suite, and be treated to daily massage and private butler service—plus exclusive experiences that include a helicopter to Chichen Itza for an overnight glamping experience in the archeologic area, gold body treatment, champagne bath, and private concert, among others.
Fifty-year-old guests of the Grand Velas Riviera Nayarit will be serenaded by 50—yes, 50!—mariachis at the Mexican-inspired and award-winning restaurant Frida. The band members will play in the nearby garden of the Half Moon Terrace, forming a visual "5" and "0" for the guests to enjoy from the restaurant.
Grand Velas Los Cabos will help guests arrive in style: like at the Grand Velas Riviera Maya, guests will take a private plane to the region, then take a limousine to the resort, where they will stay in the 5,768 sq. ft. Royal Suite. During their visit, 50-year-old guests will be treated to a full-body spa experience and a champagne bath and shower. Plus, guests will enjoy a scenic helicopter ride and a private yacht trip to the area's infamous "Arch," a distinctive rock formation that juts out into the Pacific Ocean, and Lovers Beach.
And at Casa Velas, 50-year-old guests will be delighted by a fireworks show that will illuminate the night sky as they indulge in a private dinner (complete with dessert, of course) in the resort's botanical garden.
Cost for the Cincuentañeros birthday celebrations range from $2,773 to $53,792 USD depending on the resort and experience inclusions. Minimum night stay required. All-inclusive rates include luxury suite accommodations, a la carte gourmet meals at a variety of specialty restaurants, premium branded beverages, 24-hour in-suite service, fitness center, taxes, gratuity and more. For reservations or more information, call 1-888-407-4869, email reservations(at)velasresorts.com or visit https://www.velasresorts.com.
About Velas Resorts:
Velas Resorts in Riviera Maya, Puerto Vallarta, Riviera Nayarit, and Los Cabos have earned 56 AAA Diamonds, including the prestigious Five Diamond Award. Other esteemed international awards for their services and facilities include Virtuoso's "Best Spa," Forbes' "Coolest All-Inclusives," Forbes' Four Star Award, and TripAdvisor's Hall of Fame, among others. Offering unparalleled all-inclusive experiences, properties include the AAA Five Diamond Grand Velas in Los Cabos, with dramatic ocean views and unique spaces infusing every area of the resort; AAA Five Diamond Grand Velas Riviera Nayarit, which enjoys a privileged natural setting with flowering, landscaped gardens beside a long stretch of pristine beach and a dramatic backdrop of the Sierra Madre mountains; and AAA Five Diamond Grand Velas Riviera Maya, located five minutes from Playa del Carmen, offering a sophisticated resort experience in the Caribbean with jungle and beach settings. In Puerto Vallarta, Casa Velas is a boutique adults-only hotel and ocean club located on the Marina Vallarta Golf Course, and Velas Vallarta, a family-friendly all suites resort and spa located on Banderas Bay. Mar del Cabo, a boutique hotel on Mexico's Baja Peninsula, opened on December 5th as its only European Plan offering. Eduardo Vela Ruiz, founder and president of Velas Resorts, operates Velas Resorts with brother Juan Vela, vice president of Velas Resorts, by his side. For reservations or more information, call 1-888-407-4869, email reservations(at)velasresorts.com or visit https://www.velasresorts.com.