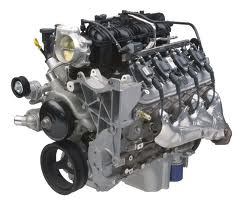 The used 5.3L V8 motors now featured in our GM components inventory are authentic builds removed from various SUVs and pickup trucks
Raleigh, NC (PRWEB) August 28, 2015
The popular Vortec engine platform manufactured at the General Motors company is now one product that will be available for purchase through the EnginesforSale.org website. The company buying team has acquired used Chevy 5.3L engines as part of its part upgrade. RPO codes and other data concerning these units can be explored at http://enginesforsale.org/chevy/used-chevy-5-3-engines.
The 5300 series V8 blocks that consumers will have the ability to purchase this year are in preowned condition and supplied through salvage partners. By including additional secondary distributors to the company network, the EFS company is able to increase the size of its small-block inventory of motors without raising the retail price.
"The used 5.3L V8 motors now featured in our GM components inventory are authentic builds removed from various SUVs and pickup trucks," said one source from the EnginesforSale.org website.
Since older blocks can be susceptible to different types of deterioration, an evaluation of wiring harnesses and other components has been conducted by the EFS suppliers. This new process to verify the condition of every used V8 engine in stock is expected to improve customer assurance prior to order placement.
"There are hundreds of resources available to purchase an OEM 5.3-liter motor, although not every company provides a warranty or service plan for consumers," the source added.
The Engines for Sale company has made adjustments to the stock numbers for its entire Vortec inventory that can be reviewed when using the automated system on the homepage. Consumers seeking immediate price data that includes shipping charges will be able to retrieve this information faster.
About EnginesforSale.org
The EnginesforSale.org company is now hoping to promote foreign and domestic vehicle motors that have been acquired from second hand companies for sale on its website. The EnginesforSale.org company has a brand new team of motor specialists who contribute to the support services offered daily on the company portal.