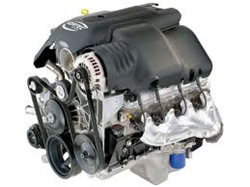 The 5.7 builds now in used condition have completed GM inventory enhancements that were started early in 2013
Sacramento, California (PRWEB) August 18, 2013
The Vortec engine platform in 4.3 size helped to start a new production schedule for General Motors after the 1985 year. The larger V8 motors currently in production are still in use for the majority of Chevy and GMC pickup trucks. The GotEngines.com company has now added the 5.7 liter engine series for Chevy trucks online at http://www.gotengines.com/blog/replacement-engines/truck-engines.
The arrival of this classic engine type is expected to fill a void currently on the secondary engines market. Obtaining authentic motors that have not been rebuilt or modified is one challenge buyers face when not purchasing new motors.
"Each used engines supplier that we use is checked prior to orders being placed to ensure higher quality units are obtained for our customers," said a spokesman for the Got Engines company.
The 5.7 series motor is the upgrade to the smaller 5.3 V8 used in the Silverado and Sierra truck brands. The larger editions have gained acceptance in the pickup truck community as a top engine platform for torque and horsepower.
"The 5.7 builds now in used condition have completed GM inventory enhancements that were started early in 2013," the spokesman added. Sale pricing and additional incentives are marketed by the Got Engines company on regular basis for its Chevrolet platform.
Recent changes to supply companies has resulted in a selection of different engine types available. Aside from the 5.7 builds, the GotEngines.com website is now featuring other hard to find GM units for sale online.
Both gasoline and diesel engines for pickup trucks are now part of the motors that are acquired and listed for consumer sale online.
About GotEngines.com
The GotEngines.com company is a trusted resource to find Chevrolet, Ford, Chrysler, Honda, Toyota, Isuzu and other automaker brands of used replacement engines online. This company opened up its website e-commerce system in 2007 and has remained a top secondary source buyers use in all 50 USA states to find replacement motors. The GotEngines.com company use the power of its buying staff to locate motors without the traditional high mileage marks or other defects that can be common when researching auction sellers.