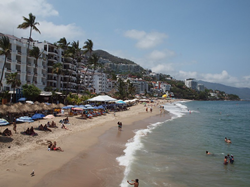 You can live close to the water or even have a view, enjoy the offerings of town—eating out, cultural activities like theater and concerts, sailing, snorkeling, and so on—and still spend much less than you would in the U.S. for a more ordinary retirement.
BALTIMORE (PRWEB) November 16, 2021
International Living recently curated a list of 75 towns and cities that are worth retirees' attention—all located in the good-value countries that make IL's Annual Global Retirement Index. From that list of noteworthy communities, the editors have highlighted five key beach towns—spots where retirees can live well for under $26,000 a year and enjoy all the comforts and perks of a beach-side retirement.
"Living in a beach town in the US—even the most affordable of them—is still relatively expensive, especially if you want to live within walking distance of the shore," says Jennifer Stevens, Executive Editor, International Living.
"By contrast, in these beach towns we've highlighted overseas, your dollars really stretch. And that means you can live close to the water or even have a view, enjoy the offerings of town—eating out, cultural activities like theater and concerts, sailing, snorkeling, and so on—and still spend much less than you would in the US for a more ordinary retirement."
The five beach towns identified come with a price tag to suit all budgets—from as little as $1,400 a month—and are in Europe, Latin America, and South America:
Salinas is a fully-fledged beach resort—among Ecuadorians, it's probably the country's best-known beach vacation spot. This is the place for those who like having all the necessary amenities at their doorsteps: modern condominium buildings (which line much of Salinas's miles-long beach), restaurants, coffee shops, and bars.
The beach here is wide, sandy, and clean, bordered by the blue, calm Pacific waters. To the left, the sun is gleaming off a few dozen motor yachts and sailboats parked in the marina. To the right, the curving shoreline stretches for miles into the distance, with scores of modern, tall buildings mixed with old-fashioned apartments and seaside restaurants.
For folks looking for an upscale beach lifestyle at an affordable price, then Salinas might be the perfect destination.
A monthly budget for a couple living in Salinas runs at $1,405, or $16,860 a year.
Located on Colombia's Caribbean Coast in the department of Magdalena, Santa Marta is quickly becoming a sought-after destination. With an average daytime high of 90 F and an evening low of 75 F, the warm, tropical climate is a magnet for those wanting an outdoor, ocean-focused lifestyle. The greater Santa Marta area offers history, beautiful white-sand beaches, water activities, ecotourism, trendy restaurants, and a growing nightlife.
Restaurants, bars, coffee shops, and bakeries surround the plaza. The sounds of salsa, vallenato, and classic rock all blend together and make it difficult to keep your feet still. From Thursday to Saturday night the park is a mecca for those wanting to sample the eclectic cuisine, watch street performers, or purchase crafts from street vendors.
Depending on the lifestyle folks choose, a couple can live well in Santa Marta on a monthly budget of $1,190 to $1,790, or $14,280 to $21,480 a year.
Puerto Vallarta has been an expat haven for over 70 years. During its early years, the city's main business was exporting agricultural products grown in the rich farmlands of the state of Jalisco and the surrounding area. Today Puerto Vallarta has become one of Mexico's biggest tourist destinations, a city that draws property shoppers, fun-seekers, and investors.
Puerto Vallarta has a vibrant culture that will stimulate your senses. You can hear and smell the food sizzling from local food vendors, feel the smooth texture of the multicolored bead arrangements sold by the Huichol people from the western Sierra Madres and see the 11 majestic sculptures from all across the world poised on a mile-and-a-half stretch along the malecón. The bronzed sculptures, contrasting with the soft powder blue of the ocean, are a must-see for art lovers.
Here, a couple can enjoy life by the coast on a monthly budget of $2,049 or $24,588 a year.
Lagos is a popular coastal town in southern Portugal's Algarve region. It is located on the Bensafrim River and offers not only some fine beaches (especially Praia Dona Ana, voted the second most beautiful beach in Portugal) and watersports, but also a yacht-dotted marina and a host of restaurants and bars supporting an active night scene. Everything from quintessential fast-food to gourmet is represented along the "marginal," the name given to the road/walkway along a coastal area. There is ample shopping and even a few stores specializing in imported foods.
The center of the marina area features a merry-go-round for the kids and cafés, bars, and an Irish pub or two for the adults. A diverse collection of eclectic shops mixes well with the obligatory beach fare. In short, it is a sweet combination of ordinary residential living and resort offerings.
On a monthly budget of $2,080 or $24,960 a year, a couple can live a good life, here.
If folks are torn between the idea of a country life and a beach life, then a region of Uruguay known as Rocha might just be for them. It's a mostly rural area with pristine Atlantic beaches.
Rocha is a department (like a state or province) that stretches more than 100 miles along Uruguay's Atlantic coast. It's an area where you'll find lush pastures dotted with palm trees, pine forests, lagoons, and areas of green hills with granite outcroppings. Rocha's coastline of long sand beaches is punctuated with bays, areas of dunes, rocky points, and small towns.
The most popular area for retirees in Rocha is in and near the coastal town of La Paloma.
La Paloma's Centro is on the Cape of Santa Maria. The main street is lined with restaurants, a few hotels, low-rise condos, markets, a casino, and many shops. At the end of the cape, you'll find a large bay, a lighthouse, and a commercial boat harbor. On each side of the cape, there are residential beach neighborhoods. You also find private communities and small farms near La Paloma.
A couple can live well here on a monthly budget of $2,165, or $25,980 a year.
More information on 75 of the best towns and cities for retirement around the world in 2021 can be found, here: The World's Best Towns and Cities for a Low-Cost Retirement.
Editor's Note: Members of the media have permission to republish the article linked above once credit is given to Internationalliving.com
Further information, as well as interviews with expert authors for radio, TV or print, is available on request. Photos are also available.
For information about InternationalLiving.com content republishing, source material or to book an interview with one of our experts, contact PR Managing Editor, Marita Kelly, +001 667 312 3532, mkelly@internationalliving.com
Instagram: https://www.instagram.com/internationalliving/
Twitter: @inliving
Facebook: https://www.facebook.com/International.Living/
About International Living
Since 1979, InternationalLiving.com has been the leading authority for anyone looking for global retirement or relocation opportunities. Through its monthly magazine and related e-letters, extensive website, podcasts, online bookstore, and events held around the world, InternationalLiving.com provides information and services to help its readers live better, travel farther, have more fun, save more money, and find better business opportunities when they expand their world beyond their own shores. InternationalLiving.com has more than 200 contributors traveling the globe, investigating the best opportunities for travel, retirement, real estate, and investment.