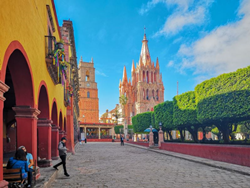 I would like other Black Americans and people of color to know there are places in the world that will treat you fairly.
BALTIMORE (PRWEB) October 22, 2020
"For more than forty years, we at International Living have been pointing people to beautiful, safe, welcoming, good-value countries where the cost of living is a fraction of what it is in the U.S," says Jennifer Stevens, executive editor at International Living.
"Of course, everybody brings their own experiences and motivations to the question of whether—and where—they should move. For Black Americans, not surprisingly, one of the most critical considerations is how they will be treated as a person of color in another country."
Stevens says that the IL editors set out in this new report to gather a collection of stories from Black expat retirees living in a variety of places, asking them to share their own experiences of life abroad today—exploring what took them overseas to begin with and how their lives have been changed by the move.
"Like most happy expats retired abroad—Black, white, or otherwise—they report that the slower pace of life, the friendly locals, the lower costs, and the adventure of living in a new place make day-to-day life more pleasant and engaging than it was at home. In addition, they say that they feel welcome and accepted in their new countries—often more so than they did growing up in the U.S.. And they encourage others to explore their own retire-overseas options outside of the States."
In the report, five Black expats share their experiences of life as transplants in Mexico, Costa Rica, Panama, and as roving retirees traveling slowly through many countries.
Laidback Life in San Miguel de Allende, Mexico
Michelle Wedderburn and her husband, Daryl, moved to San Miguel de Allende, Mexico in 2017.
"The culture in Mexico is very family-orientated and Mexicans take time to socialize," Wedderburn says. "They appreciate the importance of family and friends, taking great care in making bonds and building relationships. Living in Mexico has made me feel more human and less categorized. We have been made feel welcome in this country and I feel more accepted than I did growing up as a person of color in the U.S. In just a few short years, we have made great friends with people in Mexico, both locals and fellow expats. There is a real warmth and kindness in our day-to-day encounters.
"That is the reason I started AfroExpats.com and my YouTube channel. I wanted to promote our positive experiences since moving abroad. I would like other Black Americans and people of color to know there are places in the world that will treat you fairly. I am grateful that I'm able to be here and enjoy our new life in San Miguel de Allende."
Easy Living in Diverse Panama
Fred Fleet echoes these sentiments and describes how he and his wife have settled well into their new live in Panama since retiring there in 2005.
"Over the years of living in Panama, I understand that I look Panamanian and the expectation is for me to speak Spanish," Fleet says. "Because of my dark skin, I could reside from anywhere in Panama. However, I also learned to start speaking Spanish and discovered afterward there is no confusion about me being Panamanian. It completely dissolves once they hear my accent.
"During a routine stop by the local police, before he asked for my license, I said Buenos dias (Good Morning). The officer smiled at me and then said, "Good Morning" in English. He knew I was not Panamanian and all it took was for me to try to communicate in Spanish.
"Racism due to skin color is rare in Panama. In the U.S. in the early 1980s while shopping in Los Angeles gift stores the owner followed me around the stores to ensure that I wasn't stealing anything. When I emerged with books of classical music and purchased the items the owner still followed me out of the store. This incident has never happened to me in Panama."
An Eye-Opening Roving Retirement
"As a Black, gay, expat man involved in an interracial relationship, I've honed my ability to adjust and navigate discrimination," says Damon Morris, who is enjoying a roving retirement with his partner, Todd.
"I have to admit that coming from California, I was strongly concerned about how I was going to be embraced and received in other countries. Coming from the racist climate of the U.S., in the first two countries we explored, I had my partner Todd make the Airbnb reservations. I thought at the time this was the best way to handle the situation. But after a while, I began to realize that I didn't have to look over my shoulder with concern anymore, or while walking past an armed police officer. They were acknowledging me with a smile—and this was a unique, but pleasant change for me.
"Eventually, I made a conscious decision to start making most of the Airbnb reservations with my own profile to see if I would experience some form of discrimination. I'm pleased to share that I have not been denied services from restaurants, or any other establishment like car rentals, hotels, tour companies, even in certain regions of the world where some might not have considered it safe.
"Within my family and circle of friends, the one question that arises most often is: Have I experienced discrimination in other countries? My normal response to them is 'no,' however, I also tell people that I'm considered just an American, and not a Black American.
"I want to be clear I'm not looking at life overseas through rose-colored glasses," Morris continues. "I'm sure there are people who have been discriminated against. However, I have had conversations with other Black Americans abroad, and my positive experiences seem to reflect the general consensus among those expats I've spoken with as well.
"The takeaway I would want Black Americans—and any other people that have not had the opportunity to travel—is: Get out there and try it. Traveling has changed my life—and my perspective on the world—forever. It has shown me that people all over are more alike than we realize. In my view, it's never too late to travel, and it's always rewarding to seek out those many similarities among people."
The full report, including two more stories from expats in Costa Rica, can be found, here: 5 Black American Expats Share Their Experiences Living Overseas
Editor's Note: Members of the media have permission to republish the article linked above once credit is given to Internationalliving.com
Further information, as well as interviews with expert authors for radio, TV or print, is available on request. Photos are also available.
For information about InternationalLiving.com content republishing, source material or to book an interview with one of our experts, contact PR Managing Editor, Marita Kelly, +001 667 312 3532, mkelly@internationalliving.com
Instagram: https://www.instagram.com/internationalliving/
Twitter: @inliving — https://twitter.com/inliving?lang=en
Facebook: https://www.facebook.com/International.Living/
About International Living
Since 1979, InternationalLiving.com has been the leading authority for anyone looking for global retirement or relocation opportunities. Through its monthly magazine and related e-letters, extensive website, podcasts, online bookstore, and events held around the world, InternationalLiving.com provides information and services to help its readers live better, travel farther, have more fun, save more money, and find better business opportunities when they expand their world beyond their own shores. InternationalLiving.com has more than 200 contributors traveling the globe, investigating the best opportunities for travel, retirement, real estate, and investment.