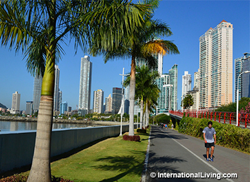 "An urban retirement holds increasing appeal for Baby Boomers"
BALTIMORE (PRWEB) September 11, 2018
"An urban retirement holds increasing appeal for Baby Boomers keen on the idea of staying active and aging in place. In big cities like Washington D.C., retirees can easily access theater, dance, museums, restaurants, doctors, and grocery stores without getting in a car," says Jennifer Stevens, Executive Editor of International Living. "But all that comes with a high price tag—especially for living and housing costs. The median household income in D.C. is $72,935, but experts say you need more like $90,811 to live there comfortably as a working person.
"As a retiree, if you figure 70% of that working income would suffice, that equates to $63,567.70 a year, or $5,297.30 per month, for a couple to retire comfortably in our nation's capital.
"But retirees can gain all the same benefits of a cosmopolitan, urban lifestyle in the best-value capital cities overseas—for a small fraction of that price tag."
The International Living report lists five capital cities in Europe, Latin America, and Southeast Asia where a retired couple can live well on less than $37,000 a year.
Panama City, Panama
Panama offers a very comfortable retirement solution, in part because the nation is much more developed than most visitors expect. Many are surprised by the modernity of Panama and the clusters of skyscrapers that define Panama City's skyline—all of the amenities one could wish for are readily available.
Cosmopolitan Panama City is a true First World city in Central America. High-speed Internet and cell coverage are commonplace and the quality of air, water, and power is excellent.
Panama uses the U.S. dollar as its currency, making it especially convenient for expats from the States. There are also many English speakers in Panama, especially among the well-trained medical community. Tocumen International Airport is a regional hub and makes it easy to fly from Panama to nearly anywhere in the world, often with no layovers.
Panama City has a remarkable number of restaurants, park areas, water fronts, and a UNESCO World Heritage historic district. A couple can live a comfortable retirement, in a rented two-bedroom apartment in a central area, for $21,180 a year (which comes to $1,765 a month). Opting for more luxurious digs, a budget of $34,680 a year ($2,890 a month) would bankroll a lifestyle lacking nothing.
Phnom Penh, Cambodia.
Once famed as the "Pearl of Asia," the Cambodian capital, Phnom Penh, has lots to offer expats—a stunningly low cost of living, bustling markets, and a thriving food scene, set to a backdrop of colonial French architecture and temples.
Attracted by its beauty, the warm and welcoming nature of its people, and its supreme affordability, retirees living in Phnom Penh can afford indulgences out of reach at home, including staff like a house keeper or gardener.
For golfers, it's a wonderful place to have fun without breaking the bank. Not only is the weather great for a round of golf throughout the year, but the idyllic settings and lower prices make it a hole in one for keen golfers on the interesting and ambitiously designed courses.
A retired couple could enjoy a good life here on $1,838 a month, or just $22,050 a year.
Hanoi, Vietnam.
Hanoi, Vietnam's capital city, is known for its French colonial architecture and rich culture with Southeast Asian, Chinese, and French influences. A beautiful place of parks and lakes, Hanoi has maintained its traditional charm while becoming a vibrant, modern city.
It's a delightfully livable city—for every glitzy mall, there's an incense-filled temple nearby and cultural influences of the past are still part of the modern-day fabric, from revered Confucian monuments to trendy French restaurants. For lovers of the four seasons, Hanoi's hot summers, chilly winters, and near-perfect spring and fall weather are an added benefit.
This burgeoning, bustling city is the political hub of the country, as well as the cultural and historical center.
Hanoi has one of the lowest costs of living of any major city in Southeast Asia. A couple can live a comfortable lifestyle in Hanoi on a budget of $905 per month—$10,860 a year.
Lisbon, Portugal.
Portugal, the westernmost country on mainland Europe's Iberian Peninsula, is a rising star on the European retirement map. Its capital, Lisbon—home to half a million people—is a gracious city, a place where you can enjoy a European lifestyle with history, romance, astonishing hospitality, and a seaside location to boot.
In this Old World haven, cable cars clatter over hilly, cobblestoned streets sweeping down to a sheltered bay. Lisbon's climate is mild, even in the depths of an often-rainy winter, average lows are barely below 50 F, while summers are gloriously sunny and generally in the 70s F.
With all the amenities of a capital at hand—museums and performance spaces, restaurants and nightlife, an international airport—Lisbon is also one of the most affordable capitals in Western Europe. A couple could live well here for $3,065 a month—$36,780 a year—or on considerably less a little outside of the beautiful city center.
Quito, Ecuador.
Located high in the Andes mountains at 9,350 feet, Quito is one of the highest capital cities in the world. It is also one of the most dramatically situated, hemmed in by encircling peaks and volcanoes.
Today's Quito is a world-class metropolis with happy surprises tucked into many corners—like an international airport that's just a few years old. It's also a nature lover's delight with easy access to waterfalls, beaches, the Amazon jungle, and mountains just a few hours away.
The core of Ecuador's capital is a UNESCO World Heritage Site packed with historical testaments to its rich colonial past. Narrow cobbled streets open into huge plazas dominated by domed churches and palatial buildings.
From museums to architecture, and art to theater, it has everything you would expect to find in any big city. And the cost of living in Quito is just a fraction of what it costs to live in North America. A monthly budget for a couple in Quito would run from $1,650 to $1,825—a yearly total of $19,800 to $21,900.
The full report can be found here: 5 Capital Cities Where a Couple Can Retire on Less Than $37,000 a Year
Editor's Note: Members of the media have permission to republish the article linked above once credit is given to Internationalliving.com
Further information, as well as interviews with expert authors for radio, TV or print, is available on request. Photos are also available.
For information about InternationalLiving.com content republishing, source material or to book an interview with one of our experts, contact PR Managing Editor, Marita Kelly, +001 667 312 3532, mkelly@internationalliving.com
Twitter: @inliving
Facebook: https://www.facebook.com/International.Living/
About International Living
Since 1979, Internationaliving.com has been the leading authority for anyone looking for global retirement or relocation opportunities. Through its monthly magazine and related e-letters, extensive website, podcasts, online bookstore, and events held around the world, InternationalLiving.com provides information and services to help its readers live better, travel farther, have more fun, save more money, and find better business opportunities when they expand their world beyond their own shores. InternationalLiving.com has more than 200 correspondents traveling the globe, investigating the best opportunities for travel, retirement, real estate, and investment.