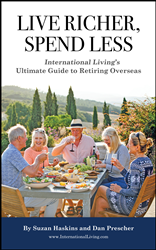 BALTIMORE (PRWEB) October 17, 2019
"Moving abroad is a big decision," says Dan Prescher, co-author of Live Richer, Spend Less: International Living's Ultimate Guide to Retiring Overseas and senior editor at International Living. "For all the potential personal and financial benefits, it's still a move to a foreign country and culture. There will be challenges. Fortunately, they're rarely unsurmountable.
"We weren't prepared, for instance, for something often referred to as the 'mañana syndrome' we encountered when we first landed in Quito in 2001. It's the idea that there are far more important things than mundane daily tasks—that life is too short to rush through. As years have gone by, this is a philosophy we've come to embrace. We can't imagine returning to the harried workaholic lifestyle that's far too common in the U.S."
So what are the most common challenges expats face? The new book Live Richer, Spend Less: International Living's Ultimate Guide to Retiring Overseas explores five areas…

Missing Your Friends and Family
If you have close family and friend relationships, you should definitely think about how a separation from them might affect you. This is probably the top reason some people return home after trying out life overseas.
"It's why we ourselves are spending more time in the States these days…to be close to our young granddaughter," says Prescher. "She wasn't part of the equation when we first moved abroad, but she's a big stakeholder now. It's why we relocated from Ecuador to Mexico. From Mexico, it's easier and more affordable for us to go back to the States for visits and for our family to visit us.
"If being close to family is critically important to you, think seriously about how the decision to live overseas will affect you. You might want to do a 'trial run' or consider living abroad just part of the year instead of full-time."
Moving Out of Your Comfort Zone: Overcoming Culture Shock
"It's the 'devil we know.' That's the reason friends of ours give for aging in place, even though they complain bitterly about the cold, the cost of living, and the erosion of civilities in the city where they now live," says Prescher.
"To that we say, 'who wants to live with the devil?' But the truth is, some people will never leave their comfort zone, no matter how unfulfilling it is."
The fear of the unknown is another reason some people never bust a move in any direction. The best thing potential expats can do to combat this fear is research, research, research.
What About the Language Issue?
There are plenty of places to choose from where English is the national language— Belize or Ireland— or where English is commonly spoken like in Malaysia, or even in certain places in Mexico with large expat communities.
"Or choose to live among your fellow expats who only speak English and never interact with the locals," advises Prescher. "You'll get by just fine, but what fun would that be? In order to have the best possible experiences and make yourself as comfortable as possible in your new living situation, you really need to speak at least a bit of the local language."
Are You Healthy Enough (Both Physically and Financially) to Move Overseas?
"If you have chronic health issues or serious mobility issues, moving to a foreign country may not be the best decision," says Prescher. "You need to do an overabundance of research and we'd strongly recommend discussing your personal situation with local healthcare providers in the community you're considering.
"In the most popular overseas retirement destinations, you'll find the quality of healthcare offerings to be excellent. But it may not be the same treatment protocol as you're used to. Do an overabundance of research about doctors and hospitals, treatments and facilities, prescriptions, and more, including emergency services."
The same goes for financial—examine the costs of moving to your new locations… and keep in mind repatriation costs should you decide to move back home. With very few exceptions, expats can continue to receive your Social Security benefits from overseas. But remember, Medicare and Medicaid can't be used outside the U.S.
Are You and Your Partner on the Same Page?
If the overseas move includes a spouse or partner, the book advises that both parties are on the same page—be sure to discuss motivations, expectations, and have some sort of fall-back "Plan B" you both agree on.
"There have been other challenges along the way," says Prescher. "But we would have had challenges if we'd stayed at home in Nebraska, too. That's life, after all. You stay in the game by playing the hand you're dealt."
More information on Live Richer, Spend Less—International Living's Ultimate Guide to Retiring Overseas and how to get it, can be found: Live Richer, Spend Less – International Living's Guide to Retiring Overseas
Editor's Note: Members of the media have permission to republish the article linked above once credit is given to Internationalliving.com
Further information, as well as interviews with expert authors for radio, TV or print, is available on request. Photos are also available.
For information about InternationalLiving.com content republishing, source material or to book an interview with one of our experts, contact PR Managing Editor, Marita Kelly, +001 667 312 3532, mkelly@internationalliving.com
Twitter: @inliving
Facebook: https://www.facebook.com/International.Living/
About International Living
Since 1979, Internationaliving.com has been the leading authority for anyone looking for global retirement or relocation opportunities. Through its monthly magazine and related e-letters, extensive website, podcasts, online bookstore, and events held around the world, InternationalLiving.com provides information and services to help its readers live better, travel farther, have more fun, save more money, and find better business opportunities when they expand their world beyond their own shores. InternationalLiving.com has more than 200 correspondents traveling the globe, investigating the best opportunities for travel, retirement, real estate, and investment.