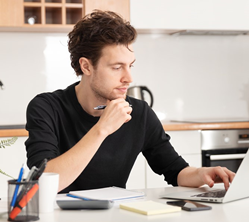 After several weeks of lockdown with its necessary work-from-home (WFH) conditions, we've all adapted fairly well to the WFH basics, Now is the time to check and improve the security of our business data.
HOBOKEN, N.J. (PRWEB) April 30, 2020
Messaging Architects, an eMazzanti Technologies Company and data governance consultant, presents five file sharing best practices to help work from home (WFH) employees protect business data in a new article on the Messaging Architects website.
The informative article urges readers to establish a security-first mindset and use business-grade file sharing solutions. The author continues with recommendations to configure file sharing solutions properly and invest in mobile device management.
"After several weeks of lockdown with its necessary work-from-home (WFH) conditions, we've all adapted fairly well to the WFH basics," stated Greg Smith, Vice President of Services Delivery at Messaging Architects. "Now is the time to check and improve the security of our business data."
Below are a few excerpts from the article, "5 File Sharing Best Practices to Protect Business Data at Home."
1. Establish a Security-first Mindset
"With COVID-19 WFH policies, end users regularly conduct business via home computer, laptop or mobile device. As a result, the network perimeter has largely disappeared. Thus, an organization's WFH security posture would be much improved with a security-conscious staff. Everyone should be mindful of information security and operate with sensible, due diligence."
2. Use Business-Grade File Sharing Solutions
"Businesses most frequently use email to communicate, collaborate and share documents, images and files. However, constraints in common email services such as file size limits often force users to find other solutions to share information."
"Frequently they opt for consumer-grade file sharing solutions to circumvent the limitations. However, these consumer services fall short when it comes to protecting business data. Compliance and eDiscovery issues as well as loss of sensitive data are the inevitable result."
Prepare remote employees to work securely
Small and mid-size business leaders need professional cyber security and guidance to keep employees working remotely productive and secure. Click for a summary of remote work services provided by eMazzanti technologies.
Get help with remote set up
Reach out to eMazzanti Technologies for a NO CHARGE- 20-minute consultation that will answer any questions regarding remote, work-from-home setup.
Call eMazzanti 844-360-4400 or Email info@emazzanti.net
Business leaders look to Messaging Architects for information governance best practices, Office 365 migration, strengthened WFH security, and cyber defense measures to protect against COVID-19 email threats. From eDiscovery to cloud security and more, Messaging Architects has the tools and expertise to get them through.
Have you read?
5 ways to Protect Your Business from COVID-19 Phishing SCAMS
Harness the Benefits of Cloud Computing for Remote Work
About Messaging Architects
Messaging Architects specializes in effectively managing and securing an organization's most precious asset, its information. With over 20 years of information management and technology consulting experience, the Messaging Architects team has provided corporations, educational intuitions, health care facilities and nonprofits with methodologies, procedures and technology to keep their data organized, compliant and secure.
About eMazzanti Technologies
eMazzanti's team of trained, certified IT experts rapidly deliver increased revenue growth, data security and productivity for clients ranging from law firms to high-end global retailers, expertly providing advanced retail and payment technology, digital marketing services, cloud and mobile solutions, multi-site implementations, 24×7 outsourced network management, remote monitoring and support.
eMazzanti has made the Inc. 5000 list eight consecutive years, is a 4X Microsoft Partner of the Year, the #1 ranked NYC area MSP, NJ Business of the Year and 5X WatchGuard Partner of the Year! Contact: 1-866-362-9926, info@emazzanti.net or http://www.emazzanti.net Twitter: @emazzanti Facebook: Facebook.com/emazzantitechnologies.