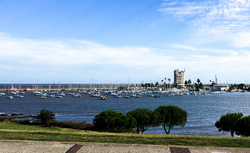 "You might think the culture and convenience we enjoy here comes at a premium. But not so."
BALTIMORE (PRWEB) October 09, 2018
"Living in a beach town and enjoying the sun and sand—that can go hand-in-hand with the benefits of sophisticated big-city living. Look at Miami or at Los Angeles, for instance. But those U.S. cities are expensive," says Jennifer Stevens, Executive Editor, International Living.
"By contrast, retirees can enjoy all the benefits of fine-dining, theater, and art in abundance in five great-value coastal cities we've identified abroad. All of them offer high-quality, sophisticated living at a relatively low price. And you can go to the beach, too."
Our top picks for high-culture, low-cost beach towns for retirement span the globe, from Mexico and France to Uruguay, Spain, and Malaysia.
Puerto Vallarta, Mexico
Set on Mexico's central Pacific coast, Puerto Vallarta is a world-class and world-famous vacation destination, attracting travelers from around the world, as well as a large contingent of retirees.
Rich in cultural history, the town is dotted with museums and theaters. The heart of Puerto Vallarta is the Zona Romantica, also known as Old Town. It's a pedestrian-friendly zone of narrow streets and historic buildings mixed in with modern construction. Here you can find shops, bakeries, cafes, restaurants, condo buildings, and more within a stone's throw of the water. The outskirts of the town are slickly modern, featuring large shopping malls, marinas, and spacious housing developments.
With excellent medical care, and a large international airport offering plenty of direct flights from multiple cities in Canada and the U.S., the bustling seaside town is on top of many retirees' lists.
Despite its popularity as a tourist destination, Puerto Vallarta offers an affordable cost of living compared to most cities in the U.S. or Canada. A typical retired couple should budget under $3,000 for a month's expenses—all in.
However, expats like Bobby Blanchard and Nan Lippard find they can live on much less.
"We sold everything and came down on the bus with two suitcases," says Nan, 56. "There's a 'humanness' that is still here that is missing from the U.S. It's like a dream. You feel renewed when you get down here."
They rent a one-bedroom condo for $472 a month, which includes maid service and bottled water. There are also two swimming pools in their community.
"We're proof you can live in Mexico for $1,000 a month for two people, including rent, food, utilities, gas for the car…although there's not a lot for extras," says Bobby, 57. "The thing I like best is that we don't have to worry about a house or car payment. We're debt-free. If it costs you your peace, it's too expensive. There's a huge freedom in not having debt. If we want, we can get the suite when we go on a cruise."
Toulon, France
The city of Toulon, on France's Mediterranean coast, oozes Côte d'Azur class. Unlike its more expensive neighbors along the coast—Saint Tropez, Cannes, Bandol, and Cassis—tourism is one of Toulon's secondary industries, so the city stays "open for business" all year long.
Toulon is made of South of France romance—whether savoring local cuisine by the sea, or strolling cobbled streets at dusk, this is a place that always seduces the senses.
The center of town is abuzz with café-goers, and diners enjoy lunchtime under the famous French Riviera sunshine. The city has a thriving arts scene with many concerts and festivals held along the beach.
"Eight years ago, my husband, Nicolas and I, made our home in Toulon," says Tuula Rampont. "I immediately fell in love with the place. The Mediterranean lifestyle has to be one of the best in the world.
"Given the slower pace of life in France, and the preference given to leisure time over work, my life in Provence feels much less stressful than when I lived in the U.S.
"We live with the seasons, eat what's fresh and readily available, and have plenty of time for leisure. And since Toulon sits directly on the sea, this means lazy afternoons at the beach, long port-side lunches, and weekend trips to any one of the charming Provençal towns that line the coast."
Despite living so near to the Mediterranean, it doesn't come with a hefty price tag.
"I could easily afford to rent a comfortable one-bedroom for $650 in the center of Toulon," she says. "And if you increase your budget a bit—or rent as a couple—things get really interesting. When we first arrived, we rented a two-bedroom apartment, with a sea view, and just a two-minute walk from the beach for $1,090."
Barcelona, Spain.
Barcelona, Spain's second city, is an organized, efficient, friendly, and receptive city that spills over with music, theater, and nightlife. It's a city alive with history and art with countless museums and concert events.
Spanish architect, Antoni Gaudí i Cornet, is the best-known practitioner of Catalan Modernism. Most of Gaudí's works are located in Barcelona, including his main work, the church of the Sagrada Família.
Despite being home to more than 1.6 million people, Barcelona has a walkable center, and it's easy to get almost anywhere by foot or public transport—many residents choose to live car-free.
Barcelona is on about the same latitude as New York City and Chicago but enjoys a much milder climate, thanks to the Mediterranean. In January, the coldest month, temperatures range from 54 F to 61 F during the day.
Another great part of Barcelona's appeal is its convenience. El Prat airport has numerous direct flights to the U.S., Canada, Latin America, and, of course, to many European cities—making it a great base for exploring. And, this city can be much more affordable than retirees might expect.
"When my husband Kurt and I step out the door of our 1882 modernista (Catalan art nouveau) building, we enter a grand world of art and green space blessed by a warm, Mediterranean climate and surrounded by incredible landscapes, from beaches to mountains," says Linda Fernandez.
"You might think the culture and convenience we enjoy here comes at a premium. But not so. We consider our living expenses to be minimal. Since we own our own apartment, our regularly occurring expenses—minus groceries and entertainment—average about $860 a month.
"Back in Texas, we were used to property taxes consuming a huge portion of our monthly paycheck; in Barcelona, property taxes are minuscule, averaging around $66 a month."
Montevideo, Uruguay
Most expats are attracted to Uruguay for its tranquilo (calm) lifestyle—a healthy, stress-free approach to living. And in the capital, Montevideo, it's evident almost everywhere. This is a place where the traditional and the modern weave together.
Montevideo is a coastal city on the Rio de la Plata, with a population of 1.4 million. It is one of the most diverse and sophisticated cities in South America. From its Old World theaters and opera houses, to its jazz festivals and exquisite restaurants, Montevideo looks and feels like modern Europe.
The city has many large parks, plazas, tree-lined streets, sandy beaches, and wide avenues. The "rambla"—the promenade that runs the full length of Montevideo's seven-mile coastline—provides a long-paved strip ideal for walking, running, and bicycling.
Montevideo has a prosperous economy, but people still take time for one another. It has gleaming new shopping malls, but it is also teeming with small family-owned shops. It's a balanced environment.
Two people can live in Montevideo on $3,200 a month, renting a one-bedroom, furnished apartment in Pocitos, the most popular expat neighborhood in the city.
George Town, Penang, Malaysia
Penang, a small tropical island off the west coast of peninsular Malaysia, is a remarkable place. No bigger than Manhattan, it's a spot that has it all—arts and culture, history and nature, beach and jungle.
A former outpost of the British empire, Penang's English-speaking populace makes it easy for North American retirees to fit in. Not only are people friendly and helpful but expats can comfortably speak to them in English.
Chinese, Indian, Malay, and other influences over the centuries have contributed to Penang's vibrant architecture and delectable cuisine. As a result, most people are bi-lingual or poly-lingual. It also means tolerance and "live and let live" is the default attitude.
Known as a foodie haven, Penang's largest city, George Town, is home to eclectic architecture, a vibrant art scene, and what many claim is the best street food in the world.
The city offers luxurious living at bargain prices—making it possible to "trade up." Since moving to Penang from Portland, Oregon, Ed and Sally Wilkerson enjoy a 1,300-square-foot apartment with sea and harbor views, and a balcony that can easily hold 30 people.
"We entertain quite a bit," Sally says. "This balcony and the apartment are made for entertaining, and we love having friends over. We get quite a few visitors from the States, and although people thought we were crazy when we left, they don't when they visit."
Their apartment comes with 24-hour security, a rooftop swimming pool, a state-of-the-art gym, and tennis courts. All for $1,000 a month.
On a budget of between $1,500 and $2,500 a month, a couple could live well here, everything included.
The International Living report can be found, here: 5 High Culture Overseas Beach Towns
Editor's Note: Members of the media have permission to republish the article linked above once credit is given to Internationalliving.com
Further information, as well as interviews with expert authors for radio, TV or print, is available on request. Photos are also available.
For information about InternationalLiving.com content republishing, source material or to book an interview with one of our experts, contact PR Managing Editor, Marita Kelly, +001 667 312 3532, mkelly@internationalliving.com
Twitter: @inliving
Facebook: https://www.facebook.com/International.Living/
About International Living
For 37 years, InternationalLiving.com has been the leading authority for anyone looking for global retirement or relocation opportunities. Through its monthly magazine and related e-letters, extensive website, podcasts, online bookstore, and events held around the world, InternationalLiving.com provides information and services to help its readers live better, travel farther, have more fun, save more money, and find better business opportunities when they expand their world beyond their own shores. InternationalLiving.com has more than 200 correspondents traveling the globe, investigating the best opportunities for travel, retirement, real estate, and investment.