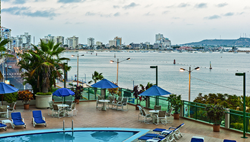 "I have had a chef prepare five gourmet meals per week. He does the shopping for the ingredients, comes to my home to cook the meals, and cleans up afterwards. All this for about $50 per week,"
BALTIMORE (PRWEB) December 11, 2018
"In the right places abroad, retirees can automatically upgrade their retirement to one of pure luxury—and enjoy the perks of a swank lifestyle for far less than a comparable retirement back home would cost," says Jennifer Stevens, Executive Editor of International Living.
"I'm talking high-end living. Only that eye-popping, $10,000-a-month penthouse might rent for just $2,000. The five destinations detailed in our report are all places where dollars really stretch and there are plenty of luxurious offerings to spend those spare greenbacks on.
"Think about it this way: At home, even among those who've saved well, relatively few have enough socked away to afford a housekeeper to clean their spacious, ocean-view apartment equipped with personal jacuzzi and private gym. Only a small percentage of the population is splurging on perks like an annual membership at an exclusive spa resort. But in the right spots overseas, those are precisely the sorts of luxuries retirees can afford on a modest nest egg."
The International Living report explores the ins and outs of luxury living for less today in Panama, Thailand, Ecuador, Colombia, and Malaysia.
An increasing number of expats are calling Thailand home, lured by the first-class healthcare, great food, low cost of living, and rich culture. Chiang Mai, the country's second-largest city, is well known as being one of the top places for retirees and digital nomads to settle—a place to upgrade their lifestyle.
"The chance to live an opulent, resort lifestyle is at your fingertips," says Rachel Devlin, IL's Chiang Mai correspondent. "You'll find the top resorts offering gym memberships to local expats—they're a bargain. For just over $500 a year, you can have a membership to the Rati Lanna Resort & Spa.
Getting fit and healthy has never been so easy and so competitively priced—not to mention the heavenly salt-water infinity pool overlooking the river, just waiting for you to cool off in after your workout. A further 10% discount on meals means that you can dine under a traditional Thai pagoda, while water features splash and golden fish swim in the surrounding water gardens.
"One of the great joys of retirement is the freedom it brings to indulge your passions—like golf. And here, you can do just that for a fraction of the cost of back home.
"In Chiang Mai, you can play in the footsteps of royalty at the Gymkhana Golf Club," says Rachel.
"Established in 1898, this club has been visited by kings and queens, consuls, and even the novelist William Somerset Maugham. For under $5, a nine-hole game may be just what you need; and all within view of an ancient and famous Yang Na tree that has been ordained as holy."
Southeast Asia is justifiably famous for great street food but what's less well known is that luxury dining options in the region are becoming more and more inviting, too. "Chiang Mai is now rivalling Bangkok for elite dining experiences," Rachel says. "Just recently, the Shangri-La Hotel has been hiring Michelin-ranked chefs to offer divine culinary meals at very affordable prices. For example, nine dishes set over a seven-course lunch costs only $44 per person. For $17, you can add a glass of wine to each of the first five courses—specifically chosen to complement the dishes on offer."
Medellín is a cosmopolitan city with a neighborhood feel. Set in the middle of the Andes Mountains, Colombia's second-largest city is known as the City of Flowers. Enjoying a spring-like climate year-round, Medellín is always in bloom—bright exotic flowers stand out against the lush green trees.
The city offers super high-end living for significantly less than what it would cost in the States. Take Aaron Brabham who knew exactly what type of place he wanted to live in when he moved there.
"I'm really a penthouse kind of guy," he says. "I was looking to live in the lap of luxury for much less than I could back in the U.S."
He rents a magnificent 1,625-square-foot, three-story penthouse apartment in the trendy, tranquil Provenza area, in the heart of the upscale El Poblado neighborhood, for less than $2,000 a month. The third floor has a guest bedroom and a deck, with a private Jacuzzi, that looks out over the city.
"The apartment came fully furnished, right down to the towels and silverware," he says. "This apartment would rent for close to $10,000 a month in San Diego, California, or South Beach, Florida—and that's if you could even find something like it."
Aaron lives a pampered lifestyle. "I have had a chef prepare five gourmet meals per week. He does the shopping for the ingredients, comes to my home to cook the meals, and cleans up afterwards. All this for about $50 per week," he says. Keeping his large penthouse clean and tidy doesn´t break the bank, either. "I have a maid come twice a week. She cleans, does the laundry and ironing, and runs any errands I ask, for only $15 per day."
The city is also a great place to live a part-time lavish life—just like wealth manager, Don Mouton from Lafayette, Louisiana, who divides his time among Medellín, Florida, and Texas.
A guitar and harmonica player, Don was first attracted to Medellín and its music scene during one of his many vacation trips to the city.
"My cost of living when I am in Medellín is less than half of what I pay in the U.S.," he says. Don rents a striking three-bedroom, four-bathroom, 1,725-square-foot townhouse with three balconies, in one of the city's most sought-after areas, for $933 a month. "Where I am is so convenient," says Don. "I am just a few minutes' walk to restaurants and shopping."
He spends some of his down time relaxing by the swimming pool, working out in the gym, or enjoying the barbecue area and gardens within the complex. Don says, "I have a lifestyle several times better than I would in the U.S. with my income and assets."
"Between the lower rental costs, lower utilities, and eating out a few days a week, we are looking at a 50% lower cost of living than our home in Canada," says expat Ellen Ma of the life she and her husband Jim enjoy in Malaysia. "A round of golf back home was $72, whereas here it's $30. A tennis pro could cost up to $100 an hour [back home], whereas here it's $15—another reason why I'm taking lessons twice a week."
Bang-for-buck, the quality of life in Malaysia puts it among the best retirement havens in the world—especially, on the tropical Malaysian island of Penang in the Andaman Sea.
Penang enjoys warm weather all year round. Temperatures average 82 F, though it's warmer between November and March. The city offers luxurious living at bargain prices—a place where it's possible to live in palatial splendor for less than you imagine.
Jacques and Sharon Giraud from Toronto live in Springtide, a luxury condo complex in the beach suburb of Tanjong Bungah. Their condo is 4,800 square feet. It has smooth marble floors and high ceilings throughout, and every room—even the pantry—has a jaw-dropping view of the Straits of Malacca or the emerald-green, jungle-covered hills that run deep behind them.
Their complex also has an infinity pool, a large gym, covered parking, and sculptured gardens with direct access to the beach. At just $2,000 a month, it's an absolute steal. "In Canada, for an apartment like this you'd pay $10,000 a month or more," says Sharon.
"Overall, the cost of living is about one-third to one-fifth of what it cost us back home," says Jacques.
"Had we known about Penang, how social this place is, how good the food is, how high the standard of living is, and how alike we are to the other expats who live here, I think I would have been pushing to move earlier. Maybe years earlier," says Sharon. "But we made the move when we thought it was right, and in the end I'm glad that we did.
"We've only been here since September 2016, but it's home. It's not a second home, it's actually home for us. And I like the fact that I can say that so soon after arriving. That tells you something, doesn't it?"
International Living's Panama Editor Jessica Ramesch is another example of how changing location can lead to much more than a deeper suntan or a more active lifestyle.
Jessica has been enjoying the gourmet restaurants, art galleries, attractive parks, and bayside promenades of Panama City for years. But the city's low cost of living has recently inspired her to wonder if it's time for a lifestyle upgrade, as well.
"I'm contemplating another luxury," she says. "A fancy apartment, possibly with an ocean view. A glut of modern apartments means that long-term rental prices are coming down in Panama City, and I've seen ocean-view units for as little as $1,300 a month. These aren't tiny studios, either. I'm talking two bedrooms and two bathrooms in new buildings, which tend to boast pools and gyms, too." Compare that to the cost of renting in a warm weather, Pacific Coast city in the U.S.—San Diego is a good example—where you could be looking at $6,300 a month for something similar.
Jessica's also tempted by the hip city-center zones, with all those happening bars and restaurants. "In my favorite areas, El Cangrejo and Obarrio, I'm seeing listings for as little as $1,100 or $1,200 a month," she says. "These may not have ocean views, but they're central neighborhoods on the metro line, walking distance from cute little cafés and tapas bars. In what other world capital can you get this kind of value for so little?
"Another thing I've taken advantage of here is the good value, reliable hired help. When I lived in the green Clayton sector of Panama City, my gardener charged me just $15 for a full day's work. I had him come by once every two weeks to help clear fallen mangos, cut the grass, and prune or weed as necessary. He even helped care for the delicate orchids.
"And while my dad was living with me here, I also had a maid. She was a sweet, hard-working lady who was always kind to him. We paid her $20 for a day's work, once a week. She did laundry, made the beds, dusted and mopped, helped with cooking, and even ran the occasional errand."
While back home, having a cleaner come around for just an afternoon every other week in the U.S. would cost upward of $130.
Salinas is the most popular beach resort in Ecuador, sitting at the westernmost tip of the Santa Elena peninsula. Located just two degrees south of the equator, days in Salinas are always almost exactly 12 hours long.
Life here can be as slow and relaxed as a walk on the beach, or you can amp it up a notch with your choice of water sports, including spending time at one of the area's two major yacht clubs.
Picture waking up to the sound of the Pacific Ocean crashing against the rocks outside, the sun bursting through your windows, warming your skin, and the fresh, clean, salt air filling your lungs as you step onto your balcony to survey the elegant scene below of grand white yachts anchored in the bay. This is the plush new life of IL Coastal Ecuador Correspondent Jim Santos and his wife in Salinas.
"There are few places on the planet where you can buy or rent oceanfront property as cheaply as you can on the coast of Ecuador," he says. "My wife Rita and I have a large 2,129-square-foot, four-bedroom, four-bathroom condo on the upper floor of a modern building, with views of the ocean from every room. There's 24/7 staff, hot tub, pool, sauna—the works." And all for $220,000.
"If we had bought on the California coast, in an area with comparable weather, we would have paid five times as much or more. We might not have been able to afford even the property tax and maintenance fees of an oceanfront condo elsewhere. In Salinas, we pay less than $200 a month for all our amenities, including trash pickup. Our property taxes are less than $300 a year."
The report can be found here: Luxury Living in Retirement: 5 Places for a High-End Lifestyle
Editor's Note: Members of the media have permission to republish the article linked above once credit is given to Internationalliving.com
Further information, as well as interviews with expert authors for radio, TV or print, is available on request. Photos are also available.
For information about InternationalLiving.com content republishing, source material or to book an interview with one of our experts, contact PR Managing Editor, Marita Kelly, +001 667 312 3532, mkelly(at)internationalliving(dot)com
Instagram: https://www.instagram.com/internationalliving/
Twitter: @inliving — https://twitter.com/inliving?lang=en
Facebook: https://www.facebook.com/International.Living/
About International Living
Since 1979, InternationalLiving.com has been the leading authority for anyone looking for global retirement or relocation opportunities. Through its monthly magazine and related e-letters, extensive website, podcasts, online bookstore, and events held around the world, InternationalLiving.com provides information and services to help its readers live better, travel farther, have more fun, save more money, and find better business opportunities when they expand their world beyond their own shores. InternationalLiving.com has more than 200 correspondents traveling the globe, investigating the best opportunities for travel, retirement, real estate, and investment.