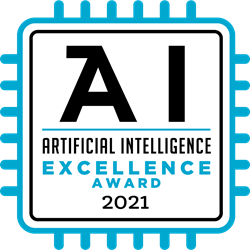 PHILADELPHIA (PRWEB) March 29, 2021
The Business Intelligence Group today announced the winners of its inaugural Artificial Intelligence Excellence Awards program. This business awards program sets out to recognize those organizations, products and people who bring Artificial Intelligence (AI) to life and apply it to solve real problems.
"The role of Artificial Intelligence was already transforming nearly every aspect of our lives and culture before the pandemic," said Maria Jimenez, chief nominations officer for Business Intelligence Group. "Companies are quickly becoming reliant on AI as they build new processes, launch new services or deploy the AI of strategic vendors. We are so proud that such an incredible group of companies won this year's program. Congratulations to all the creativity and hard work of all every employee involved."
The 2021 Artificial Intelligence Excellence Awards winners are:
Individual Winners

Tom Chittenden, PhD, DPhil, PStat, Chief Data Science Officer and Founding Director, Advanced Artificial Intelligence Research Laboratory, Genuity Science
Zohar Fox, Co-founder and CEO, Aurora Labs
Prof. Borhen Marzougui, Technology Expert, Dubai Roads and Transport Authority
Abhishek Mittal, VP of Data Analytics and Operations Excellence, Wolters Kluwer
Amit Walia, CEO, Informatica
Organizational Winners

alva - Natural language processing
Ambiq - Intelligent control
BirdEye - Machine learning
Bright Machines - Robotics
Cherre - Natrural language processing
Digitate - Automation
Dynam.AI - Computer vision
expert.ai - Natural language processing
Informatica - Automation
Lilt,- Natural language processing
Mailchimp - Automation
Marchex - Automation
ModalAI, Inc. - Robotics
Outlier ai - Pattern recognition
Pactum - Machine learning
Phenom - Machine learning
PROS - Machine learning
ringDNA - Expert system
Sogou - Virtual Intelligence
Standard - Computer vision
TOC Biometrics - Pattern recognition
Turing Video - Computer vision
UneeQ - Virtual Intelligence
Windward - Hybrid intelligent system
Product Winners

Adapt2 Solutions - Hybrid intelligent system
Admazes Limited - Machine Learning
Aspen Technology, Inc. - Aspen AIoT Hub™ - Intelligent control
Astute Email Virtual Assistant (EVA) - Automation
Capgemini U2Mine - Machine learning
Claro Enterprise Solutions' Hospital Asset Management - Computer vision
Concentric Risk Distance analysis technology - Natural language processing
CRIS by Delvinia - Intelligent agent
Evolv Technology - Evolv Express® - Automatic target recognition
Experian AI powered Customer Assist- Intelligent agent
Flyreel - Computer Automation
F-Secure Project Blackfin - Intelligent agent
goMoxie SEE - Machine learning
Informatica Intelligent Cloud Services (IICS) - Automation
ITC Infotech Intelligent Retail Execution - Automated planning and scheduling
Kustomer - Automation
Mailchimp Creative Assistant - Artificial creativity
Maxim Integrated MAX78000 Neural Network Accelerator Chip - Computer vision
Natera - Machine learning
NIO - Automation
OpenCloudCX - Machine learning
Oticon More - Pattern recognition
Payrailz - Automated planning and scheduling
Promethium Data Navigation System™ - Automated reasoning
Realeyes PreView - Computer vision
RTB House - Automated reasoning
Saggezza - Automated planning and scheduling
Samsara AI Safety Solution - Computer vision
Sana Labs - Knowledge management
Sense Labs - Machine learning
SHERPA.AI - Machine learning
Standard Chartered Bank with Squirro and Synechron - Natural language processing
TCS Optumera™ AI-Powered Strategic Intelligence Suite - Strategic planning
TCS Optunique™ AI-Personalization - Machine learning
TD Bank AI-powered digital experiences - Intelligent agent
American Red Cross AI powered blood drive planning system
UBTECH ADIBOT - Robotics
Velocity® - Natural Language Processing
Verint Intelligent Virtual Assistant - Natural language processing
Veritone Energy Solutions - Expert system
Wolters Kluwer - Expere Language Translation
Zonar Coach - Pattern recognition
Judges also named several nominees finalists for their performance. Finalists include: AppFolio AI Leasing Assistant, Lisa, Darktrace Cyber AI Analyst, DataProphet PRESCRIBE, Deduce Suspicious LoginAlerts, IBM Watson Studio, Kount, an Equifax Company; Lattice CrossLink-NX FPGA , Linc Customer Experience Automation Platform, New World Development Company Limited, Red Hat Process Automation, TruEra Model Intelligence Platform, Very, WebFX MarketingCloudFX, WekaIO's Limitless Data Platform, and Wolters Kluwer TeamMate+
About Business Intelligence Group http://www.bintelligence.com
The Business Intelligence Group was founded with the mission of recognizing true talent and superior performance in the business world. Unlike other industry award programs, these programs are judged by business executives having experience and knowledge. The organization's proprietary and unique scoring system selectively measures performance across multiple business domains and then rewards those companies whose achievements stand above those of their peers.