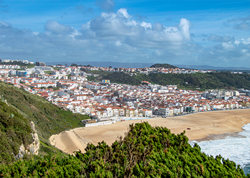 To see for themselves, International Living is giving readers the chance to win a month-long stay in Portugal to try a retirement there on for size.
BALTIMORE (PRWEB) September 23, 2021
It's easy to see why Portugal has become a desirable retirement destination in Europe. It boasts over 300 days of sunshine each year, affordable living and healthcare, a large expat network, stunning scenery and beaches, an easy visa process, and English is widely spoken.
With a long coastline and an interior that harks back centuries in time, Portugal in many ways still belongs to an earlier era. As expats regularly report, people are friendly and courteous, with an almost courtly manner. Family and friends are important, and people know their neighbors and the local shopkeepers. Ancient buildings look worn and lived-in, and quiet, cobbled lanes wind through seaside villages.
This is Europe as it used to be. And although modern infrastructure makes it convenient and easy to live here, it's still possible to enjoy a slower-paced, Old World, genteel lifestyle here.
To see for themselves, International Living is giving readers the chance to win a month-long stay in Portugal to try a retirement there on for size. Readers can enter, here: Win Your Dream Retirement Overseas Competition
The report from International Living identifies five great places for expat living in Portugal and two to avoid. Here are five places worth an expat's attention:
Lisbon
Portugal's capital city, Lisbon, combines Old World charm with all the modern conveniences needed to feel at home and some of the best weather in Europe.
Lisbon has much to offer with its impressive city center, sunny yellow cable cars that climb the narrow streets, over 60 museums, an English-speaking theater, family-friendly beaches, varied cuisine, and plenty of expats from around the world to hang out with.
Folks will never be bored living here with the nearby beaches of Cascais, the fairy-tale village of Sintra within easy reach, and an international airport that provides easy access to the rest of the world.
Healthcare in Portugal is some of the best in the world, and with so many expats in Lisbon, it's easy to find English-speaking doctors.
Lagos
A few hours south of Lisbon is the Algarve region with some of the warmest weather in the country. The town of Lagos has retained much of its charm with a tiled plaza in the old town and remnants of a fort perched along the waterfront.
The coastline offers spectacular vistas of grottoes, rock formations, and caves that can be explored by hiring a boat. No need to stress about learning Portuguese in Lagos as British vacationers have long visited the region, meaning English is spoken by almost everyone. Summers here are hot and dry in Lagos while winters are mild with some rain. Local shops and restaurants dot the old town while larger grocery stores can be found nearby. Excellent healthcare is never far away and with plenty of expats, folks will never be lonely.
Porto
Porto is Portugal's second largest city, three hours north of Lisbon. Situated on the Douro River, this is the port wine-making region of the country.
Rich in culture and history, this is another part of Portugal where English is commonly spoken, which makes it easy to fit in. From great shopping along Rua Santa Catarina to local cuisine, excellent healthcare, a large expat community, and a cooler climate this could be the perfect place to call home.
Plus, Porto has one of the country's three international airports, making it easy to visit friends and family back home.
Silver Coast
One hour north of Lisbon is the town of Caldas da Rainha. Famous for its Thermal Hospital, Caldas, as it's called, has various medical and dental clinics along with a public and private hospital. English is widely spoken among the younger generation.
The lively old town features a daily fruit-and-vegetable market, nearby fish market, and weekly flea market just up the hill. This compact city has plenty of shopping from large grocery stores, a modern multi-level shopping center, a variety of cuisine, and a handful of museums.
Dom Carlos Park is where locals and expats go to enjoy the walking trails, grab a bite to eat at the restaurant, or paddle a boat across the man-made lake. Caldas has a large expat community along with a public and private hospital plus clinics for all your healthcare needs.
The nearby beaches of Foz do Arelho and Nadadouro provide a welcome break on a hot summer day. The lagoon offers a safe place for those of all ages to enjoy tranquil waters or relax with friends at a waterfront cafe. Summer temperatures here are springlike, though winters tend to be cold and rainy.
Tavira
Another popular Algarve hotspot is Tavira. Located close to the Spanish border, Tavira has retained much of its old town with whitewashed houses decorated with colorful Portuguese tile.
Life here is as slow as the Gilão river that runs through it. Stroll along the old Roman bridge to admire the village or relax on nearby sun-drenched beaches. Many expats from North America and Europe have long called Tavira home, making it easy to fit in and get by speaking only English.
Like the rest of the Algarve, here you will find some of the best weather in the country. Local shops tend to cater to the British population, but Americans need only drive a few hours into Seville, Spain to stock up on American goods at a Costco warehouse.
Here are two places where settling in as an expat may not be so easy and perhaps, should be avoided.
Monsanto
"Considered by many to be the most Portuguese village in the country, this quaint little village is a delight to visit, but not a place I would recommend living," says Terry Coles, IL Portugal Correspondent. "Granite homes are squeezed in, on, and around giant boulders that look as though they fell from the sky."
The steep, rustic lanes are wide enough only for a donkey, and it's a climb some 400 feet up to the pinnacle of the village where the remains of a castle still stand. A few local shops exist inside the cave-like structures—though no English is uttered. In Monsanto, time seems to have stopped long ago.
While locals here are used to seeing tourists, it's doubtful expats are living among them. Anybody looking for an easy place to fit in is less likely to find it here without a firm grasp of Portuguese.
The Alentejo
The Alentejo, in southern Portugal, is the largest region in the country, offering vast, uninhabited plains. Extreme temperatures are the norm here, with summer highs reaching well over 100 F and winters bringing bone-chilling rains. This region makes up a full 30% of Portugal but its rural countryside is sparsely populated, with less than 5% of the population.
Home to walled cities, forts, a few sleepy villages, and cities like Beja and Évora, this is the heartland of Portugal. Few expats call the Alentejo home so to integrate here would require full immersion into the Portuguese lifestyle with a good understanding of the Portuguese language.
For a vacation, the Alentejo is the ideal spot to escape the tourist crowds, and step back in time to experience the rich Portuguese culture. However, the vastness of this region makes it challenging for expats to meet or access adequate healthcare. And the weather could be off-putting for somebody seeking easy year-round living.
The full report can be found, here: 5 Places to Live in Portugal; 2 To Avoid
Editor's Note: Members of the media have permission to republish the article linked above once credit is given to Internationalliving.com.
Further information, as well as interviews with expert authors for radio, TV, or print, is available on request. Photos are also available.
For information about InternationalLiving.com content republishing, source material or to book an interview with one of our experts, contact PR Managing Editor, Marita Kelly, +001 667 312 3532, mkelly@internationalliving.com
Instagram: https://www.instagram.com/internationalliving/
Twitter: @inliving
Facebook: https://www.facebook.com/International.Living/
About International Living
Since 1979, Internationaliving.com has been the leading authority for anyone looking for global retirement or relocation opportunities. Through its monthly magazine and related e-letters, extensive website, podcasts, online bookstore, and events held around the world, InternationalLiving.com provides information and services to help its readers live better, travel farther, have more fun, save more money, and find better business opportunities when they expand their world beyond their own shores. InternationalLiving.com has more than 200 correspondents traveling the globe, investigating the best opportunities for travel, retirement, real estate, and investment.