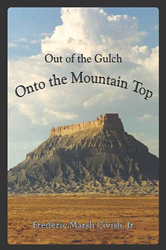 "The style of the book is great— detailed, funny, and at times even poetic. I found 'Out of the Gulch: Onto the Mountain Top' a transportive, engaging joy to read." – Charles Asher
NEW YORK (PRWEB) May 29, 2020
Born in a small coal mining town in 1931, Frederic Marsh Civish, Jr. lived through things most people nowadays would consider history. For example, he is older than the Empire State Building, the Golden Gate Bridge, and Hoover Dam. He has gone from asking an operator to place a call to invoking Siri. His is a perspective to be valued.
On Pearl Harbor Day, he was duck hunting with a 12-gauge shotgun. He witnessed the great Sunnyside Mine explosion in 1945 and fought in the Korean War. As the new century dawned, he was in the classroom teaching millennials.
"Mr. Civish has led an impressive life, having witnessed and experienced a radically changing world while managing to maintain his sense of self, a rugged individualism of a time that— it sadly seems— is now fading into the past. But that's what makes this memoir inspiring, really. Following the author's adventures, diving into his worldview, acts not only as a ticket to the last century, but as a sort of guide to life today, a roadmap to finding yourself despite whatever changes or troubles the world throws at you. The style of the book is great— detailed, funny, and at times even poetic. I found 'Out of the Gulch: Onto the Mountain Top' a transportive, engaging joy to read." – Charles Asher
After joining the Navy during the Korean War, the author lived in several California cities before, in 1962, moving back home. Growing up in Utah he says, "I felt the state and everybody in it could be described with two words: I called the state 'sticks and people hicks. So, I decided to move back to the sticks and become one of them 'thar' hicks. "He now lives "Out of the Gulch, Onto the Mountain Top."
OUT OF THE GULCH, ONTO THE MOUNTAIN TOP (ISBN: 978-1-68181-559-6) is now available for $22.50 and can be ordered through the publisher's website:
http://sbprabooks.com/FredericMarshCivishJr or at your favorite book seller.
WHOLESALERS: This book is distributed by Ingram Books and other wholesale distributors. Contact your representative with the ISBN for purchase. Wholesale purchase for retailers, universities, libraries, and other organizations is also available through the publisher; please email bookorder@sbpra.net.