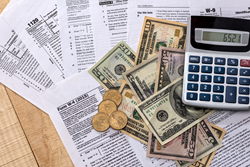 Having your home's ductwork sealed is an example of a great investment that could yield a much better return.
GARDEN CITY, N.J. (PRWEB) March 26, 2019
With the 2019 tax season upon us, tax expert and author of the book "Ten Most Expensive Tax Mistakes" Craig Cody today offered five strategies homeowners can count on to provide a better return than what they may typically get from their tax refund check.
"Each year, millions of Americans count on their tax refund to cover the cost of postponed purchases like new clothes, home repairs, medical procedures or perhaps simply a long-needed vacation," said Cody. "However, with refund checks proving to be smaller for many this tax season, now is a good time to look at other strategies for saving money and getting the budgetary boost many come to depend on."
A review of potential investments and simple lifestyle changes that could very well yield a budgetary boost that surpasses the amount of this year's tax refund include:
1. Seal Your Ductwork – estimated savings: $250 - $850/year.
If 15% of the gas you just bought to fill up your car leaked out of the tank, you would certainly get that fixed. But most homeowners don't realize that they are losing that much or more of the air they just paid to heat or cool. Today, new aerosol-based sealing technology makes fixing leaky ductwork easy and one of the best investments homeowners can make.
2. Dump Your Cable – estimated savings: $200 - $900/year.
Americans are paying about 50% more for cable service now than they did just ten years ago. Add to basic fees the cost for additional TVs, premium channels, on-demand charges and other "extras" and you'll quickly find your paying $1,000+ a year to watch TV. Today streaming services are providing great content at a fraction of that cost – and a single connection can stream that content to devices in every room of the house.
3. Renegotiate - $500+/year.
I have a friend that, each year, makes calls to his insurance company, his bank, his credit card companies, his mobile phone carrier and other businesses that charge him a fixed rate for services. And each year, he renegotiates the terms of his contract in order to get the best deals possible. Businesses know that it's a lot more expensive to find new customers than it is to keep loyal ones. If you're a long-time customer with a track record of paying your bill on time, there is a good chance that these service companies will reduce your monthly bill in order to retain your business.
4. Insulate Your Attic. – average savings: $150 - $500/year.
The U.S. Energy Information Administration estimates that the average U.S. homeowner will have paid around $595 (natural gas) to $1,646 (heating oil) to keep their home warm this winter. Simply insulating the attic can reduce that cost by an average of 30%.
5. Stop Smoking – average savings: $1,825 – 3,650+/year.
Forget about the health risks and the medical costs associated with smoking, simply cutting out this foul habit is one of the biggest returns you can hope to get anywhere. With the average cost for a pack of cigarettes costing $10 ($13 in New York) and many smokers consuming a half pack to a full pack or more each day, it's easy to see that this is as costly a habit as it is nasty. Not happy with your tax refund check, simply quit smoking and recoup your losses."
Craig Cody is president and founder of Craig Cody & Company, a tax planning and consultancy company headquartered in Garden City, New York. For more information, visit http://www.craigcodyandcompany.com