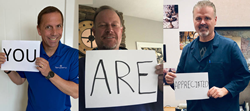 Social distance and remote working have changed the game. It takes more intentional effort to encourage team members who are coping with a disrupted work environment.
GRAND RAPIDS, Mich. (PRWEB) January 13, 2021
2020 has had a turbulent effect on workplaces around the globe. Many organizations have asked more of their employees over the last year than ever before. Showing appreciation can energize your group and activate a shared purpose going into this year. On the other hand, failing to do so can demoralize your team and lead to retention problems in the future. US-based recognition company Terryberry shares their top 5 things to know about employee recognition in 2021.
In the wake of COVID-19, employees are struggling with uncertainty at work and increased isolation, among other challenges related to the pandemic. A Terryberry poll from this summer showed HR leaders feel that recognition is more important than ever, but also more difficult today. In some organizations, recognition programs were not equipped for the rapid shift to large-scale remote working. Another survey from November reinforced this. Over a third (35%) of surveyed HR professionals said the biggest challenge with recognizing remote workers is administrative logistics and program limitations.
A well-known quote says, "Encouraged people achieve the best; dominated people achieve the second best; neglected people achieve the least." Most leaders don't intend to neglect their people, but it's important to note that social distance and remote working have changed the game. It takes more intentional effort to encourage team members who are coping with a disrupted work environment.
Employers need to find new ways for employee recognition to take place. Terryberry recommends that organizations commit to connection and encouragement. It starts at the top with company leadership. When leaders set an example of showing concern for employees' wellbeing and creating space for connecting, the attitude usually spreads throughout the organization.
The next step is to create opportunities for recognition to take place. Provide a recognition platform and training on how to use it. Take time in meetings for appreciation. Practice listening with compassion and kindness; remember many are struggling. Feed your recognition platform with the good things happening in your organization, like milestones and major accomplishments, wellness goals, new learning, positive customer feedback, bright ideas, and personal events such as birthdays, weddings, new baby, etc.
Organization-wide infrastructure has become a requirement for successful recognition programs in the fluid conditions facing most businesses. A central system is the best way to ensure that the attitudes, behaviors and contributions that your organization values are consistently recognized. When you're looking at recognition programs, consider options that support formal, informal and day-to-day recognition. Mobile app integration is also a crucial feature today so that employees can access the program from wherever they are.
Staff empowerment impacts your recognition culture. It's so important for employees to feel they have a voice in your organization. How can your recognition program support this? Here are a few thoughts:

Create organization-wide visibility – who's being recognized and why
Give employees' access to individual recognition profile – see their awards and history
Give employees a voice to and means recognize co-workers for contributions
Consider virtual recognition events
Terryberry polled organizations to identify employee recognition trends and how they are handling recognition events during COVID. 45% say they have moved to a virtual event. A third of respondents had postponed or canceled their event and sent awards to employees' homes. Experts say that recognition still matters, so as you consider how to manage your recognition events, be sure to find ways to connect with employees and communicate that they are valued. If you're considering a virtual event, check out Terryberry's new ebook: 5 Ways to Ensure Your Virtual Recognition Event is Meaningful.
About Terryberry
Everyone deserves to feel seen and recognized in a meaningful way. When you do that in ways that are as unique as your people and culture, you unlock a shared aspiration and an unstoppable team. Terryberry is your partner to create an engaged, purpose-led organization through the power of recognition. We understand the challenges you face and meet you where you are to get you where you want to go. Whether it's a small step toward a big vision driven by our flexible, comprehensive recognition platform or a big step toward a complete solution that increases engagement, we'll help you accomplish your goals — together. Headquartered in Grand Rapids, Michigan, Terryberry is online at terryberry.com.