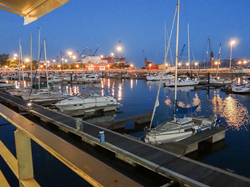 "I was working intensely and not taking care of myself. I realized that I needed to create balance in my life. I just wasn't happy. I wanted something different."
BALTIMORE (PRWEB) September 03, 2019
Why struggle to pay rent in San Francisco or New York when it's possible to live in luxury on the same income in Southeast Asia or Europe?
Untethered workers, or digital nomads, are a growing group of people who have decided to rip up the old rules of the game and use the new advances in telecommunications to travel as much as possible and work from whatever part of the world they choose. Among their ranks are a whole spectrum of professions, including software developers, graphic designers, copywriters, and consultants— both working remotely for their employers and freelancing.
The remote workforce has grown by 140% since 2005 and is expected to be as much as 50% of the entire workforce by 2020. This is a phenomenal change, and it hasn't gone unrecognized by cities and municipalities all over the world.
To help narrow in on a destination and provide a taste of what the untethered life is all about, International Living has compiled a list of the top five destination recommendations for digital nomads.
After spending 10 years sitting in a cubical working as a data analyst for a U.S.-based company, Amanda Brightwater decided she had had enough.
"When I started looking into places that were conducive to digital nomad lifestyle, Medellín kept popping up as an up-and-coming destination. I've met so many interesting people who are working here with just a laptop, a cellphone, and a comfortable place to hang out. I initially came for the camaraderie, but discovered I love the weather, the culture, and the excitement of the city."
Nicknamed "The City of Eternal Spring," Medellín sits at 5,000 feet above sea level and offers perfect spring-like weather year-round. With daytime highs in the mid-70s F to low-80s F and very little humidity, the city makes it very easy to live and work comfortably.
Over the past few decades, Medellín has shaken off the shadow of its dark past to become one of the most progressive cities in the world, winning awards for innovation and design, and earning the moniker "Medellín Miracle" for its impressive social transformation. As such, it has attracted in droves digital nomads in search of up-and-coming, low-cost destinations, and now has a well-established remote-working infrastructure.
During the past five years, the number of co-working spaces in Medellín has grown exponentially to include everything from well-organized formal settings with a corporate, interactive vibe to quiet, small, intimate spaces to "hot desks" (unassigned desk space in an open plan office).
The exchange rate in Colombia has been hovering around 3,000 pesos to the U.S. dollar for about the past three years. This makes an already low cost of living even lower. It is possible to live on $1,500 to $2,000 per month in many parts of Medellín.
"Lisbon is full of amazingly creative talent, cozy cafés, exciting co-working spaces with high-speed wireless internet, and a deep-rooted global view that's hard to find anywhere else," says Californian Kevin Mullins, who relocated to Portugal in 2010, fell in love with the country, and stayed. Today, he's the managing director of Atomivox, a branding agency based in the seaside town of Cascais, just a few miles west of Lisbon.
Lisbon was always a top candidate for the most popular city in Europe for digital nomads. It is one of the cheapest capital cities in Western Europe; it has 300 days of sunshine per year; the winters are mild; the nightlife, coffee, and food scene can compete with anywhere in the world; there is access to beaches; great healthcare; and the powerful allure of yellow trams, azulejos tiles, terracotta rooftops, and custard tarts make it irresistible.
But what makes Lisbon exceptional is how well it has adjusted to the influx of digital nomads. It has a reputation as one of the most welcoming digital-nomad scenes in the world—designated both the fourth safest (Global Peace Index) and friendliest country in the world to expats (Far and Wide). There are digital-nomad meetups held every week, with active Facebook groups and events run by digital-nomad accommodation startups like NomadX.
And, perhaps the biggest indicator of all that Lisbon aims to position itself as a digital nomad stronghold, the city has hosted the Web Summit, dubbed "the best technology conference on the planet" by Forbes Magazine, since 2016.
Portugal has invested a lot in its WiFi infrastructure, with 90% coverage nationwide and an average internet speed of 21 mbps in Lisbon. There is free WiFi in many of Lisbon's parks and cafés, and most Airbnb's will come equipped. A landline internet connection costs $20 to $30 a month, depending on speed.
Rent in Lisbon runs about $600 a month and up. However, shorter-term solutions such as Airbnb offer one-bedroom apartments in the city for $55 a night off-season, and $90 a night in the height of summer.
Chiang Mai has long been considered the spiritual home of digital nomads, and is highly recommended for anyone starting out on their remote-working journey.
What makes Chiang Mai such an easy starting point is that, well before it became a popular digital nomad destination, it was a popular retirement haven for expats from around the world. This means that there is an established Westernized community within the fabric of the city, with plenty of cafés, restaurants, social groups, and entertainment networks for every kind of proclivity—dwarfing the size of most metropolitan digital-nomad communities, many times over.
Aside from being low cost, with pleasant temperatures, Chiang Mai offers a more romantic reason for its popularity too. The ancient city, filled with temples and historic treasures, melds comfortably with the sprawling modern metropolis that has built up around it. It has a laidback atmosphere, and, it feels more like a sleepy country town than a chaotic city.
Canadian digital nomad Shikha Dhawan was once a marketing manager of a niche software company working 10-hour days. She recalls, "I was working intensely and not taking care of myself. I realized that I needed to create balance in my life. I just wasn't happy. I wanted something different.
Shikha decided to do research before she came to Chiang Mai. "There were three places I was interested in: Budapest, Hungary; Medellín, Colombia; and Chiang Mai, Thailand. Ultimately, I chose Chiang Mai. I love Asia, and I was looking to expand my travel repertoire. Chiang Mai has very welcoming nomad groups, I just post on the Facebook page and all my questions get answered. The community are so kind and so giving, and I love that. There are a lot of groups that meet face to face too. I'm even doing an improv course at the moment. I also love street food."
Shikha's costs are minimal compared with her costs of living in Canada. To survive in Toronto, she would need at least $5,000 per month to pay living expenses. In Chiang Mai, however, things are very different. Not only can digital nomads save thousands per month while living in Chiang Mai, they compromise on nothing in terms of lifestyle experiences. Her rent is $500 a month, she pays $20 a month for internet, $200 (maximum) on food, $13 on water bills, $20 on electricity, $200 on business expenses, and $100 on a personal assistant—allowing Shikha to work just 10 hours per week while she builds her health and wellbeing business, The Millionaire Hippy.
Mexico City, Mexico
Mexico City shares a similar story to Medellín, in that it has entirely regenerated as a city in recent years, becoming one of the most powerful cultural and economic hubs in Latin American.
At over 573 square miles, the city feels massive, but most expats and digital nomads—as well as the capital's 1,200-plus startups—tend to congregate in just a few central districts.
"There's an ease to moving about the city, it's very inviting and nomad-friendly," says Karina Cobb, a business consultant currently working remotely in Mexico City. "I am enjoying how walkable the neighborhoods of Roma and Condesa are, all the green spaces, parks, and avenues, and how easy it is to find a co-working space or coffee shop to sit and work from."
Colonias Juarez, Condesa, Roma, San Rafael, St. Maria de Ribera, and Polanco are all within walking distance from the city's incredible museums, parks, and monuments. Nightlife is electric, from dance clubs to underground jazz bars and salsa dives. But also within these buzzing districts, startup activity is attracting many local meetups, big name conferences, recognized accelerators, and a community of co-working spaces.
Amy Martyn, a freelance writer who used a co-working space called We are Todos in Roma, says that she was the only American using the space, but everyone made her feel welcome. "There were all sorts of creative things going on. One person was starting a sewing business, others were working in digital media."
Internet speed here is excellent and available in most coffee shops and businesses. Even though there is no free citywide system, WiFi is in many of the central parks and several lines of the metro.
The city is also extremely affordable. In Colonias, Roma, and Condesa, average rent is $500 to $900 a month. Airbnb has meant lots of great spaces have opened up that allow temporary residents to really dig into neighborhoods and the city.
"It was really easy with Airbnb," says Amy. "We did a little research on the neighborhood beforehand, and when we arrived our apartment was right off of the bike path. It was a four-mile bike ride in a protected lane to get to Roma, and because there's a really great bike-sharing program it just made sense to sign up for that while I was there. We were really centrally located."
Food in restaurants, on the street, and in the markets, is relatively inexpensive and you can find products and cuisines from across the country and around the world. A remote worker can easily live in Mexico City on $2,000 a month and that includes everything: rent, food, utilities, and transportation.
Tallinn, Estonia
Given their flexibility, digital nomads tend to wander—which provides them an opportunity to follow their travel whim (or the sun).
That's useful, because Tallinn, Estonia is not a year-round destination. Winter temperatures can fall as low as -20 F, with heavy snow. Summers are milder, reaching the mid 70s F. But what it lacks in climate, it makes up for elsewhere.
What Tallinn offers above all else is a glimpse of the future for digital nomads. In Estonia, internet access is enshrined as a human right and everything happens online. With the second-fastest public WiFi in the world (next only to its Eastern European neighbor, Lithuania), citizens can vote, secure mortgages, open bank accounts, and even open businesses in minutes, without ever leaving their café table.
Recently, Estonia announced the first official visa for digital nomads. The permit will entitle nomads to 365 days of working in Estonia, including 90 days' travel in the Schengen area. They have also created an e-residency program, making it possible to start an EU-based company online.
Estonia is creating the framework for the new digital nomad world, and Tallinn is at the heart of it.
Garrett Oden and his wife, Lauren, made Tallinn their first stop on their digital nomad adventure once they realized that they could earn from anywhere while freelancing. "We wanted to start somewhere that was affordable, somewhat familiar Western cultural norms, and was still a bit off the beaten path. Tallinn seemed perfect for a month-long stay in August," says Garrett.
"The city has approximately 500,000 people, but despite its size, Tallinn actually feels small and quiet. The streets aren't jammed with traffic, calm green parks were everywhere, and even in one of the busiest intersections, at the crossroads of old town and the modern tech town, Hobujaama, you never feel like you're in a large city. Tallinn is very pedestrian-friendly. There are countless tree-lined paths and forest walkways throughout the city."
Garrett says, "Restaurant food is typically $8 to $15 per meal. A comfortable and modern Airbnb on the edge of town is $800 for the month. An Uber costs just $3 to $6 for a ride into downtown. The city bus system was also affordable, at $30 for the month, and very pleasant to use—the most pleasant buses we've ever used."
Several local accelerators have popped up, including Startup Wise Guys, Elevator Startups, and Buildit while other top incubators include TÜ Ideelabor and Startup Incubator. Coworking spaces dot the city, with hot desks available from about $6 per day or $106 per month.
Find the complete stories with more information on these five destinations for the new digital nomad life at 5 Top Spots to Start Your Digital Nomad Journey
Editor's Note: Members of the media have permission to republish the article linked above once credit is given to Internationalliving.com.
Further information, as well as interviews with expert authors for radio, TV or print, is available on request. Photos are also available.
For information about InternationalLiving.com content republishing, source material or to book an interview with one of our experts, contact PR Managing Editor, Marita Kelly, +001 667 312 3532, mkelly@internationalliving.com
Twitter: @inliving
Facebook: https://www.facebook.com/International.Living/
About International Living
Since 1979, Internationaliving.com has been the leading authority for anyone looking for global retirement or relocation opportunities. Through its monthly magazine and related e-letters, extensive website, podcasts, online bookstore, and events held around the world, InternationalLiving.com provides information and services to help its readers live better, travel farther, have more fun, save more money, and find better business opportunities when they expand their world beyond their own shores. InternationalLiving.com has more than 200 correspondents traveling the globe, investigating the best opportunities for travel, retirement, real estate, and investment.