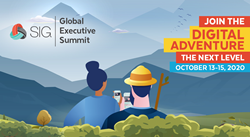 The Global Executive Summit is where forward-thinking procurement leaders come to experience pioneering trends grounded in today's new realities.
JACKSONVILLE, Fla. (PRWEB) September 17, 2020
Sourcing Industry Group (SIG), the premier membership organization for sourcing, procurement, outsourcing and risk management executives, today announces the top five trends that will be explored during its Global Executive Summit taking place entirely online October 13 to 15.
"The Global Executive Summit is where forward-thinking procurement leaders come to experience pioneering trends grounded in today's new realities," said Dawn Tiura, President and CEO of Sourcing Industry Group. "This Summit provides a dedicated space to network with industry thought leaders, learn from different perspectives, and keep pace with emerging developments in strategic planning and procurement technology, all of which are essential to inform the way we work."
The Global Executive Summit will ensure that every attendee comes away with data-backed insights and actionable resources. Sourcing and procurement leaders are continuously being shaped by new developments in contract management, remote work, sustainability, stakeholder buy-in and third-party risk management. The Global Executive Summit will directly address these trending topics and more:
1. Contract Lifecycle Management
Many sourcing bottlenecks are the result of poor contract management practices. Digitizing and automating the process, from initiation to award and renewal, can expedite the process and enhance compliance. Attendees will be able to choose from a variety of sessions on contract management, from executing complex negotiations to the role that advanced technologies like Artificial Intelligence and Machine Learning play in managing the lifecycle of contracts.
2. Remote and Distributed Workforces
Many office employees reported working from home at some point during the global pandemic, and it appears that some companies will continue the remote work trend. Distributed workforces create new challenges for businesses to navigate, both legally and culturally, such as worker classification, new employment regulations, diversity in the talent pool and preserving workplace culture to help employees thrive.
3. Procurement as a Catalyst for Change
Consumers and employees alike want more emphasis placed on social and environmental factors in business operations. Procurement can help deliver on an organization's Corporate Social Responsibility (CSR) goals and glean positive business outcomes in the process. Learn how Procurement can work with suppliers to spark innovation that improves communities and livelihoods, as well as impacting brand awareness, attracting top talent and driving new business models.
4. Procurement as a Strategic Partner
Business leaders lean heavily on Procurement during times of crisis, but Procurement sees its influence diminished once conditions normalize. Procurement has more to offer beyond crisis management, business continuity and cost containment. Industry executives will address the techniques and strategies they used to secure business leaders' support to champion Procurement as a strategic partner year-round.
5. Third-Party Risk
Managing risk before it becomes an issue is a big hurdle for procurement leaders to clear. Given what procurement leaders have learned in the past six months, risk management requires thoughtful assessment on the best ways to protect the business while remaining lean and agile. Sessions on third-party risk management will share lessons learned from the global pandemic, practices that work, and how to create a risk-minded culture that aligns with business priorities.
Registration is Open
SIG member companies and qualified buy-side procurement practitioners can register to attend the digital event for free on the Global Executive Summit website. The format of the event will take place virtually over the week of October 13 to 15 for a few hours per day, so attendees can fulfill their daily work obligations while engaging in the event remotely.
The interactive digital environment of the Summit will feature keynote speakers, breakout sessions with live Q&A, and a virtual Innovation Hall with platform demonstrations that showcase how the latest advancements in procurement solutions are driving better outcomes for businesses.
In May, SIG hosted the Procurement Technology Summit with an 86% satisfaction rating among attendees. More than 1,100 people from over 400 companies across the world attended the event virtually.
SIG's Global Executive Summits bring together senior-level executives from Fortune 500 and Global 1000 companies, including C-suite executives, vice presidents, directors, senior analysts and managers. The first 300 buy-side registrants will receive a free #SIGventure Kit filled with fun swag and treats from SIG's Summit sponsors. For more information, visit the Global Executive Summit website.
About SIG
Sourcing Industry Group (SIG), https://sig.org/ is a membership organization that provides thought leadership and networking opportunities to executives in sourcing, procurement, and outsourcing from Fortune 500 and Global 1000 companies and the advisors who serve them. SIG is widely known as a forum for sharing "next" practices and thought leadership through live networking events, virtual forums and a comprehensive online SIG resource center (SRC), which was developed by and for professionals in sourcing and outsourcing. The organization is unique in that it blends practitioners, service providers and advisory firms in a non-commercial environment. SIG is the parent organization for SIG University, a one-of-a-kind certification and training program for professionals and executives seeking deep expertise in sourcing and governance for themselves or their teams. SIG's digital flagship publication, Future of Sourcing, provides unrivaled digital content for the opinion-formers and decision-makers at the heart of the outsourcing space.