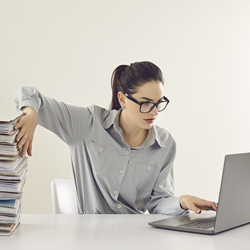 Advances in information technology in recent years have delivered on the productivity promises of a paperless office.
HOBOKEN, N.J. (PRWEB) March 18, 2021
Messaging Architects, an eMazzanti Technologies Company and data governance expert, explains how the paperless office increases productivity in a new article on its website. The informative article first asserts that improved file organization and file sharing result from digital document management.
The author then discusses how real-time collaboration, increased mobility and flexibility, and reduced busywork can be achieved with modern processes and business apps. He concludes by explaining how improved security and compliance digital processes save time and reduce errors.
"Advances in information technology in recent years have delivered on the productivity promises of a paperless office," stated Greg Smith, Vice President of Services Delivery at Messaging Architects.
Below are a few excerpts from the article, "5 Ways the Paperless Office Boosts Productivity."
"Examples of paper-saving technologies that also improve productivity include cloud-based document storage systems, increasingly powerful mobile devices, feature-rich scanners, eSignature services and more. Implementing these technologies can improve workflows, decrease inefficiencies, and increase employee satisfaction."
Improved File Organization and Searching
"Businesses that rely on paper filing systems lose thousands of dollars in worker productivity each year. In fact, a recent survey found that knowledge workers spend roughly 4.5 hours each week looking for documents. Add to that the time workers waste re-creating documents that they cannot locate."
Real-time Collaboration
"Collaboration forms an essential component of productivity. The paperless office improves the ability of colleagues to share knowledge and collaborate seamlessly. For instance, with Microsoft Teams, team members can easily share and co-author documents in real time, even across distance."
Improved Security and Compliance
"With constantly evolving regulatory constraints, businesses allocate substantial time and effort to securing information and achieving compliance. The paperless office makes that process much easier and reduces the chance for human error."
Get the Most from Digital
Implementing a paperless office takes preparation and planning, as well as some investment in updated tools. However, the gains in productivity provide a significant return on that investment.
The information technology experts at Messaging Architects help business leaders design the right approach for their organizations. Using deep experience in information governance, cloud technology and regulatory compliance they help them organize their data and workflows for maximum benefit.
Have you read?
5 Best Practices to Increase Productivity with Data
Email Migration for Law Firms: 7 Tips to Ensure Success
About Messaging Architects
Messaging Architects specializes in effectively managing and securing an organization's most precious asset, its information. With over 20 years of information management and technology consulting experience, the Messaging Architects team has provided corporations, educational intuitions, health care facilities and nonprofits with methodologies, procedures, and technology to keep their data organized, compliant and secure.
About eMazzanti Technologies
eMazzanti's team of trained, certified IT experts rapidly deliver increased revenue growth, data security and productivity for clients ranging from law firms to high-end global retailers, expertly providing advanced retail and payment technology, digital marketing services, cloud and mobile solutions, multi-site implementations, 24×7 outsourced network management, remote monitoring and support.
eMazzanti has made the Inc. 5000 list 9X, is a 4X Microsoft Partner of the Year, the #1 ranked NYC area MSP, NJ Business of the Year and 5X WatchGuard Partner of the Year! Contact: 1-866-362-9926, info@emazzanti.net or http://www.emazzanti.net Twitter: @emazzanti Facebook: Facebook.com/emazzantitechnologies.