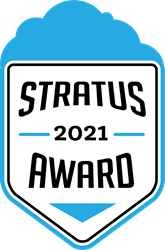 PHILADELPHIA (PRWEB) October 05, 2021
Today the Business Intelligence Group is proud to announce the winners of the 2021 Stratus Awards for Cloud Computing by recognizing 60 companies, services, and executives deemed leaders in the cloud.
"We now rely on the cloud for everything from entertainment to productivity, so we are proud to recognize all of our winners," said Maria Jimenez, Chief Nominations Officer of Business Intelligence Group. "Each and every one is helping in their own way to make our lives richer everyday. We are honored and proud to reward these leaders in business."
The 2021 Stratus Award winners are:
Top Executives
Chris Cabrera, Founder and CEO, Xactly Corporation
Nick Mistry, VP Cloud Security, Vulnerability Management, and DevSecOps, FANNIE MAE
Lilia Yeghiazaryan, Co-Founder & CEO, Dexatel OU
Top Organizations
Acumatica - Cloud Integrator
ADP - Software as a Service
Agency Mania Solutions - Software as a Service
AHEAD - Cloud Integrator
Alkira - Infrastructure as a Service
Amivero - Cloud Integrator
Asimily - IoT
Benchmark Digital Partners - Mobile Cloud Provider
CCC Intelligent Solutions - Software as a Service
CodeTwo Software - Cloud Company
Corestack - Cloud Disruptor
Darktrace - Artificial Intelligence
Boomi - Cloud Company
Effectual - Cloud Company
InVision - Cloud Collaboration
Kustomer - Software as a Service
Messagepoint - Artificial Intelligence
MinIO - Storage Technology
Navisite - Cloud Integrator
Navisite - Managed Service Provider
PDI Software - Cloud Disruptor
Prophix - Cloud Collaboration
Taos (an IBM Company) - Hybrid Cloud Provider
Tavant - Artificial Intelligence
Thrive - Cloud Security Service
Top Products/Services
Accion Labs - IoT
ADP DataCloud - Artificial Intelligence
APARAVI - Platform as a Service
Boingo Wireless - IoT
Brandfolder - Artificial Intelligence
Broadvoice - Cloud Collaboration
CSS Corp Intelligent Automation Cloud Platform - Platform as a Service
Cyberpion - Security
Deduce - Artificial Intelligence
Docufree - Software as a Service
Egnyte - Cloud Disruptor
Everbridge - Telemedicine
Hypori - Cloud Security Service
IBM - Infrastructure as a Service
Informatica - Artificial Intelligence
interworks.cloud - Cloud Company
LogMeIn - Software as a Service
Lookout - Cloud Security Service
McAfee Enterprise - Cloud Security Service
NetApp - Artificial Intelligence
NetApp - Hybrid Cloud Provider
NIO - Cloud Disruptor
PacketFabric - Platform as a Service
Rafay Systems Kubernetes Operations Platform - Kubernetes
Red Hat OpenShift Platform Plus - Kubernetes
Red Hat Marketplace, Operated by IBM- Cloud Disruptor
SnapLogic Intelligent Integration Platform - Platform as a Service
True Influence Marketing Cloud - Software as a Service
vFunction - Cloud Disruptor
WiteSand Systems - Software as a Service
Wolters Kluwer TeamMate+ Agile Audit - Cloud Collaboration
ZE PowerGroup - Private Cloud Provider
The Stratus Awards panel of judges also recommended that the following companies and services be recognized as "Finalists" for their documented performances. Stratus Award Finalists include: Code Two Software, Darktrace, Druva, GoodData, Maxim Integrated®, now part of Analog Devices, Out Systems, PDI Software, RFPIO, Silk and TCP Software.
About Business Intelligence Group
The Business Intelligence Group was founded with the mission of recognizing true talent and superior performance in the business world. Unlike other industry award programs, business executives—those with experience and knowledge—judge the programs. The organization's proprietary and unique scoring system selectively measures performance across multiple business domains and then rewards those companies whose achievements stand above those of their peers.