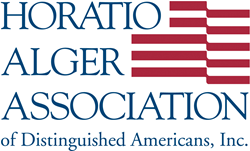 WASHINGTON (PRWEB) August 25, 2020
Horatio Alger Association of Distinguished Americans, Inc., a nonprofit educational organization honoring the achievements of outstanding individuals and encouraging youth to pursue their dreams through higher education, today announced 649 students from across the nation will receive its prestigious 2020 Horatio Alger State Scholarship. These annual scholarships recognize outstanding students, who, in the face of great personal adversity, have exhibited an unwavering commitment to pursue their dreams through higher education.
Since the establishment of its scholarship programs in 1984, more than 27,000 students from all 50 states, the District of Columbia, Puerto Rico and Canada have received more than $180 million in undergraduate, graduate and specialized scholarships. In 2000, 16 years after the establishment of its National Scholarship Program, the Association began funding scholarships concentrated in each state to further its mission of assisting deserving young people to pursue higher education. Additionally, Horatio Alger Members fund a series of Specialized Scholarships, which target students attending specific academic institutions or pursuing certain degree programs.
"The 2020 Horatio Alger State Scholars have faced great adversity throughout their lives, yet remain dedicated to furthering their education," said James F. Dicke II, president, Horatio Alger Association and 2015 Horatio Alger Award recipient. "These students are immensely talented and have very bright futures ahead, and on behalf of our entire Membership, Life Partners and staff, we are honored to support them as they enter this next chapter."
Collectively, the 2020 Horatio Alger State Scholarship recipients are students who come from households with an average annual income of $21,598 while maintaining an average GPA of 3.73. Each recipient is awarded a minimum of $10,000 to apply towards the cost of attendance of their selected college or university.
State Scholarships are funded through the generosity of the following individuals/organizations:

AKSARBEN Foundation (Nebraska, Western Iowa)
Al and Cathy Annexstad Horatio Alger Scholarship Fund (Minnesota)
Argyros Family Foundation (California)
BNSF Railway Foundation (North Dakota)
Brinson Foundation (Illinois)
Crown Equipment Corporation (Ohio)
Daniels Fund (Colorado)
Dennis and Phyllis Washington Foundation (Colorado, Michigan, Montana, New Jersey, North Carolina, Texas, Virginia, Washington, Wisconsin)
Estate of Dorothy Girard (Florida)
Gibson, Dunn & Crutcher, LLP (New York)
Horatio Alger Association Endowment Fund (Alabama, Alaska, Arizona, Arkansas, California, Colorado, Connecticut, District of Columbia, Florida, Hawaii, Idaho, Indiana, Kansas, Louisiana, Maine, Maryland, Massachusetts, Minnesota, Mississippi, Missouri, Nevada, New Hampshire, New Jersey, New Mexico, New York, North Carolina, North Dakota, Ohio, Oklahoma, Oregon, Rhode Island, South Carolina, Texas, Utah, Vermont, Virginia, Washington, West Virginia, Wisconsin and Wyoming)
Horatio Alger Association Members:
o Donald R. Beall (California)
o Dean L. Buntrock (Illinois, South Dakota)
o Doris K. Christopher (Illinois)
o James L. Clayton (Tennessee)
o William J. Doré (Louisiana)
o Terry M. Giles (Texas)
o Robert Blyth Goergen (Florida)
o William E. Greehey (Texas)
o Craig Hall (Texas)
o Ronald G. Harrington (Ohio)
o James A. Haslam II (Tennessee)
o Randall D. Hubbard (New Mexico)
o K. Michael Ingram (Arizona)
o Alan B. Miller (Pennsylvania)
o Robert G. Miller (Idaho)
o Angelo R. Mozilo (California)
o Clarence Otis, Jr. (Florida)
o Byron Pitts (New York)
o Ernest S. Rady (California)
o Patrick G. Ryan (Illinois)
o T. Denny Sanford (South Dakota)
o Michael Shannon (Colorado)
o Peter W. Stott (Oregon)
o Chris Sullivan (Florida)
o Lenard B. Tessler (New York)
o John Weiland (New Jersey)
o Sidney D. Wolk (Massachusetts)

Lift-A-Life Foundation (Kentucky)
Mr. Francis Nichols (Maine, Vermont)
Mrs. Michele Rollins and the Rollins Family, in honor of Horatio Alger Association Member John W. Rollins, Sr. (Delaware)
Neubauer Family Foundation (Pennsylvania)
Ronald C. Waranch Foundation (California, Texas)
The O. Wayne Rollins Foundation (Georgia)
Uptake (Illinois)
Vestas (Iowa, Oregon)
"By funding these Scholarships, Horatio Alger Members are providing these deserving young people the important opportunity to continue their education," said Terrence J. Giroux, executive director, Horatio Alger Association. "We are very grateful for their ongoing support and commitment to our mission."
For more information about the Horatio Alger Association and to see a full listing of its 2020 State Scholars, please click here. Follow the organization on Facebook, Twitter and Instagram.
About Horatio Alger Association of Distinguished Americans:
Founded in 1947, the Horatio Alger Association of Distinguished Americans, Inc. is dedicated to the simple but powerful belief that hard work, honesty and determination can conquer all obstacles. The Association honors the achievements of outstanding leaders who have accomplished remarkable successes in spite of adversity by bestowing upon them the Horatio Alger Award and inducting them as lifetime Members. Horatio Alger Members support promising young people with the resources and confidence needed to overcome adversity in pursuit of their dreams through higher education. Through the generosity of its Members and friends, in 2019, the Association awarded more than $21 million in undergraduate and graduate need-based scholarships to 2,500 students across the United States and Canada, and provided college support and mentoring services to its Scholars. Since 1984, the Association has awarded more than $180 million in college scholarships to more than 27,000 deserving students. For more information, please visit http://www.horatioalger.org.
2020 Horatio Alger State Scholars
Alabama: Leila Cherry (Vinemont), Tavaria Johnson (Childersburg), Jazmin Klaber (Rogersville), Tamia Nelson (Pelham), Anthony Nettles (Monroeville), Jackson Stallings (Cedar Bluff), John Stokes (Monroeville), Owen Turrentine (Mount Olive)
Alaska: Leah Anderson (Tanana), Chelsea Plagge (Kenai), Madison Rose (Ketchikan), Ada Sanchez (Anchorage), Nayeli Sorto-Perez (Anchorage)
Arizona: Isaiah Cabrera (Mesa), Ren Dickson (Glendale), Sequoia Galbreath (Kingman), Tyrone Gonzalez (Phoenix), Alexis Hsu (Phoenix), Sumaiya Manjra (Glendale), Frank Pauls (Peoria), Hailie Sanders (Mesa), Phoenix Swiacki (Chino Valley)
Arkansas: Abreanna Dickerson (Malvern), Matthew Gil (Malvern), Madyson Hudspeth (Ozark), Raven Kendrick (Knoxville), William Nobles (Russellville), Madison Olvera (Fordyce), Jessiah Womack (Bearden)
California: Miguel Anderson (Richmond), Dana Bellinger (Northridge), Irene Botello-Contreras (Lemoore), Sean Cho (North Hollywood), Osiris De Leon-Rodriguez (Victorville), Lisa Do (Elk Grove), Michelle Fox-Romero (Chula Vista), Emoni Francis (Desert Hot Springs), Benito Garduno (Santa Ana), Ariana Gokbas (Compton), Mia Hanson (Santa Ana), Khadija Hassan (San Diego), Karen Jimenez (Commerce), Arine Kim (Moraga), Brandon Lam (La Puente), Trista Livermore (San Diego), Osbaldo Longoria Nava (Union City), Alondra Macario (Bakersfield), Anthony Majin (La Puente), Lana Murray (Portola), Eric Musgrave (Los Angeles), Casey Nguyen (Westminster), Tracy Nguyen (Oakland), Peyton Ocallaghan (Livermore), Richard Pankratz (Clearlake), Alexander Peng (San Francisco), Daisy Perez (Modesto), Daniella Perez (Ontario), Anthony Phan (Westminster), Abigail Rickli (Brentwood), Avery Rickli (Brentwood), Gloria Rodriguez (Escalon), Edgar Sahakian (Glendale), Tania Salceda (Oxnard), Paige Singer (Agoura Hills), Karina Solano (San Jose), Ingrid Vega (Ripon), Michelle Samantha Villar-Cervantes (San Jose), Avyanah Washington (Richmond), Victor Ye (Hacienda Heights)
Colorado: Gabriel Castro (Greeley), Katherine Finell (Aurora), Salem Knuckles (Cortez), Hannah McBride (Federal Heights), Jacob Ramirez (Colorado Springs), Emily Tuttle (Colorado Springs), Eleeza Waggoner (Johnstown), Allison Williamson (Colorado Springs), Henry Xu (Trinidad)
Connecticut: Peu Das (Stamford), Willem Devries (Clinton), Manci Gandhi (Derby), Katelyn Greco (Norwalk), Anthony Martinez (East Hartford), Sophia Negyesi (Stamford), Omofolade Olusanya (Waterbury), Theresa Sherwood (Prospect)
Delaware: Tamye Allen (Newark), Corinne Gumpman (Camden Wyoming), Tessa McDonough (Georgetown), Lauren Pham (Townsend), Elijah Pittman (Newark), Brooklyn Tyndall (Seaford)
District of Columbia: Dayja Burton (Washington), Shantel Burton (Washington), Maya Gray (Washington), Aiona Green (Washington)
Florida: Nathalie Acosta (Miami), Deanalis Arias (Polk City), Yesenia Ascencio (Bradenton), Nia Britton (Jacksonville), Francia Civilmar (Pompano Beach), Angelee Geiger (Palm Bay), Reef Ide (Windermere), Ralph Jeanty (Boca Raton), Kathaleen Kelly (Sarasota), Laila King (Tampa), Dewayne Martin (Miami Gardens), Paul Mcintyre (Jacksonville), Kathleen Mehu (Palm Bay), Missy Poe (Spring Hill), Dymede Purvis (St. Petersburg), Jordan Racicot (Palm Harbor), Edwin Reyes (Okeechobee), Galen Rydzik (Tampa), Alejandro Santa Maria (Clearwater), Ana Viveros (Miami), Aaliyah Williams (Sarasota), Farjana Yasmin (Pahokee), Jasmyn Yearby (Daytona Beach)
Georgia: Jai Barnett (Rossville), Baylee Brown (Chickamauga), Dequila Byrd (Chickamauga), Nicole Chung (Suwanee), Cheye Collins (Ringgold), Memphis Davila (LaFayette), Moriah Davis (Brunswick), Jennifer Delgado (Forest Park), Mia Durham (Rossville), Lauren Evans (Winder), Vanessa Franco (Norcross), Dion Goodwin (Hephzibah), Mary He (Atlanta), Cobi Henry (Smyrna), Jeanette Herrera (Atlanta), Gary Johns (Grantville), Mallory Jones (Fort Oglethorpe), Nathaly Jose-Maria (Canton), Fayre Khalique (Columbus), Kailen Kim (Acworth), Tanner Knight (Chickamauga), Hunter Latta (Chickamauga), Kiersten Lee (Marietta), Lauren Maddox (Jackson), Tabius Mccoy (Atlanta), Neleh Mcgivern (Cartersville), Blue Monto (Flintstone), Chasidy Moore (Valdosta), Richard Motley (Chickamauga), Fatime Niane (Jonesboro), Agelense Okojie (Douglasville), Ikenna Okonkwo (College Park), Piero Orderique (Columbus), Garrett Parker (Rossville), Meet Patel (Dalton), Nicole Paul (Douglasville), Abigail Pinkley (Dublin), Flor Rodriguez (Dalton), Matthew Schaublin (Rossville), Kayla Scott (Rossville), Gary Sheppard (Atlanta), Adam Shi (Duluth), Connor Sims (Chickamauga), Rebecca Smith (Oxford), Corey Smith (Covington), Kevin Swaggerty (Chickamauga), Alexis Toombs (Greenville), Candace Tunac (Marietta), Cierra Williams (Valdosta), Haley Wilson (Hephzibah)
Hawaii: Isabella Chung (Honolulu), Zoe Dalrymple (Captain Cook), Le Yi Feng Zheng (Honolulu), Lauryn Ige (Wailuku), Precious Nakamoto (Captain Cook)
Idaho: Sheyenne Camacho (Kellogg), Kyran Cates (Victor), Hannah Cote (Mullan), Skylar Hill (Silverton), Jacob Hollibaugh (Dietrich), Candy Tang (Boise)
Illinois: Lisa Beltran (Melrose Park), Julia Brandtner (Litchfield), Maggie Cao (Wilmette), Hallie Daily (Decatur), Tessla Ellis (Chatham), Charvez Freeman (Chicago), Myah Grossheim (Godfrey), Averi Hansen (Spring Valley), Tahrhon Haynes (Lansing), Alejandra Hernandez (Cicero), Ashley Jackson (Thompsonville), Esteban Lezama (McHenry), Kevin Lionberger (Carthage), Kevin Molina (Aurora), Tyler Peters (South Jacksonville), Jessica Price (Eldorado), Faith Sanders (Christopher), Jayde Seitzinger (Lawrenceville), Kaelan Shetler (Scales Mound), Tylisha Stubbs (Centreville), Madisyn Walton (Rantoul), Kevin Wandick (Tinley Park), Zyane Williams (Lockport), Zander Williams (Eldorado)
Indiana: Emma Hassfurther (Ferdinand), Janet Johnston (Peru), Lois Kinser (Oolitic), Rebecca Mattson (Mishawaka), Kristjan Preasha (Fort Wayne), Ansley Reid (Cicero), Gabriel Sanchez (Lowell), Ethan Stuart (Madison), Noble Thompson (Indianapolis), Jasmine Widgery (Lafayette)
Iowa: Baylee Anderson (Marengo), Daniela Avalos (Council Bluffs), Cassidy Bradley (Denison), Raven Brown (Emmetsburg), Arlette Milstead (Council Bluffs), Alexander Reynolds (Tipton), Madeline Taverna (Dubuque), Jaiden Utech (Sioux City), Micah Williams (Prairieburg)
Kansas: Breuana Duval (Chanute), Emma Humble (Fort Scott), Zoe Miller (Hays), Paidge Rosebaugh (Beloit), Amaya Svendblad (Salina), Kodi Taylor (Neodesha), Brandalyn Thyfault (Dorrance)
Kentucky: Dylan Bargo (London), Jenna Blakey (Ekron), Sarah Givens (Pikeville), Jaiden Greene (Gunlock), Evan Kinser (Stanton), Douglas Waddell (Olive Hill), Madalyn Wilburn (Worthington), Morgan Wilson (Danville)
Louisiana: Abyssinia Braud (Metairie), Isaac Broussard (Lake Charles), Michelle Dinh (Harvey), Adrian Eaglin (Grand Coteau), Madison Johnson (Des Allemands), Daniel Rodriguez (Oakdale), Madison Scanlan (Church Point), Sadie White (Oakdale)
Maine: Taylor-Jeffery Doone (Oakland), Kayleigh Duggan (Bath), Abigail McNally (Millinocket), Gwendolyn Randall (Casco), Gage Thompson (Dresden)
Maryland: Hannah Ajibola (Silver Spring), Monisha Ascension (Silver Spring), Alicia Benn (Middle River), Christen Carpenter (Forestville), Natnael Kelkay (Silver Spring), Kiana Angela Macharia (Columbia), Ayisat Odeyale (Upper Marlboro), Justin Shi (Silver Spring), Betel Tenna (Gaithersburg)
Massachusetts: Abby Al-Asousi (Barnstable), Leslie Carreto Romero (Chelsea), Jeremy Fox (Reading), Hayliana Howes (Lynn), Nora Jouni (Revere), Mackenzie Kane (Weymouth), Nicholas Lopez (Lawrence), Ala Mourad (Springfield), Julia Ortiz (Stoughton), Kevin Truong (Lowell)
Michigan: Shayla Brown (Farmington Hills), Katelyn Cooke (Niles), Iayna Craig (Ecorse), Brandon Harrell (Detroit), Karissa Mcclendon (Detroit), Derrelle Murray (Eastpointe), Logan Patterson (Fowler), Brandon Prichard (Sebewaing), Zaire Richardson (Detroit), Kennedy Schulist (Niles), Griffin Sexton (Alpena), Sidney Shaloy (Prudenville), Hayley Takach (Niles), Madelyn Van (Wyandotte), Jazmyn Wall (Roseville)
Minnesota: Munshi Chia (Roseville), Maxwell Darkow (East Gull Lake), Margaret Dergantz (Hibbing), Emily Elliot (Brandon), Ashley Foster (Pequot Lakes), Poe Hsi (Saint Paul), Taylor Larson (Becker), John Nguyen (Saint Paul), Esther Oluwalowo (Brooklyn Park), Naudia Vang-Nguyen (Ham Lake)
Mississippi: Anna Dobbs (Pontotoc), Qinana Dotson (Clarksdale), Alex Jiang (Jackson), Stacie Johnson (Meridian), Nyshedra Jordan (Brooksville), Luke Langlinais (Ocean Springs), Ruiying Zheng (Madison)
Missouri: Lakenzie Bailey-House (Kansas City), Victoria Bezzole-Hershey (St. Louis), Ronan Brown (Kansas City), Tyler Crane (Buffalo), Gwen Kincaid (Houston), Ashlyn Lewis (Sullivan), Erika Lindblom (Marionville), Geneva McDaniel (Buffalo), Zachary Osmanovic (Four Seasons), Sydnie Warford (East Prairie)
Montana: Kaden Ahlers-Williams (Hamilton), Anika Anderson (Billings), Marlayna Bennett (Columbus), Kier Brown (Black Eagle), Montana Campbell (Dillon), Gage Clinton (Lewistown), Olaia Connelly (Livingston), Clint Darlington (Big Sandy), Sophia Delvo (Hamilton), Rebecca DeMars (Winifred), Makayla Dines (Geraldine), Sebastian Driver (Stevensville), Jessica Duffield (Anaconda), Grace Edgar (Florence), Kaitlyn Frank (Anaconda), Catharine Frederick (Hamilton), Jadyn Gasser (Columbia Falls), Krystal Gilliam (Kalispell), Amanda Grow (Sheridan), Morgan Hill (Helena), Jacob Huston (Havre), Gregory Johnson (Anaconda), Alexander Lowe (Eureka), Tre Luedtke (Billings), Coryn Martinez (Billings), Kendra McMaster (Chinook), Madison Montoya (Livingston), Alexsandra Morawic (Stevensville), Kelsey Myers (Manhattan), Jessica Nunez (Helena), Molly Nunn (Winnett), Isabel Petry (Livingston), Maurlee Rider (Heart Butte), Phoenix Sands (Missoula), Kimber Schlapman (Darby), Brendan Schneiter (Florence), Skylar Simpson (Superior), Nevaeh Spotted Eagle (Harlem), Katherine Stahl (Geyser), Rachael Trinder (Glasgow), Madison Warfield (East Helena), Sarah Welborn (Dillon), Devin Windfield (Missoula), Caroline Winsor (Missoula), Cordell Younkin (Glasgow)
Nebraska: Kween Alabi (Omaha), Jasmine Anaya (Lexington), Neligh Andersen (Gothenburg), Alice Arnold (Wymore), Leonna Blake (Omaha), Jurnee Bruce (Franklin), Brynna Bruxellas (Humboldt), Jennifer Cardona (Crete), Jillian Caroon (Fairbury), Sarah Casper (Exeter), Logan Cate (Valentine), Zoe Collingham (York), Melanie Coronado Amaya (Bellevue), Stephanie Degante-Hernandez (Omaha), Chloe Donahey (Cozad), Lasaisha Dunagan-Eviglo (South Sioux), Tessa Eldridge (Lexington), Sable Fessler (Blue Hill), Mariam Garcia-Escobar (Columbus), Michael Hazen (Curtis), Michael Heinrich (York), Hadley Jacob (Elkhorn), Caleb Jalas (Deshler), Yexalen Jaramillo (Omaha), Alex Jarecke (Stuart), Heath Keiser (Gothenburg), Day Meh (Omaha), Evelyn Mejia (Norfolk), Makayla Myers (Omaha), Hailey Myers (Arnold), Payton Neunaber (Beatrice), Elijah Onate (Gibbon), Ayden Ourada (Kearney), Araceli Palmer (Elgin), Jessica Palmquist (Yutan), Juan Perez (Cairo), Clara Perez (Omaha), Erika Rafael (Crete), Destiny Rajaniemi (Denton), Britney Salcedo-Gutierrez (Omaha), Lindsey Sawyer (North Platte), Madison Stracke (Stuart), Samantha Tellez (Omaha), Jaime Valadez (Omaha), Austin VanHorn (Stromsburg), Anjah Vladimir (Omaha), Emma Wareham (Sutherland), Kia Williams (Omaha), Trissa Wilson (Sutherland)
Nevada: Stephany Correa-Diaz (Las Vegas), Valerie Domingo (Henderson), Gabriel Hafter (Las Vegas), Bianca Horst (Henderson), Kayla Rhodes (Las Vegas), Elmira Zakaryan (Las Vegas)
New Hampshire: Katherine Blake (Northwood), Christopher Ford (Franconia), Kaiya Masi (Manchester), Kimiya Parker-Hill (Manchester), Precious Rodriguez (Lisbon)
New Jersey: Oyebola Ajayibembe (Newark), Michael Gomez-Kobayashi (Jersey City), Lora Harris (Millville), Michael Martinez (New Milford), Jazmin Mora-Amaya (Paterson), Shah Rahman (Paterson), Nancy Rico-Mineros (Camden), Aileen Ryan (Egg Harbor Township), Alex Silva (Elizabeth), Jared Smith (Hillsborough), Ti'Ani Thomas (Paterson), Felipe Valencia (Englewood), Jade Wicker (Millburn)
New Mexico: Michael Garcia (El Rito), Julianna Gough (Santa Teresa), Stacy Gutierrez (Ruidoso Downs), Patricia Lucero (Albuquerque), Steven Williams (Albuquerque), Kaitlyn Williams (Edgewood)
New York: Abdulyekinni Ajomagberin (Bronx), Azriel Almodovar (Bronx), Kezia Asamoah (Bronx), Alexis Barnes (Jasper), Hayley Berner (Gasport), Christopher Brown (New York City), Nazira Cisse (Bronx), Ganga Dripaul (Queens), Mahmoud Elghayesh (Brooklyn), Jenna Eszak (Lackawanna), Ross Friend (North Tonawanda), Athena Galasso (Brooklyn), Susan Hatfalvi (Palmyra), Makenna Noel (Bronx), Isabella Palfi (Massapequa), Seth Rosario (Little Falls), Yiting Su (Brooklyn), Blythe Tamez (Spencertown), Isabelle Weiss (Hewlett), Andy Zheng (Flushing)
North Carolina: Dakota Alcala (Rural Hall), Grace Araujo (Asheville), Anderson Chau (Winston-Salem), Adeja Cheek (Durham), Marilee Combs (Jonesville), Emily Grimm (Rocky Mount), Joseph Holmes (Patrick Afb), Cesilia Lewis (Macclesfield), Brianna Norris (Franklin), Chase Pruett (Mount Airy), Jaden Soular (Chapel Hill), Cayla Withers (Kannapolis)
North Dakota: Raegen Hartman (Edgeley), Hunter Hendrickson (Kindred), Tessa Mattson (Minto), Elizabeth Muhs (Langdon), Raven Vallie (Belcourt)
Ohio: Ciera Altman (Leipsic), Roxanna Beers (Mentor), Gabrielle Carter (Beaver), Meranda Coleman (Ray), Jordan Dillon (Amanda), Ronnelle Drakeford (Cleveland Heights), Cherokee Fenwick (Canton), Adriana Garcia (Columbus), Danyelle Goman (Caldwell), Jordan Jennings (Portsmouth), Kyle Ray (Whitehouse), Ethan Reedy (New Vienna), Alexis Schupbach (Dover), Helena Stacy (Jackson), Owen Valentine (N. Canton), Lillian Whitcomb (Coshocton)
Oklahoma: Justice Clark (Oklahoma City), Taycie deWindt (Hooker), Abby Elam (Salina), Kielee Ferrell (Tulsa), Beth Randall (Tecumseh), Carter Thorne (Lawton), Ariel Wallis (Pocola), James Young (Tulsa)
Oregon: Ivan Galicia Sixto (Woodburn), Kelsey Limnell (Portland), Savanna Matott (Pendleton), Anya Miller (Eugene), Raymond Pasay (Turner), Jose Luis Pasaye Marcelo (Portland), Armando Tellez (White City), Oscar Zurita (Canby)
Pennsylvania: Gavin Beck (Moosic), Peyton Carr (Dauphin), Damoni Chou (Philadelphia), Arylissa Diaz (Willow Street), Angel Eisenhuth (Johnstown), Sibela Fezo (Philadelphia), Anna Given (Hummelstown), Jacob Goldmann (Harrisburg), Samantha Gries (Carlisle), Eugene Haley (Monaca), McKenzie Hendricks (Harrisburg), Jason Hoo (Philadelphia), Lukas Kissell (Greensburg), Jeramiah Lyons (Allentown), Kayla Marrero (Philadelphia), Ebona McRavion-Breedlove (Philadelphia), R-E Miller (Hamburg), Emily Myers (Pennsburg), Zachary Pendarvis (Valencia), Liala Ranker (Hyndman), Dylan Ring (Montgomery), Jacob Smedley (Danville), Carlee Smith (Carnegie), Nia Smith (Pittsburgh), Nicolas Spohn (Manheim), Sarah Stoltzfus (Kirkwood), Enoch Tariku (Philadelphia), Erik Wagler (Central City), Amaya Williams (Philadelphia)
Rhode Island: Janaisia Gomes (Providence), Benjamin Mancini (Coventry), Adenis Martinez (Providence), Luis Rivera (Providence), Nicholas Rutherford (Coventry)
South Carolina: Sierra Burns (Greenville), Jordan Cash (Spartanburg), Sierra Ford (Hilton Head Island), Jennifer Garcia-Heredia (Taylors), D'Mario Gerald (Goose Creek), Jaida King (Simpsonville), Devin Leigh (Loris), Xavier Pierce (Beaufort)
South Dakota: Brooke Bishop-Lafrentz (Brandon), Arlen Brewer (Pine Ridge), Blake Farstveet (Highmore), Harley Fischer (Belle Fourche), Jordyn Hall (Flandreau), Carter Linke (Wessington Springs)
Tennessee: AnnaBelle Chaney (Knoxville), Brayden Frye (Bruceton), Emily Groth (Ashland City), Gracie Hess (Hixson), Ashton Jackson (Chattanooga), Lauren Milam (Waynesboro), Hector Parker (Strawberry Plains), Mary Townzen (Charleston), Dana Wilson (Tellico Plains), William Wright (Hurricane Mills)
Texas: Carlos Armendariz (Fort Worth), Maria Benavides (Los Indios), Kayla Campbell (Waxahachie), Carlos Carrete (El Paso), Yulisa Castro (Haltom City), Kaitlyn Crook (Breckenridge), Corey Daves (Cypress), Tommy Diep (Houston), Carolina Escobar (Houston), Marcos Flores (Kennedale), Dava Flowers (Sunset), Mason Garcia (Keene), Sarahi Granados (Donna), Talia Hanley (Austin), Josue Herrera Rivera (Houston), Isaac Huerta (Humble), Jason Jaramillo (San Antonio), Anakin Martinez (Brownsville), Kendyl Meier (Graham), Alexa Melancon (Ennis), Makayla Miksch (Thrall), Montrell Nelson (Fresno), Kalen Nimmo (Linden), Hadley Pearce Ratliff (Denison), Edward Rosales (Dallas), Michelle Truong (Houston), Aime Turberville (San Antonio), Jorge Umanzor (Houston), Brooke Vaughn (Mount Pleasant), Adin Viera (Kerrville)
Utah: Emilia Douglass (Kanab), Ninette Gonzalez (Tooele), Priscila Gutierrez (Salt Lake City), Catalina Madrigal (Milford), Steven Maldonado (West Valley City), Cvetanka Rizvanovic (Salt Lake City), Brycen Whitesides (Pleasant View)
Vermont: Ileigh Aube (Middlebury), Alexus Beebe (Springfield), Alivia Crum (Groton), Dakota Jones (Irasburg), Wenzdae Wendling (Wolcott)
Virginia: Andrea Abao (Herndon), Julia Burns (Mechanicsville), Kaitlyn Campbell (Lovingston), Bryan Cardenas (Falls Church), Gabriel Fisher-Diehl (Newport News), Cailin Johnson (Covington), Taylia Jones (Roanoke), Savannah Kelley (Church Road), Leonela Morales (Manassas), Leah Shrewsbury (Vinton), Bridget Silvious (New Market), Taylor Talley (Bumpass)
Washington: Dagan Anderson (East Wenatchee), Jackson Beermann (Bainbridge Island), Ashley Dinh (Seattle), Cristofer Mixquitl (Richland), Phuong Phan (Tukwila), Jackeline Reyes Lopez (Wenatchee), Lauren Shen (Bellevue), Moses Smith (Federal Way), Allan Tran (Seattle), Sadie Wheelock (Tacoma)
West Virginia: Dylan Blackburn (Delbarton), Piper Gaines (New Martinsville), Bryan Gough (Fort Ashby), Aaliyah Painter (Leslie), Kelly Pyne (Marlinton), Bristol Thompson (Bluefield)
Wisconsin: Yessenia Colon (Milwaukee), Jalen Corey (Madison), Jade Durand-Husting (Milwaukee), Carla Garten (Menasha), Alesha Kaat-Fohr (Plymouth), Brittani Meis (Platteville), Kristin O'Bel (Albany), Merinah Popp (Waukesha), Sarah Seager (Menasha), Aspen Zillmer (Walworth)
Wyoming: Karina Boreen (Powell), Alicia Brock (Meeteetse), Khloe Kennedy (Cody), Julia Miller (Alta) Faith Roby (Rock Springs)