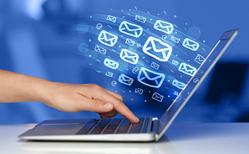 While some current insights say the 'eyes-on time' for customers is anywhere from 1.3 to 9 seconds, other studies say it's dropped to 8 seconds. ... Sky Cassidy thinks the sweet spot is mid-range, right at 6 seconds.
CANOGA PARK, Calif. (PRWEB) February 10, 2021
How long does it take to land a customer? By the time you've finished reading this sentence, they're gone. Sky Cassidy, CEO of MountainTop Data, says in email marketing you have a maximum of 6 seconds to grab them. "We're talking 2 to 3 seconds just to absorb the message," explains Cassidy. "The countdown begins. A heartbeat later, the lead is intrigued. Now you have eyes on. Your message needs to land right that second. That's your moment. If you can capture the seconds in that window, your lead clicks through to the wealth of information you have to offer."
The decreasing span of customers' attention always sparks debate in the marketing field. While some current insights say the "eyes-on time" for customers is anywhere from 1.3 to 9 seconds, (1) other studies (2) (3) say it's dropped to 8 seconds over the past two decades. Cassidy thinks the sweet spot is mid-range, right at 6 seconds. First, he says, take away what's unnecessary. Skip introductions and get right to the point, and make sure your message is getting where it needs to go.
Cassidy encourages professionals to consider adopting a strategy he calls Branding 6.0: "Those 6 seconds should be front of mind, every time you're crafting a communiqué, you likely have more than 6 seconds of messaging, but the first 6 seconds must sell them on looking at the rest. Whatever the message is, count the seconds down, and then compress your message to its most striking and memorable elements. With a targeted message landing on the right person's screen, half your job is done, but seconds count."
Cassidy explains the complex correlation between Account-Based Marketing and the B2B customer journey. "ABM is all about creating a strategy and a contact plan that incorporates triggering events," he says. "Once you've got their attention, the data you collect defines the customer's journey, from their business behaviors to identifying their pain points. Synchronizing your ABM methodology to a B2B buying process based on the customer's distinctive attributes puts you in control not only of their buying arc but their perception of you and your product or service."
According to Cassidy, using actionable data not only creates efficiency, but helps capture the attention of the ideal customer. Cleaning data eliminates bounce backs, adds valuable assets to your CRM that augment customer data, and supercharges email lists so they are not only tailored, but targeted by focusing your message. (4)
"Fragmenting your approach to marketing creates a 'Jack of all trades, master of none,' syndrome," explains Cassidy. "A focused approach, beginning with clean data, segmented lists, and an audience that's been identified not only by its demographics but by an individual's profile and characteristics, makes a world of difference in how your content and messaging not only helps create great experiences, but also boost your lead-gen efforts. It's not the tools that make you succeed; it's how you use them."
Every marketing campaign benefits from focus. Responses and data collection are faster, and the chances of reaching the right audience improve exponentially. A comprehensive understanding of your goals, your platform and your data combined with thoroughly intentional marketing skills means 6 seconds is all the time you need, affirms Cassidy.
"To get the most bang from your email campaigns, it's imperative your email lists are clean and up to date," says Cassidy. "In the past you could send out to large lists and see some results; however, in today's saturated market where most people receive hundreds of emails a day, you have seconds to make your point before your message is ignored and discarded."
About MountainTop Data
MountainTop Data, headquartered in Los Angeles, CA, has been providing data services for B2B marketing for almost two decades. With an unrelenting commitment to quality, they were the first company to guarantee the accuracy of their licensed data and business emails. They provide marketing lists, data cleaning, data appending and data maintenance services. Their data services have been used by some of the world's biggest brands across a multitude of various industries from multi-national telecommunication companies to office technology, to PR firms and more. For more information visit: http://www.mountaintopdata.com.
1. Lumen Research. "Mary Meeker: Time spent ≠ attention" lumen-research.com/blog/mary-meeker-time-spent-attention# | Accessed 23 January 2021
2. Microsoft. "Attention Spans: Consumer Insights" dl.motamem.org/microsoft-attention-spans-research-report.pdf | Accessed 23 January 2021
3. Science Daily. "Abundance of information narrows our collective attention span" sciencedaily.com/releases/2019/04/190415081959.htm | Accessed 23 January 2021
4. MountainTop Data. mountaintopdata.com/ | Accessed 23 January 2021