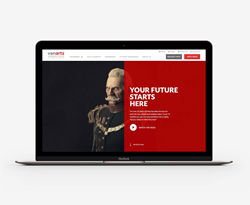 We saw huge success — online leads increased by 60%.
Vancouver, BC (PRWEB) April 20, 2017
6S Marketing and Drive Digital were recognized at the 2017 Change in the Making Conference (CIMC), for the creative redesign and development of VanArts' website, and the strategic search and paid media campaign that drove the most favourable ROI.
The award highlights 6S Marketing and Drive Digital's comprehensive work leading to the win. "Our role was to completely revamp the digital marketing strategy. Through defined targeting, highly relevant messaging, ongoing A/B testing, and extensive analytics tracking, we saw huge success — online leads increased by 60%," said Tina Star, Senior Account Manager at 6S Marketing. "We worked closely with VanArts and Drive Digital to ensure a successful integrated approach."
The award category placed VanArts against major competitors, including Cossette for UBC Sauders' Full-Time MBA and DDB Canada for Found in Canada.
"The client has been blown away by the results to date, and we have ambitious plans to continue showcasing VanArts' innovative programs to students around the globe with new international strategies," Star added.
Darren Maher, Creative Director at Drive Digital, said: "As our target audience was mostly made up of a younger demographic who want to push boundaries and excel in their fields, it was important for us to design a modern, progressive site that could not only inspire students but also put their faith in VanArts.
"One of the many ways we achieved this was by creating 3D interactive program cards that create a fun, forward thinking, and playful experience inspiring students before they've even reviewed the program details. Learning should be fun — I am confident that this belief is brought to life with this site."
Read the award-winning case study here.
Visit the award-winning site here.
About 6S Marketing
6S Marketing is a leading digital agency in New York, Vancouver, and Toronto that transforms businesses for the digital age. For over 17 years, the ROI-driven direct response firm has helped clients revolutionize their businesses online. 6S focuses on emergent tactics such as marketing automation, social media and content strategy, online media buying, programmatic advertising, and multi-lingual campaigns. They have executed sophisticated digital marketing and advertising strategies for clients such as Mountain Equipment Co-op, Pirelli Tires, Cirque du Soleil, and the W Residences in Hollywood. For more information, visit: http://www.6Smarketing.com.
About Drive Digital
Drive Digital is an award-winning Vancouver web design and development agency whose primary purpose is to work closely with their clients to create exceptional digital platforms that provide engaging and interactive brand experiences. The partners at 6S Marketing co-founded Drive Digital in 2012. Since then, the firm has established a strong reputation for building high-quality and results-driven websites. Winners of several international design awards including the IMAs, the Awwwards and the CSS Design awards, Drive has extensive experience across a broad range of sectors, including non-profit, government, travel, CPG, B2B, and industries across the private sector. For more information, visit: http://www.drivedigital.ca.