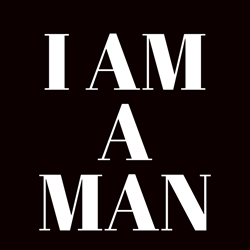 Clarion call for Black men who have been victimized, marginalized, weakened and made to feel less than.."A Man"
LOS ANGELES (PRWEB) May 24, 2021
6x Entertainment, LLC. unveils the haunting, yet soulful stirring single "I Am A Man" featuring 2x Emmy award winning and 3x Grammy Nominee B. Slade – Also, May 25, 2021 will serve as the 1st year anniversary of George Floyd's death.
Every generation has its own musical soundtrack. However, unlike their predecessors, the Black Lives Matter movement, Millennials, and Gen Z's are without one. Despite the progress that has been made over the years, for Blacks, and especially Black men, it feels like "Groundhog Day". They're still being mistreated, abused and killed by law enforcement. Thrilling, unapologetic and liberated, "I Am A Man" the antidote, is an anthemic self-affirming clarion call for Black men who have been victimized, marginalized, weakened and made to feel less than.."A Man"
Stream or download the hit single "I AM A Man" https://soundcloud.com/user-434662398/i-am-a-man-radio-single-ft-bslade/s-NM1e6j6yEo
Preview the trailer announcing the new single https://www.youtube.com/watch?v=CtHDcoE0SMg
In 2018, noted film producer, Floyd Easley asked 6x Entertainment's multi-award-winning songwriter, artist & musician Tia P. to pen the lyrics to a musical composition that had been written by his cousin Darryl Easley and his writing partner, Devin Christopher. Tia P. & 6x Entertainment's executive producers C. Von and Marty Arnold wanted a voice that was powerful enough to bring the lyrics to life coupled with a passion that could be felt, so they enlisted song stylist and multi-talented virtuoso, B. Slade. The feature film will tell the story of two Memphis sanitation workers, Echol Cole and Robert Walker, whose tragic deaths 53 years ago led to the Memphis sanitation strike and the historic involvement of Rev. Dr. Martin Luther King Jr.
Unfortunately, the next day (4/4/68) following his "I've Been to the Mountaintop" speech (4/3/68) Dr. King would be assassinated while standing on the balcony of the Lorraine Motel in Memphis. I Am A Man is the perfect accompaniment to this gripping life-changing segment of Black American history, then & now and pays tribute to the fathers, sons, husbands, and brothers who risked their lives against insurmountable odds to build a better life for their families and community. "I had to deal with my own encounters", says Slade. "I could relate immediately; now that I can breathe a little". 
Hailing from Inglewood, CA Tia P. is a driven, passionate, and charismatic talented artist, producer, musician, actress and songwriter whose lyrical prowess is unmatched and has taken on the challenge to be the Voice of the New Generation. She has written more that 5,000 songs, won numerous songwriting contests and has over 30 Sync Licensing placements.
Two time Emmy Award winner, four-time Grammy-nominated artist, B.Slade, has written, produced and performed alongside his musical idols, from Janet Jackson and Patti Labelle to Snoop Dogg and Kim Burrell and was recently featured in a cameo role with R&B sensation, Ledisi. B.Slade ranks as a top favorite amongst A-listers. He began his journey over 20 years ago and has since written and produced over 300 songs. "As experienced men in entertainment, Marty and I want this song to permeate the hearts of men whereby they find themselves humming it throughout the day, reminding them, and especially Black men, that they too are "A Man" says C. Von, Founder & CEO of 6x Entertainment."
The release of this single, will further solidify the mission and purpose – to educate, inspire, and heal. In the Fall of 2021 6x Entertainment will have established the "I Am A Man Foundation" in support of this human mandate.
Mission & Purpose: To eliminate the marginalization and emasculation of Black men by providing resources designed to enhance their life's journey.
Vision:  Strong Men = Better Husbands, Fathers, Sons and Communities
*Credits*
The Song: I AM A MAN sung by: B.Slade
Written by Tia P.
Music composed by: Darryl Easley & Devin Christopher
Produced by: C. Von
Co-produced by: Tia P. & Darryl Easley
 
Executive Producers C. Von & Marty Arnold of 6x Entertainment
Website: For I Am A Man  https://www.iamaman2k.org
Website For B.Slade  https://www.bsladenow.com
B.Slade's Manager: jgroover@rockmediaconcepts.com
Website for 6x Entertainment: https://www.6xentertainment.com
Please contact 6x Entertainment for interviews and further information.
mgmt@6xentertainment.com – 323 273-5398