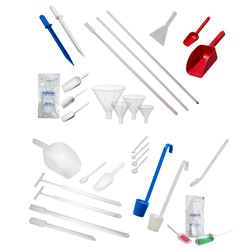 We understand Sterileware is relied on by our customers
WAYNE, N.J. (PRWEB) April 26, 2021
Supported by an all new, full line Sample Handling Catalog the SP Bel-Art® Sterileware® line of sterile sampling tools now has seventy-one new products for customers working in science and industrial settings. Of particular interest are double bagged products for extra protection in multi-zone cleanrooms, an array of cross-sectional liquid and powder samplers for better quality control and more thorough sampling, powder funnels for sterile sample transfer, as well as additional solutions for solids, liquids, or powders.
"As our best-selling line, we understand Sterileware is relied on by our customers so we will continue improve and grow the offering," explained Lauren Ebersol, Portfolio Manager for SP Bel-Art. "These new products, like all Sterileware products, are gamma irradiated sterile, individually packaged, and made with FDA grade and EU conforming materials and are safe for food, drug and cosmetic use."
All Sterileware® products can be viewed online at sp-belart.com. For more information, please call 800-423-5278 or email cservice.belart@spindustries.com for more information. To download catalogs from any of the Labware & Glassware brands (SP Bel-Art or SP Wilmad-LabGlass), visit sp-belart.com/catalogs.
About SP
SP Industries, Inc. (SP Scientific Products) is a leading global provider of state-of-the-art fill-finish drug manufacturing solutions, research, pilot and production freeze dryers, laboratory equipment and supplies and specialty glassware. SP products support research and production across diverse end user markets including Pharmaceuticals, Life Science, Higher Education, Ophthalmic, PetroChemical, Clinical Diagnostics, Environmental Testing and Monitoring, Food and Beverage and more. Its flagship SP brands FTS, Genevac, Hotpack, Hull, i-Dositecno, VirTis, Ableware, Bel-Art and Wilmad-LabGlass offer best-in-class product solutions used to make a difference in people's lives and together represent over 500 years of experience, quality and science innovation. SP is headquartered in Warminster, Pennsylvania with production facilities in the USA and Europe. For more information visit scientificproducts.com.