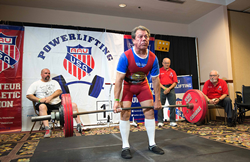 I feel really good about where I'm at and hope my abilities serve as a testament to the fact that it's never too late to take on a healthy lifestyle.
Oneida Nation Homelands (PRWEB) October 11, 2019
Oneida Indian Nation member Ray Fougnier continued to literally and figuratively raise the bar on the world stage, turning in an astonishing performance at the 2019 Amateur Athletic Union (AAU) Powerlifting World Championships. The now 76-year-old set 10 world records and carried home the Best Lifter Award at the 2019 event which was held in Laughlin, Nevada Sept. 27-29.
Fougnier has been competing at the AAU North American and World Powerlifting Championships for four years; each time setting new records. At the September event, Ray completed all nine lifts (three for each category) successfully for the first time; setting the world record for his age group (75-79) in the squat (286 lb.), bench (187 lb.) and deadlift (408 lb.) for a total of 881 lbs. or 400kg.
The Oneida Indian Nation is proud to sponsor and support Fougnier at weightlifting events across the country and strongly advocates for his inspiring mission of promoting healthy living and exercise for Native Americans at every age.
"It was my best performance to date," said Fougnier of his victory and remarkable accomplishments. "I feel really good about where I'm at and hope my abilities serve as a testament to the fact that it's never too late to take on a healthy lifestyle."
Earlier this year, Fougnier competed in the 2019 North American Championships and captured first place awards in the squat, bench and deadlifts. He competes in the raw masters division where participants within his age range (75-79) do not use any equipment that would make lifting easier.
Fougnier, who turned 76 on the first day of the North American championships on April 5, has also led an accomplished career in education. Growing up on the Oneida Indian Nation homelands in Central New York, the weightlifting champion was selected to serve as the first Director for the American Indian Program at Cornell University.
About the Oneida Indian Nation
The Oneida Indian Nation is a federally recognized Indian nation in Central New York. A founding member of the Haudenosaunee Confederacy (also known as the Six Nations or Iroquois Confederacy), the Oneida Indian Nation sided with the Americans in the Revolutionary War and was thanked by Congress and President George Washington for its loyalty and assistance. Today, the Oneida Nation consists of about 1,000 enrolled Members, most of them living in Central New York. The Nation's enterprises, which employ more than 4,500 people, include Turning Stone Resort Casino, Yellow Brick Road Casino, the SāvOn chain of gas stations and convenience stores, RV Park, three marinas, Indian Country Today Media Network – the premier national multi-media source for American Indian news and information, and Four Directions Productions – a 3D animation HD cinematography studio. Proceeds from these enterprises are used to rebuild the Nation's economic base and provide essential services, including housing, health care, and education incentives and programs, to its Members. For more information, visit the Nation's website http://www.OneidaIndianNation.com.