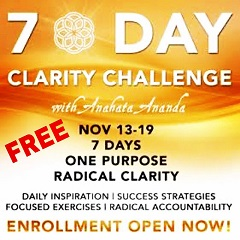 Let's get Radical Clarity for 2020 and Beyond!
SEDONA, Ariz. (PRWEB) November 06, 2019
Shamangelic Healing founder, Anahata Ananda is now accepting participants into her free, 7-Day Clarity Challenge program through a private, online Facebook Group. Enrollment is open now. The Challenge begins Wednesday, November 13 and continues through Tuesday, November 19, 2019. According to Anahata, "The mission of this inspired group of passionate souls, is to create a platform for radical clarity and accelerated momentum for purposeful on-mission living. Through daily coaching, inspiration, exercises, tribe support and accountability, we plan to arrive at the end of 7 days with total clarity about who we need to become, where we are going and how to get there."
Anahata is a Certified High Performance Coach, Shamanic Healer and Soul Guide dedicated to providing individuals the tools, inspiration and accountability to manifest their soul's mission and create thriving impactful lives. She is encouraging participants to dive into this Challenge with passion, commitment and focus in order to emerge, after one week, with solid clarification about what is required to accomplish their goals. "Will you enter 2020 with radical clarity about who you are becoming, where your passionate mission is guiding you, what is in the way, what support you will need along the way and your next mission-critical steps?" Anahata asks.
Through this program, she shares the tools elite, high performers use to advance quickly. Each day's Challenge assignments build on the previous day. Anahata believes a strong foundation is the key to being supported along each person's individual goal-oriented path which is why each participant will have a support partner throughout the Challenge. For this program, she requires a commitment of 20-30 minutes each day for the videos and assignments. The private group has been created to be a safe space for support, encouragement and positivity. "This is not the place to share our dramas or life challenges and I am happy to support anyone going through such events, in a private session." Anahata provides Shamangelic Healing sessions in person to those visiting Sedona, Arizona, as these are not offered online.
Rounding out the end of another decade, with 2020 quickly approaching, Anahata is focusing on the positive outcomes which she knows the 7-Day Clarity Challenge will produce. "With a very clear vision of our goals, the tools to accomplish them and ongoing support, we can make quantum leaps of progress by taking small steps at a time, together," she states. Through a 12-month, online support program, Anahata offers a way for clients to continue to receive extended, high performance training to meet their goals for the year. Participants in the Challenge will be familiarized with a small portion of what is offered through the Quantum Leap High Performance Online Program. Anyone with the desire to have access to proven methods for focused success over the course of 2020 is invited to join the online program, which begins December 1, 2019.
Anahata blends the compassion and tenderness of an Angel and the wisdom and strength of a Shaman to guide profound journeys of core healing and spiritual awakening. As a Certified High-Performance Coach, Shamanic Healer and Soul Guide, Anahata has guided thousands of individuals across the globe through core life shifts, helping them to turn their life around and create the life of their dreams. She is the host of the internationally acclaimed Shamangelic Healing Podcast which is designed as a platform for sharing deep authentic conversations about REAL LIFE issues. She offers deep healing through in-person sessions in Sedona, Arizona and supportive online courses for self-paced, at home learning. https://shamangelichealing.com