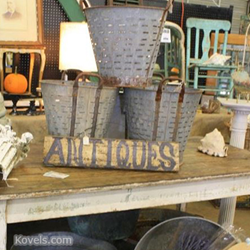 CLEVELAND (PRWEB) September 21, 2018
Temperatures are starting to drop up north, but collectors and antiques lovers still have a wide choice of flea markets to explore throughout the country. Here's a roundup of 7 of Kovels' favorite large markets that are worth a trip. Some of these markets only come around a few times a year and each is renowned for its scale, variety of items, negotiable prices and popularity among both locals and tourists. Best of all, they are overflowing with treasures waiting to be found.
1. Burton Ohio Antiques Market
Geauga County Fairgrounds, Burton, Ohio
Saturday, September 22, 2018
Now in its 58th year, this twice-a-year market is held rain or shine at Ohio's oldest county fairgrounds. With dealers under tents on the racetrack and inside under the grandstand, dealers from across the U.S. and Canada will be displaying silver, china, jewelry, porcelain, glassware, textiles, advertising, Americana, furniture, decorative accessories, rugs, primitives, old tool and much, much more. Burton advertises itself as the only antiques event in the U.S. where show employees pick up your purchases from the dealers and take them to a loading area where they put them in your car for free. Earlybird shoppers pay $25 to enter at 8 a.m.; general admission is $8 after 10 a.m. Closing time: 4:30 p.m. Burton is located just east of Cleveland and is home to one of the largest Amish communities in the world.
2. Randolph Street Market
1340 W. Washington St., Chicago, Illinois
Saturdays and Sundays, September 29 and 30, October 27 and 28, November 17 and 18, and December 15 and 16, 2018; 10 a.m. to 5 p.m.
Downtown Chicago's Randolph Street Market, located west of the Loop, features vintage, antique, and global goods with a mix of price ranges from thrifty to extravagant. Open one weekend during almost every month of the year, it's considered one of the hippest markets around. Booths are separated into categories within the market: Chicago Antique Market, Indie Designer Market and Modern Vintage. For those looking for just about anything retro or vintage, this is a great place to go. From embroidered hankies and estate jewelry to vintage and indie fashion, household and kitchen items, memorabilia, and art it's one-stop shopping for treasures and memorable holiday gifts. $10 admission, $8 pre-paid, family package available with drinks and snacks.
3. Renninger's Antique and Collector's Extravaganza
Kutztown, Pennsylvania
Thursday, September 27 to Saturday, September 29, 2018
Located in Kutztown, Pennsylvania, Renninger's hosts a flea market extravaganza three times a year — September 27 to 29 is the final market of the year. The extravaganza is set up behind Renninger's Antique & Farmer's Market, with exhibitors outside, under tents and in two 350-foot long pavilions. Admission for Thursday (10 a.m. to 4 p.m.) is $10; Friday (8 a.m. to 4 p.m.) is $6; and Saturday (8 a.m. to 4 p.m.) is $4. Exhibitors switch it up a bit so each day is a different and unique experience. The event goes on in all weather conditions, so prepare accordingly.
4. Round Top Texas Antique Week
4036 Texas Hwy. 237, Round Top, Texas 78954
Monday, October 1 through Saturday, October 6, 2018
Everything is bigger in Texas, and its premiere flea market is no exception, especially in its 50th year. Round Top offers three shows a year – Spring and Fall Antiques Fairs and a newer Winter Antiques Show in the Big Red Barn. Round Top prides itself on being 100 percent antique and vintage—no reproductions or new merchandise. VIP ticket holders pay $20 and can shop from 9 a.m. to 1 p.m. on the first day, October 1. General admission is $10. One ticket is good for all 6 days of the show. Thousands of other dealers from across the country line Highway 237 in communities around Round Top and Warrenton, showcasing arts and crafts and a wide variety of merchandise, as well as antiques and collectibles. These shows open and close on different dates from September 20 to October 8 and attract tens of thousands of buyers. For information on other venues and their opening days contact the Round Top Chamber of Commerce or the City of Warrenton.
5. Scott's Antique Market
Atlanta Expo Center, Atlanta, Georgia
Thursday, October 11 to Sunday, October 14, 2018
Thursday, November 8 to Sunday, November 11, 2018
Thursday, December 6 to Sunday, December 9, 2018
Scott's advertises itself "America's favorite treasure hunt." It's one of America's largest antiques shows, with over 2,000 booths both outdoors and in two buildings with a shuttle that runs back and forth. Browse through furniture, rugs, architectural elements, silver, copper, jewelry, pottery, glass, paper, and housewares for hard-to-find antiques from a variety of eras and regions. Plenty of bargains. Thursday 10:45 a.m. to 6 p.m.; Friday and Saturday 9 a.m. to 6 p.m.; Sunday 10 a.m. to 4 p.m. Admission $5. Parking free. Other fall Scott shows are held at Fayette County Fairgrounds in Washington Courthouse, Ohio: September 28 to 30, 2018, and at the Columbus Expo Center in Columbus, Ohio: November 24 and 25 and December 15 and 16, 2018.
6. Portland Expo Antique & Collectible Show 2018
Portland Expo Center, Portland, Oregon
October 27 and 28, 2018
With more than 1,000 vendors, outstanding collectibles, and even prizes and contests, the Portland Expo thinks they are all things to all people. Content covers items from the mid-1880s to early 1970s. They advertise "cool" things for the collector who remembers G.I. Joe, Star Trek and Fisher Price as well as the baby boomer who wants to connect to the things that were around when they were in their teens. Other categories include vintage sterling flatware, smalls, rare books, advertising, clothing, decorative items and estate jewelry. Saturday: 8 a.m. to 6 p.m., $8; Sunday: 10 a.m. to 4 p.m., $7. Look for another fair by the same organizer at the Washington State Fairgrounds in Puyallup, Washington, on November 3 and 4, 2018!
7. Long Beach Antique Market
Veterans Stadium, Long Beach, California
Third Sundays: September 16, September 30 – Special Sale, October 21, November 18, 2018
The Long Beach Antique Market calls itself "the flea market with style." Over 800 sellers feature a huge selection of antiques, collectibles and everything chic, cheap, unique and vintage, all at bargain prices. Find collectibles, home décor, jewelry, furniture, vintage clothing and more. The sale is spread out over 20 acres at the Veterans Stadium in Long Beach come rain or shine. But please leave pets at home! Early admission from 5:30 a.m. until 6:30 a.m., $12. 6:30 until 2 p.m., $7; children under 12, free.
Terry Kovel is America's foremost authority on antiques and collectibles. She is the well-known columnist and author of more than 100 books on antiques and collecting. The 2019 edition of Kovels' Antiques & Collectibles Price Guide will soon be available at Kovels.com and local bookstores. This all-new 51st edition of Kovels' popular annual price guide features 16,000 prices and more than 2,500 photos, larger than ever before, on items in categories most sought-after by collectors. New this edition – 300 marks to help identify pottery, porcelain, glass and other collectibles. Terry Kovel will discuss antiques and collectibles topics with accredited media. Photographs are available. Contact pr(at)kovels(dot)com.
About Kovels.com
Kovels.com, created by Terry Kovel and her daughter, Kim Kovel, provides collectors and researchers with up-to-date and accurate information on antiques and collectibles. The company was founded in 1953 by Terry Kovel and her late husband, Ralph. Since then, the Kovels have written some of America's most popular books and articles about antiques, including the best-selling annual Kovels' Antiques & Collectibles Price Guide. The website, Kovels.com, online since 1998, offers more than a million free prices, and includes a free weekly email, "Kovels Komments." It gives readers a bird's-eye view of the market through the latest news, auction reports, a Marks Dictionary, readers' questions and answers and much more.
Contact Information:
Liz Lillis
216.752.2252
Pr(at)kovels(dot)com