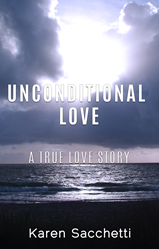 In Unconditional Love: A True Love Story, Karen Sacchetti writes of a time in her life that began as a thrilling love connection.
BOCA RATON, Fla. (PRWEB) February 14, 2020
Karen Sacchetti's book, Unconditional Love: A True Love Story ($14.99, paperback, 9781545645420; $7.99, e-book, 9781545645437), is available for purchase.
In Unconditional Love: A True Love Story, Karen Sacchetti writes of a time in her life that began as a thrilling love connection. Searching for love, Karen met Peter, a handsome charmer living in South Florida. After only four months of a long-distance relationship, Peter asked her to leave Rhode Island and move fourteen hundred miles to marry him. Soon after arriving in sunny Boca Raton, Karen realized that her dream was turning into a nightmare. Plagued by Peter's alcoholism, womanizing, and incessant attention seeking, their fairy-tale romance quickly spun out of control, leaving Karen alone and disheartened. Her only confidant was Mike—Peter's younger brother.
Although Mike proved to be Peter's polar opposite by giving her the love and the loyalty she sought, Karen soon experienced new challenges, this time with the love of her life. Her journey provides the reader with a piercing view of the ravaging and destructive effects of Mike's alcohol addiction and how their lives intertwined in a most unusual love story. Through all the adversity, Karen learned to press more deeply into God's strength to see her through each day.
When none of her friends or family members saw the darkness surrounding her, God knew what she was facing daily. Karen not only unveils the details of the dark maze she was in, but also illuminates how God's promises were fulfilled in her life. She received unconditional love from an all-loving Father, God. Could she extend the same love and grace to those who had hurt and betrayed her?
Karen Sacchetti is a creative dance educator, author, and creator of Adagio Stretch. She pursued her education at both Pennsylvania State University and Lesley University in Cambridge, Massachusetts, earning her Bachelor of Arts degree in drama, dance, and education from the latter in 1998. Karen established Adagio Stretch, http://www.karensacchetti.com. She implements the foundations of dance through a therapeutic approach to optimize brain and body functioning. In the early to mid-1990s, Karen acted and danced at the Riverside Theater in Boston.
Xulon Press, a division of Salem Media Group, is the world's largest Christian self-publisher, with more than 12,000 titles published to date Unconditional Love: A True Love Story is available online through xulonpress.com/bookstore, amazon.com, and barnesandnoble.com.