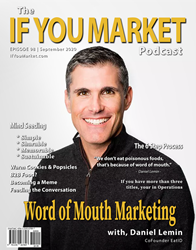 It has been reported that up to 83% of Americans claim that word-of-mouth recommendations make them more likely to purchase a product or service.
TAMPA BAY, Fla. (PRWEB) October 19, 2020
Every businessperson knows that word of mouth is the best way to get customers. One study states that up to 83% of Americans claim that word-of-mouth recommendations from friends or family members make them more likely to purchase that product or service.(1) Yet, few marketing directors understand exactly how to create word of mouth beyond what happens "organically," which is limited. As Sky Cassidy, host of the podcast If You Market They Will Come, puts it, "Every business wants more word of mouth. Yet very few marketers know how to generate Talk Triggers that get people to talk about their business to others."
Daniel Lemin, co-founder of a smart food and health personalization platform called EatID and co-author of "Talk Triggers," discussed techniques for creating word-of-mouth advertising in a podcast on Episode 98 of the If You Market podcast "Shhhhhh Word of Mouth Marketing with Daniel Lemin", hosted by Cassidy and JOTO PR Disruptors CEO and Chief Strategist Karla Jo Helms.
Proof that Word of Mouth Works

74% of consumers identify word of mouth as a key influencer in their purchasing decision.(1)
Word of mouth emerged as the leading purchase influencer (top-2 box score) in each category among Millennials.(1)
63% of social media users believe consumer ratings are #1.(1)
92% of consumers trust recommendations from friends.
Word of mouth brings in 5 times more sales than paid media.(2)
The takeaway is that people believe and trust a recommendation from a friend or another consumer over paid advertising. Lemin uses the term "talk triggers" to describe an unconventional, operational choice a business can engage in that creates conversation and thus, word of mouth. "If you want to spread through word of mouth you must give people something to talk about outside the ordinary." He gives an example: "Having the best hotel service may not instigate a Talk Trigger. On the other hand, the simple act of giving each guest a warm chocolate chip cookie when they check into your hotel, like Double Tree Hotels does, makes a huge impact on the customer experience. It's something people tell their friends."
Another example of a Talk Trigger for a much smaller hotel is something the Magic Castle Hotel in LA utilizes called the popsicle hotline. "If you're sitting around their tiny pool and you get thirsty or hungry," says Lemin, "you can go over and pick up this phone called the Popsicle hotline, and they will deliver a Popsicle to you on a platter. People probably wouldn't talk about a popsicle stand, but a popsicle hotline is silly and cute enough to tell others about. It's a great Talk Trigger."
Lemin's Seven Tips for Generating Stellar Word of Mouth Include:
1. Create benefits or interesting stories about your business that people will tell others about.
2. Talk Triggers are most often about an operational element of your business, a service or way that you operate that people don't expect.
3. Talk Triggers should be simple, shareable, and memorable.
4. Do customer interviews to gain insight into what ideas might work. If you don't know where people are coming from, you're never going to create an idea that gets them talking about it.
5. Create Talk Triggers that will also push your brand. Think long-term sustainable gain instead of short-term spurts. Create something people will talk about 20 years from now.
6. Always ask new customers how and what they heard about you. This will give you Talk Trigger ideas.
7. Map the customer journey from the time they first interact with your company until the final sale. You will find points where Talk Triggers can be developed and slipped in.
Lemin adds one last tip for good measure, "Always look for different ways customers can experience your business, be imaginative as to what stories, images, or word-of-mouth-worthy-communication you can provide."
"Talk Triggers are benefits that your business offers customers that moves them or even thrills them, compelling them to tell others. This builds great brand awareness and even better goodwill than your competitors in the marketplace," says Helms.
To listen to the podcast episode on how to be a great podcast guest with Daniel Lemin, visit http://ifyoumarkettheywillcome.com/2020/09/22/98/
The If You Market podcast is a 45-minute conversation about B2B marketing—new trends, best practices, and pitfalls to avoid. Each episode features a conversation with one expert guest discussing topics like: content marketing, account-based marketing, social media, marketing automation, PR, etc. The podcast airs on iTunes, Stitcher, Google Play, and TuneIn Radio.
About Daniel Lemin
Daniel Lemin is a food technology co-founder, trusted marketing advisor and bestselling author on reputation management, digital marketing, and social media customer service. As an early member of Google's global communications team, Daniel led the launch of products in North America, EMEA, and Asia Pacific, and edited the Google Zeitgeist weekly research report featured in over 40 markets worldwide. He is the Co-Founder, President & Chief Operating Officer of EatID. Daniel earned his MA in communications and leadership from Gonzaga University.
About the If You Market, They Will Come Podcast
Meet If You Market podcast host, Sky Cassidy—an accomplished B2B marketer. And his co-host, disruptive PR evangelist Karla Jo Helms. Together they talk with industry experts to analyze B2B marketing tactics in a cocktail hour atmosphere. Sky is also the CEO of MountainTop Data, which is based in Los Angeles, CA, and provides data and data services for B2B marketing. Karla Jo Helms is the CEO and Chief Strategist of Anti-PR agency, JOTO PR DisruptorsTM, based in Tampa, FL. Visit them via http://www.ifyoumarkettheywillcome.com
1. Mosley, Megan; "31 Word of Mouth Marketing Statistics That Prove Its Power"; 27 March 2019 (updated 15 September 2020); Referral Rock; referralrock.com/blog/word-of-mouth-marketing-statistics/
2. Marinova, Iva; "Word of Mouth Marketing Statistics, Fun Facts & Tips in 2020"; Last updated 10 September 2020; Review42; review42.com/word of mouth-marketing-statistics/