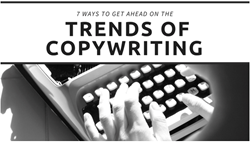 Copywriting is a key part of the content creation process and has the potential to make (or break!) a business.
AUSTIN, Texas (PRWEB) August 21, 2018
Copywriting is a key part of the content creation process and has the potential to make (or break!) a business. To help businesses create content that appeals to their ideal client and communicate their message effectively, Magnificent Marketing has teamed up with copywriting industry leader Julia McCoy, CEO of Express Writers - one of the most successful content creation agencies in the U.S. to present a new podcast episode on seven ways to get ahead of copywriting trends.
In this podcast, McCoy outlines the seven pillars of modern copywriting:
1. Always focus on who you're writing for
2. Think about how to write high-quality, relevant material
3. Learn how to use social media platforms
4. Everyone loves a good story
5. Learn about content form trends and find out which appeal to your audience
6. Ask: How can I create something that a robot can't?
7. Break the rules to make progress
This episode is part of Magnificent's marketing podcast. Find the episode, along with an accompanying blog, here.
About Magnificent Marketing:
Magnificent Marketing is your full-service content marketing agency that will take care of all your marketing needs so that you can concentrate on the core duties needed to manage and grow your business.
Their objective is to generate leads that turn into customers while focusing on expanding the visibility of your company and brand, and positioning you to be "top of mind" for future potential clients.
In order to achieve this, they draw on their experience and belief that a mixture of traditional marketing techniques combined with modern marketing tools will yield the best results. In other words, they blend old and new school marketing to create the best school of thought.
About Julia McCoy:
Julia McCoy is an expert content marketer, blogger, author, and entrepreneur. She started Express Writers at the age of 19 after teaching herself online writing, and today, her content agency has over 50 team members and thousands of worldwide clients. Julia hosts The Write Podcast and #ContentWritingChat, and is the bestselling author of So You Think You Can Write? The Definitive Guide to Successful Online Writing, and the creator of the Practical Content Strategy Certification Course.