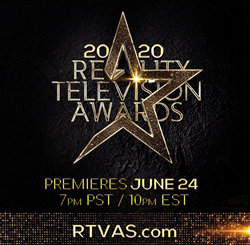 LOS ANGELES (PRWEB) June 25, 2020
The winners were announced tonight in the 7th Annual Reality Television Awards (#RTVAs) at RTVAs.com.
Notable winners were Dwayne "The Rock" Johnson accepting for Outstanding Host (NBC's The Titan Games), Jennifer Lopez and Derek Hough for Reality Queen & Reality King (NBC's World of Dance), Amy Poehler was on hand to accept New Show (NBC's Making It), Simon Cowell representing its third win for Best Competition Show (NBC's America's Got Talent), Kodi Lee, winner of NBC's America's Got Talent was chosen for Outstanding Reality TV Moment, Jazz Jennings and the entire cast accepted Docu-Series (TLC's I Am Jazz), and the biggest award of the night, Overall Show was accepted by Arthur Smith of A. Smith & Co. Productions (with a little cameo by Gordon Ramsay) for FOX's Hell's Kitchen.
NBC's The Voice was awarded Best Judging Panel, MTV's Floribama Shore for Best Returning Cast, TLC's Drag Me Down The Aisle won for Lifestyle Show, NBC's Hollywood Game Night & World of Dance won Feel Good Show and Best Editing respectively, while Facebook Watch's I Want My Stuff Back won for Digital Reality Series. Discovery's Deadliest Catch took back its winning streak for Bad Ass Crew. TLC's Dr. Pimple Popper was voted as best Guilty Pleasure and Animal Planet's The Aquarium was rewarded Unique Concept, and both Creative Challenge and Best New Cast went to NBC's The Titan Games.
Young reality TV stars were represented too: Nickelodeon's Are You Smarter Than A 5th Grader took Outstanding Game Show with newly-added category Kids Reality Series going to Universal Kids' American Ninja Warrior Junior.
NBC led the pack with 11 wins and TLC brought home 3. For production companies, both Fremantle and A. Smith & Co. Productions tied for the most with 5, but 495 Productions received the statuette for Best Production Company.
Executive Producers Kristen Moss and Andrew Ward started the Reality Awards in 2012 to support, examine and redefine the art of reality in media by rewarding excellence, encouraging experimentation and recognizing that the public is the heart of our industry. The Reality Television Awards embrace the spirit of fun and camaraderie which is an inherent part of what makes this industry great. The RTVAs value the rich diversity of programming that puts reality on the leading edge of entertainment.
"According to The Hollywood Reporter, in 2019 more than 75% of cable TV's 25 highest rated original series were Non-Fiction shows. We're excited to give our industry something to celebrate… even during a pandemic. We could not have pulled this off without the enthusiasm of our incredible team: John Barra, Co-EP, David S. Robert, Art Director - Branding & Creative Producer - Branding and Constantin Preda, Editor." said Moss & Ward.
To view the entire show, full list of winners, statuette orders and to submit for the 8th Annual Reality TV Awards, visit RTVAS.com.