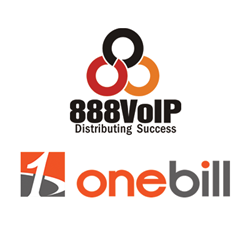 With the integration of OneBill & 888VoIP, service providers will be able to streamline their provisioning and order approval processes.
Santa Clara, CA (PRWEB) May 17, 2017
OneBill Software Inc., the leader helping UCaaS solution providers automate their Quote-to-Cash process and grow their subscription and usage based revenue and 888VoIP, leading distributor of VoIP phone systems, are announcing the automation of provisioning and order approval process for services offered by 888VoIP through the OneBill platform.
With the real-time integration between OneBill & 888VoIP platforms, 888VoIP customers will now be able to automate their device order management workflow all the way from order provisioning to service activation. This automation extends the automation capabilities beyond the service providers all the way to their white labeled partners/resellers to support the rapidly expanding business growth and increased customer satisfaction.
The OneBill platform also performs rating, billing, taxation, payment tracking, collections and notifications for the businesses. All these capabilities can be extended to the channels, as well as resellers or partners of these businesses. This combined solution will reduce the manual process for the businesses and allow them to focus on growing their revenues by scaling to the next level of success.
The OneBill integration not only allows device procurement, but also access to 888VoIP's Channel Advantage Program. Partners can utilize Channel Advantage's multitude of beneficial features, such as customizable provisioning packages, technical support, advanced API, tailored training & education programs, and creation of custom marketing collateral. The combination of OneBill's automation and all the offerings of Channel Advantage will assist in furthering the success of 888VoIP's current and future partners.
"We are excited to provide our hardware fulfillment automation into the OneBill platform," said Mike Evanisko, Chief Technology Officer at 888VoIP, "With this integration, OneBill service providers can streamline their subscriber's hardware purchases directly to us and have certified hardware configured and shipped right to their customers all within one order process. Using this integration will dramatically improve upon order-to-installation time and simplify the sales process by removing the need to reach out to a third-party hardware vendor."