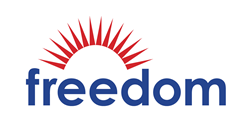 This year, with the recession and COVID-19 pandemic, consumers would be wise to think differently about their holiday spending, so they can move into 2021 in a reasonable financial situation.
SAN MATEO, Calif. (PRWEB) October 30, 2020
With the winter holiday season upon us, now is the time to make decisions that will help ensure this holiday remains as debt-free as possible.
Even with the recession and COVID-19 pandemic, consumers plan to spend almost $1,000 on gifts and other holiday items this year, according to a National Retail Federation and Prosper Insights & Analytics survey. "It's important to take steps now to get out in front of your finances," says Michael Micheletti, director of corporate communications for Freedom Financial Network. "This year, consumers would be wise to think differently about their holiday spending, and be able to move into 2021 in a reasonable financial situation."
1. Make a plan. "'Budget' is really synonymous with 'plan,'" Micheletti notes. He suggests consumers take a look at their household budgets to ensure they are up to date. Then they can develop a holiday-specific budget. This should include all gift recipients, along with gift ideas and estimated costs. Also include cards and postage; decorations; year-end tips for newspaper carriers, babysitters, housecleaners, doormen, hairdressers and other service providers; and gifts for teachers, doctors, neighbors or others. Because of the pandemic, many people will not incur travel and entertainment costs, but if they do, it's important to include them as well.
2. Compare budget to reality. Take an honest look at your budget. Can you afford everything on your list? If not, scale back. "It's far easier to do now than later, and far better than spending money you don't have," says Micheletti.
3. Search for savings. Starting now, watch mail, email, online ads and catalogs for discount codes or offers. Check out an app that will let you compare prices (online and off). Track deals in a spreadsheet, app or notebook to find maximum savings, and note expiration dates.
4. Be smart when buying online. Debit cards can help shoppers stay in budget, as it's not possible to spend more than what's in the bank account. But when shopping online, someone stealing a debit card number can take funds directly from the associated checking account. Instead, use a dedicated credit card, and track your purchases carefully and frequently. Or, use PayPal, which can transfer funds directly and securely from a checking or savings account.
5. Don't wait till the last minute. Starting shopping early can give people more time to find bargains. Smart shoppers might watch for the perfect items on clearance, at thrift stores or on sites such as eBay or Craigslist. Those who plan to make gifts will find it helpful to start their projects now. "When you have a gift in hand for someone, mark it off on your list. Then move on to the next person," Micheletti says.
6. Use plastic wisely. In light of safety practices brought to light by the pandemic, many retailers prefer, or even only accept, plastic. Many consumers will find it helpful to use debit cards to help prevent overspending, says Micheletti. "Whether you use a credit and/or debit card, be conscious of what you're putting on each card, and make sure to have a plan in place for how you will pay off any credit card charges."
7. Spend rewards. You might have a stash of accumulated rewards on your credit card. If you frequent certain stores or restaurants, you may have points built up. Or you may have a jar of coins at home to turn in for gift cards. Create a plan to invest these rewards in holiday gifts.
8. Take advantage of Free Shipping Day. Check http://www.freeshippingday.com on Monday, Dec. 14. More than 1,000 retailers will participate.
"No matter what you'd like your holiday to be, understand that credit card debt is not a good way to achieve it," cautions Micheletti. "Fortunately, with some advance thought and planning, it's possible to minimize debt-repayment headaches after the new year – and maximize holiday fun."
Freedom Financial Network (http://www.freedomfinancialnetwork.com)
Freedom Financial Network, LLC, is a family of companies providing innovative solutions that empower people to live healthier financial lives. For people struggling with debt, Freedom Debt Relief offers a custom program to significantly reduce and resolve what they owe more quickly than they could on their own. FreedomPlus tailors personal loans to each borrower with a level of customer service unmatched in the industry. Bills.com offers a resource site with simple tips, advice and tools to help consumers make smart financial decisions.
Headquartered in San Mateo, California, FFN also operates an office in Tempe, Arizona, and employs more than 2,200. The company is a member of the Fintech Racial Equality Coalition, a consortium of 32 major fintech companies committed to taking actionable steps toward improving access to financial services, jobs and career advancement for consumers of all color, and particularly the Black community.
Contact: Michael Micheletti, mmicheletti@freedomfinancialnetwork.com, 415-359-6985