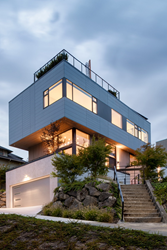 Participating homes in the 8th annual Seattle Modern Home Tour will open their doors for viewing from 11AM – 5PM on Saturday, April 27. Ages 10 & up are invited to attend.
SEATTLE (PRWEB) April 15, 2019
Some tour-goers search for an architect or home builder to work with on their next project; others hope to find a little inspiration; whatever the reasons may be, all tour-goers come to see a curated selection of Seattle homes that embody the Pacific Northwest's unique modern architecture and design aesthetic.
On Saturday, April 27, the Modern Architecture+ Design Society (MA+DS) returns to Seattle for the 2019 Modern Home Tour. The annual event celebrates regional architects, designers, and home builders, and gives them the opportunity to showcase their work to the community in which they work. In turn, the self-guided tour gives the community a rare chance to ask questions and engage the minds behind the designs, as they explore some of Seattle's modern homes up close, inside and out.
"The Seattle Modern Home Tour is traditionally the first tour in our annual Pacific Northwest series, and it's one we always look forward to," says MA+DS founder and president, James Leasure. "Seattle's modern movement in the area of residential architecture and design is inspiring and amazing. Every year we are fortunate enough to showcase some truly incredible designs from some of the area's leading architects and home builders."
Participants and homes featured on the 2019 Seattle Modern Home Tour include:

A new home in Miller Park by Lane Williams Architects that showcases a unique stacked/staggered build and an ADU
The Big Mouth House in the Squire Park neighborhood, which is a collaboration between Best Practice Architecture, Hybrid Design, and Steven Lazen
A small, unique lake house designed by E. Cobb Architects that is recessed into the ground, located on the southwestern shore of Lake Washington
A modern home in Seaview designed by Finch Design & Production Inc., that features expansive western views and the owners lighting design/art studio
A second E. Cobb Architects home, located in Capitol Hill, that is a full modern renovation of a classic 1905 Victorian style home
A modern home located Briarcliff, designed by Stan Hanson and built by Next Century Modern, that features a rooftop deck with a hot tub and amazing panoramic views
Continuing a long-standing partnership, the Seattle Architecture Foundation (SAF) returns as the tour's local non-profit beneficiary. The SAF will help staff the event in return for a donation and the opportunity to use the tour as a fundraising vehicle. Additional proceeds will be added to develop a scholarship fund to help future architects and designers further their education.
New for 2019, the Seattle Modern Home Tour is proud to partner with acclaimed interior designer Michelle Dirkse to offer our Sunday Educational Extension. At this separately ticketed, small-group event (held on Sunday, April 28th), tour-goers are invited to take a "deep dive" into the world of modern interior design and renovation firsthand as Michelle guides participants through the process of construction, layout, color, texture, and other critical considerations for creating an amazing modern space.
Participating homes in the 8th annual Seattle Modern Home Tour will open their doors for viewing from 11AM – 5PM on Saturday, April 27th. Ages 10 & up are invited to attend. Tickets to see all homes are $40 in advance online; $50 on the day of the tour. Details on ticket purchases and descriptions of all participants with photos can be found on the 2019 Seattle Modern Home Tour event page.
About the Modern Architecture + Design Society: Based in Austin, Texas, the Modern Architecture + Design Society was founded was founded by James Leasure in 2010 as Modern Home Tours, to introduce modern architecture and living to people across the nation. Through fun and informative self-guided home tours in dozens of cities across the USA and Canada, the group invites people into some of the most exciting examples of modern architecture and design in the nation. With carefully selected architects, neighborhoods and architecture, the MA+DS Home Tours are unlike anything you've ever seen. Not only will you learn about the cutting edge of home design while on our tours, but you might even get an idea or two for your next home project!