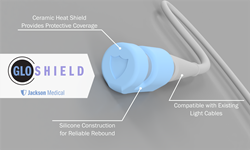 Of over one hundred first time users, 94% thought that GloShield offers reliable protection and would reduce the risk of fires
ATLANTA (PRWEB) November 14, 2018
Jackson Medical, a Georgia Institute of Technology spin-out, addresses "never events" in the operating room with the launch of GloShield™, a patient safety device that reducing heat emissions from fiber-optic light cables by more than 350 degrees Fahrenheit.1
Although the root causes of surgical fires are well-understood, these "never events", or serious preventable medical errors, still occur. There are an estimated 550-650 operating room fires annually in the United States. GloShield is the first and only device on the market designed to shield the high-intensity light emitted from existing light cables to a level that is safe to touch.1 By contrast, an unshielded light cable can exceed temperatures over 500 degrees Fahrenheit.1
"When designing GloShield, we knew the device needed to be simple and easy-to-use. We envisioned an elegant and intuitive patient safety solution that allowed surgeons or nurses to maintain focus on the patient throughout the surgical procedure and not have to worry about the drapes catching on fire," said Chief Executive Officer James K. Rains. "Of over one hundred first time users, 94% thought that GloShield offers reliable protection and would reduced the risk of fires. Its function offers reliability and consistency with regards to patient safety, which is important for healthcare providers, hospitals, and for Jackson Medical."
Manufactured in the United States using space-grade materials, GloShield is compatible with existing light cables adding an extra layer of patient safety without the need for intensive staff training or purchase of new capital equipment.
While working together in the Wallace H. Coulter Department of Biomedical Engineering (BME) at Georgia Tech, co-Founders James K. Rains and Kamil Makhnejia spoke with hundreds of nurses and doctors who confirmed the fire risk associated with current operating room equipment was a significant problem. To them, the solution was apparent – a safety shield to contain the heat. Once they conceptualized a solution, Rains and Makhnejia utilized the resources available to them through the BME department at Georgia Tech to design GloShield and initiate the patenting process.
GloShield™ is a patent-pending fiber-optic light cable shield designed to reduce the risk of operating room fires. To learn more about how GloShield addresses patient safety, please visit the GloShield website at http://www.gloshield.com.
1 Internal test data on file