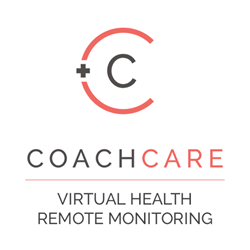 Many patients now prefer virtual care or a combination of virtual and in-person care compared to strictly in-person appointments.
NEW YORK (PRWEB) August 31, 2020
CoachCare, a virtual health and remote patient monitoring platform for providers and patients across specialties, today announced survey results for over 1,400 patients currently undergoing virtual visits on the CoachCare platform during COVID-19. According to the survey, the patient response to virtual visits was highly positive, with a significant number of patients expecting virtual visits to be a part of their treatment going forward. These findings indicate that clinics and providers must implement a long-term virtual care solution to remain competitive.
CoachCare provides virtual health and remote patient monitoring services to over 3,500 clinics, and approximately 100,000 providers and patients. Earlier this year, as the healthcare industry found itself forced to evolve into a virtual environment practically overnight due to COVID-19, CoachCare sought to understand how patients were reacting to the new reality. The survey revealed that patients were both accepting and optimistic of the changes to their healthcare routines.
"Our survey shows that although only a small percentage of patients had used virtual video visits prior to COVID-19, they quickly adjusted. Many patients now prefer virtual care or a combination of virtual and in-person care compared to strictly in-person appointments," said CoachCare Marketing Director, Carol Duke, who ran the survey. "This is encouraging news for clinics and providers who are worried their patients will resist virtual care, now and in the future."
Providers in the healthcare space have faced unprecedented changes to their businesses and patient programs as they have been forced to look for ways to continue to care for their patients during COVID-19. Part of the challenge is the need to implement new services and technologies for staff and patients to stay safe, while keeping their clinics open. Today, patient services such as remote patient monitoring and secure video visits are a necessity for providers.
The CoachCare survey shows that these virtual technologies are beneficial to both the clinic and patient, allowing clinics an acceptable way to monitor and check on their patients at any time between in-person visits, and providing patients with more flexibility, time and money when it comes to their healthcare journey.
"Secure video visits are just the tip of the iceberg here." Duke continued. "COVID has brought to the forefront the need for providers to not only visit with their patients remotely, but also to fully monitor their conditions and programs from home, 24/7. This is not something that will go away once COVID passes. Patients will expect personalized remote care moving forward."
All of the survey highlights can be seen below:
Title: Patient Response to Virtual Visits Due to COVID-19

1,443 patient responses
Included patients at various types of clinics, including Weight Management, Integrative/ Functional Medicine, Bariatrics, and ENT - as well as Gynecology, Allergy, Endocrinology, and Gastroenterology, among others
Over 90% of patients surveyed were participating in virtual visits through video conferencing as an alternative to in-person appointments
Only about 13% of patients were participating in virtual visits prior to COVID-19
Over 79% of patients surveyed generally liked video visits
Over 63% of patients said they want to continue to have virtual visits, even when it's safe to go back to their clinics
Top reasons patients said they preferred virtual visits were 1. Reduced need to travel long distances/ quick access to their provider, and 2. Saves them time & money
About CoachCare:
CoachCare's comprehensive suite of virtual tools, including remote patient monitoring, video conferencing, real-time messaging, screening, content sharing and connected devices, is the closest your patients can get to an in-person visit, all from the safety and comfort of their own homes. The CoachCare platform supports both virtual care and in-person appointments. Tour the platform or request more information here.