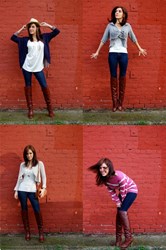 For $0.99, be warmer and more stylish. No one would ever guess you spent under a buck. ~ Kari Shipman, Thrift Stylist & Featured Thrift Town Blogger
Roseville, CA (PRWEB) January 30, 2014
For one day only, all sweaters at Thrift Town will be $0.99.
Thrift Town's annual sweater sale has proven to be one of the busiest shopping days of the year for the 42-year-old company. This popular one-day-sale is on Friday, January31st, and is expected to be bigger than ever for a few key reasons; 1: the state of economy, 2: thrift shopping is not just a hobby, but now viewed as a socially acceptable way to shop, and 3: people aren't just using sweaters as, well, sweaters anymore. Thanks to craft savvy sites such as Pinterest, sweaters aren't just being worn; they're being used as fabric sources to create things like the following:

Pillows
Blankets
Mittens
Scarves
Leg Warmers
Hats
Chair Covers
Stockings
Wreaths
Stuffed Animals
Pin Cushions
Bottle Holders…and OH SO MUCH MORE!
Check out Thrift Town's dedicated sweater craft DIY Pinterest board.
If crafting isn't your thing, and prefer to use sweaters in the more traditional sense, rest assured Thrift Town has a huge selection of fashionable options to choose from that are made from cozy, comfy cotton, to other fine materials such as wool, angora and even luxurious cashmere. See how one of Thrift Town's fashion bloggers suggests using sweaters as great layering pieces in her most recent post.
"With plenty of chilly days ahead, it's the perfect time to get you, the little ones, spouse or friends something cozy to wear. I perused the racks at Thrift Town and found a bunch of great sweaters. For $0.99, be warmer and more stylish. No one would ever guess you spent under a buck." ~ Kari Shipman, Thrift Stylist & Featured Thrift Town Blogger
Thrift Town has 14 stores locations in three different states. $0.99 sale price includes sweaters in the following departments: Womens, Mens, Girls, Boys, and Babies. Sale includes sweater varieties such as; Sleeveless, Short & Long Sleeves (excludes sweater dresses and sweatshirts). $0.99 sale items will be replenished throughout the sale, but only while supplies last, so mark your calendar and shop early. Thrift Town is open Monday-Saturday 9am-9pm, and on Sundays from 10am-6pm. Thrift Town is social and can be found on Facebook, Twitter, Yelp, Instagram, Tumblr, and Pinterest. Thrift Town also has a robust VIP customer rewards program, as well as a free app available for download in the Apple App Store.
Thrift Town lives it's vision statement of being committed to making a difference every day, and has helped raise over $250,000,000 for their charity partners. Each of Thrift Town's clean, bright, and organized stores put out 4,000 gently used products daily, setting them apart in the thrift world as the premier thrift destination. Thrift Town is owned and operated by Norquist Salvage Corporation, which has spent over four decades dedicated to socially responsible recycling.