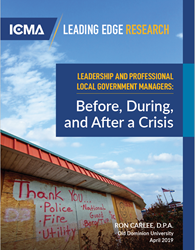 WASHINGTON (PRWEB) April 09, 2019
Today, ICMA (the International City/County Management Association) published Leadership and Professional Local Government Managers: Before, During, and After a Crisis, illustrating the profound long-term importance of competent crisis management. The report provides a spectrum of in-depth research on nearly every kind of crisis local governments might face and offers straightforward ways to improve operations at every stage. The report was written by Dr. Ron Carlee, visiting assistant professor of public service at Old Dominion University who has served as an interagency incident commander for many high-profile crises, including the 9/11 attack on the Pentagon, the 2002 Washington, D.C.-area sniper attacks, and Arlington County's response to Hurricane Isabel.
Writing for city and county managers—the chief appointed executives of thousands of local governments—Carlee stresses the link between effective crisis management and ongoing community stability. "The manager sets the tone and must demonstrate confidence, calm, and organization in times of crisis," says Carlee. "Communities look to local government leadership in times of crisis to set an example and leaders continue to set that example well after the crisis has ended." The report includes fourteen powerful case studies featuring the firsthand stories of local government managers from across the United States on a variety of crises including:

2016 Pulse Nightclub Shooting: "As administrators, we must think about what is needed beyond the scene. We had businesses shut down, we had roads shut down, we would have law enforcement on the scene for an extended period of time. What other things would they need?" – Byron W. Brooks, Chief Administrative Officer, City of Orlando, Florida
2017 Thomas Fire: "The immediate crisis moment may last twenty-four hours and then you've got a period of four to five days cleaning up. Once that emotion dies down, you can lose sight that this thing is here to stay for months if not a couple of years. You must remind the organization that this is a long-term event and that we cannot let up; we have to remain focused." – Dan Paraick, Interim City Manager, City of Ventura, California
2013 Colorado Flooding: "We had parts of the town that were really bad and other parts that were not. We had a divide. For some residents, things were normal; for others, their whole world was upside down." – Jane Brautigam, City Manager, Boulder, Colorado
Drawing on these cases, a wealth of after-action incident reports, and his own expertise, Carlee presents a list of lessons learned addressing every stage of crisis operations including: specific questions to ask while creating a crisis plan; best practices for supporting both self and employees during a disaster; how to work most effectively with the media, volunteers, and federal and state agencies during recovery; and the benefits of consulting other managers with expertise.
This final point is emphasized across the report as well as by its case-study format and Carlee's own background as a county manager.
"Especially during a crisis, managers are responsible for coordinating so much more than what the public sees," said Laura Goddeeris, ICMA director of research. "As the stories in our report clearly illustrate, crises can and will happen anywhere, anytime. Every crisis is unique, but administrators can lean on the experiences of others to inform their own strategies for planning and reacting when the unexpected occurs."
The report concludes with a list of additional resources to allow immediate next steps.
"The impact of crisis leadership—good or bad—on a community is long lasting," said Marc Ott, Executive Director of ICMA. "This report's reflections and recommendations, especially on preparation, improvisation, and relationship-building, have the power to transform lives and improve crisis outcomes everywhere they're followed. We are proud to be able to provide this work to local governments the world over."
The full report as well as other crisis and disaster recovery resources can be found at ICMA.org.
About ICMA
ICMA, the International City/County Management Association, advances professional local government management worldwide through leadership, management, innovation, and ethics. ICMA provides member support; publications; data and information; peer and results-oriented assistance; and training and professional development to more than 12,000 city, town, and county experts and other individuals and organizations throughout the world. The management decisions made by ICMA's members affect millions of individuals living in thousands of communities, from small villages and towns to large metropolitan areas. ICMA gathers more data on local government than any organization except the federal government, spanning a broad spectrum from economic development to local government innovation.
About Ron Carlee
Ron Carlee is the current director of the Center for Regional Excellence at Old Dominion University's Strome College of Business. His emergency management experience includes managing Arlington County's response to the 2001 terrorist attack on the Pentagon during his first year as city manager, drawing significant praise from third-party evaluators. Carlee has since been considered as one of the foremost leaders in crisis management, having assisted in major recovery efforts on the ground following several major disasters. He has written and presented extensively on local government in the areas of ethics, social and racial equity, and emergency management, and his graduate teaching focuses on leadership, local government management, ethics, racial equity, and budgeting/finance. He was Chief Operating Officer of ICMA from 2010 to 2013.