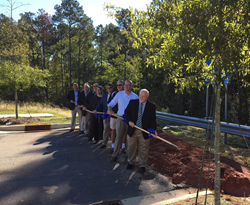 This project is being completed through a progressive design-build contract, which is more of an open-book collaboration concept.
CLOVER, S.C. (PRWEB) October 15, 2018
The Lake Wylie Recreation Park officially broke ground Friday at 1101 Field Day Lane in Clover, S.C. The $9.5 million, 32-acre athletic complex was designed by Woolpert on Crowders Creek in the Paddlers Cove subdivision and will be open to the community.
The new park will offer sports and recreation amenities that include three multipurpose synthetic turf fields; three baseball/softball fields; pickleball courts; a building to house scorers, restrooms and concessions; a community building; walking trails; shelters; and a playground. The community park also will be able to host local athletic leagues and tournaments, which can drive economic development in the region.
Woolpert is providing comprehensive design services that include architecture, mechanical engineering, electrical engineering, plumbing, civil engineering and landscape architecture. The general contractor for the project is J.D. Goodrum, which specializes in the construction of parks and athletics facilities.
"This project is being completed through a progressive design-build contract, which is more of an open-book collaboration concept that allows for transparency and flexibility between the three key players in a construction contract—the owner, the designer and the contractor," said Andrew Pack, Woolpert vice president and Education and Athletics practice leader. "Not many municipalities operate under these contracts to build parks, but it serves their needs well. We worked with J.D. Goodrum on the recently completed Sportsplex at Matthews (N.C.) and a handful of other parks in the region. We're excited to be able to provide this for the community of York County."
The Lake Wylie Recreation Park is projected to be completed in the spring of 2020.
About Woolpert
Woolpert is the fastest growing architecture, engineering and geospatial (AEG) firm in the country, delivering value to clients in all 50 states and around the world by strategically blending innovative design and engineering excellence with leading-edge technology and geospatial applications. With a dynamic research and development department, Woolpert works with inventive business partners such as Google and Esri; operates a fleet of planes, sensors and unmanned aircraft systems (UAS); and continually pushes industry boundaries by working with advanced water technologies, asset management, building information modeling (BIM) and sustainable design. The firm, which is among the ENR's Top 100 Design Firms, supports a mission to help its clients progress and become more progressive. For over 100 years and with 26 offices across the U.S., Woolpert serves federal, state and local governments; private and public companies and universities; energy and transportation departments; and the U.S. Armed Forces. For more information, visit woolpert.com or call 937-531-1258.