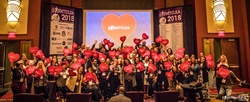 I learned so much at SMTULSA Conference! It was a pleasure to attend, and we plan on being there again next year
TULSA, Okla. (PRWEB) March 13, 2019
In today's digitally connected landscape, businesses, non-profits, artists, and authors must effectively leverage online social trends to reach their audiences. Equipping these organizations and entrepreneurs for social media success is the mission of the annual SMTULSA® Conference, the premier social media and business conference in Tulsa, Oklahoma. This year's conference gathers for a unique, interactive learning experience Thursday, March 28 through Friday, March 29, 2019, at the Pocahontas Greadington Learning & Creativity Center inside the Tulsa Central Library.
The mission of SMTULSA Conference is to foster social learning and networking opportunities that help area businesses grow. In informative, practical sessions, speakers will discuss digital marketing strategy, content creation, and other techniques to help businesspeople stand out in a crowded digital world and make a mark that will give their business longevity. In today's tight, competitive marketing space, conference attendees benefit from practical advice from business experts who are successfully using the social media tools and techniques they share about during the conference.
"I learned so much at SMTULSA Conference! It was a pleasure to attend, and we plan on being there again next year," commented Victoria Thurman Marrs, Event Director at Glass Chapel after attending the conference for the first time in 2018.
This year's conference features a wealth of knowledge from speakers who are actively using the techniques and tools that they'll be sharing. Attendees can look forward to creative insights, best practices, and insider advice from experts such as Cheryl Lawson, the Founder of Social Media Tulsa; Lyndsay Smith, Lead Paid Media Analyst at ArcBest; Becky McCray and Deb Brown, co-founders of SaveYour.Town; Mike Bausch, co-owner of Andolini's Pizzeria; and many others. The full agenda can be found at https://smtulsa.co/2019Agenda.
Conference attendees can expect to receive insightful perspectives on how social media can enhance their productivity and efficiency, as well as digital strategies designed to make their online content more engaging. In large group and smaller breakout sessions, speakers will coach attendees on a variety of timely topics, such as Instagram marketing, content writing for non-writers, SEO, storytelling for brands and how to market a so-called "boring business".
"You really need to attend Social Media Tulsa," says Daphne Leblanc. "It is a really beautiful, intimate session where you get to not only leave with a wealth of information but a handful of networking opportunities of people that you will stay connected to for years to come." Leblanc, who is the owner of Cafe and Laptop, a top social media training and management company out of Dallas, Texas, will follow up to her very popular Facebook Live session from last year's conference by sharing how Facebook Live will work for product launches.
In addition to the depth of knowledge shared in each session, SMTULSA focuses on connecting businesspeople, artists and entrepreneurs with their peers. Those who attend the SMTULSA Conference enjoy the close-knit, friendly atmosphere, which fosters connections that last long after the conference ends.
"Networking that you build here is not just a business network," says Meagan Ewton, a digital communications professional and public speaker based near Oklahoma City. "There are friendships and partnerships that are built here that I have literally seen last years. That's something that you don't usually get with any kind of business conference."
Registration for the 2019 conference is open at http://www.smtulsa.com/register. The cost is $400 per person ($250 for non-profits and educational organizations) until the conference is sold out. Organizations can also send teams of up to five people for the price of three (a total of $1,275).
About SMTULSA Conference:
The SMTULSA Social Business Conference is a well-known, respected two-day event on digital marketing practices in the U.S. heartland. Local and national speakers gather to offer keynotes, case studies, presentations, breakout sessions, and an abundance of networking opportunities for small business owners, entrepreneurs, bloggers, visual media artists, social media aficionados, and others with an interest in engaging through online methods. The conference is presented by Social Media Tulsa, the go-to social media marketing resource for local businesses and events such as Tulsa Oktoberfest, Center of the Universe Festival, Route 66 Marathon, Scotfest, and others. To learn more, visit http://smtulsa.com.