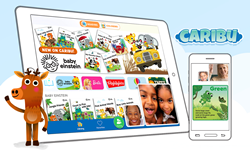 "Kids are feeling the effects of the outbreak, but don't always understand why grandma can't come visit, why the special family spring break trip may have been canceled, or why they're out of school for weeks," -- Caribu CEO and Co-Founder Max Tuchman
SAN MARCOS, Calif. (PRWEB) March 17, 2020
Due to growing concerns and quarantines over the COVID-19 Pandemic, more than 400M+ children around the world have been dismissed from school, are missing friends, and are unable to see their extended families.
Caribu, the family-friendly video-calling app, is helping bridge the gap created by social distancing and self-isolation by making their award-winning service FREE with UNLIMITED access during this tumultuous time.
"Kids are feeling the effects of the outbreak, but don't always understand why grandma can't come visit, why the special family spring break trip may have been canceled, or why they're out of school for weeks," said Caribu CEO and Co-Founder Max Tuchman. "Everything we do is about creating more meaningful connections, and that's what we think is most important right now--keeping families connected in the most engaging way. We're like Zoom for kids!"
With Caribu, kids can create special moments with their loved ones by going on a virtual playdate where they can read books from an extensive library of popular titles, play games, and even color together in a video-call. Caribu is a way to stay connected and build memories year-round but especially during a time where millions of families are under self-quarantine.
Connects kids with relatives and friends anywhere in the world
Named one of TIME Magazine's Top 100 Best Inventions
Uses fun books and activities to help kids stay focused and engaged while video chatting
Includes over 1000+ titles (and growing) from leading children's publishers like Highlights, Mattel, Usborne, Baby Einstein and more
Features fun games, educational activities, and coloring pages
Books available- in 8 languages
Users in 160+ countries
Available on iOS and Android smartphones and tablets
Visit http://www.caribu.com now to download the app and enjoy FREE access to quality screen-time activities during the COVID-19 Pandemic or check out their Facebook Page to learn more.
For media inquiries or interview requests, Leah@teamchicexecs.com.
About‌ ‌Caribu
Caribu‌ ‌helps‌ ‌parents‌ ‌and‌ ‌grandparents‌ ‌to‌ ‌read,‌ ‌draw,‌ ‌and‌ ‌play‌ ‌games‌ ‌with‌ ‌children,‌ ‌in‌ ‌an‌ ‌interactive‌ ‌video-call,‌ ‌from‌ ‌anywhere‌ ‌in‌ ‌the‌ ‌world.‌ ‌The‌ ‌result‌ ‌is‌ ‌an‌ ‌engaging‌ child-friendly shared ‌screen‌ ‌experience‌ ‌that‌ ‌is‌ elegantly ‌designed,‌ ‌carefully‌ ‌curated,‌ ‌and‌ ‌secure.‌ ‌Contains an‌ ‌in-app‌ ‌library‌ ‌filled‌ ‌with‌ ‌1000+‌ ‌titles‌ ‌from‌ ‌leading‌ ‌children's‌ ‌publishers,‌ ‌in‌ ‌eight‌ ‌languages,‌ ‌and‌ ‌coloring‌ ‌activities‌ ‌that‌ ‌can‌ ‌be‌ ‌drawn‌ ‌on‌ ‌simultaneously.‌ ‌The‌ ‌company‌ ‌serves‌ users ‌in‌ ‌160+‌ ‌countries,‌ ‌has‌ ‌won‌ ‌numerous‌ ‌international‌ ‌and‌ ‌national‌ ‌awards‌ ‌such‌ ‌as‌ ‌being‌ ‌named‌ ‌one‌ ‌of‌ ‌TIME‌ ‌Magazine's‌ ‌Best‌ ‌Inventions‌,‌ ‌and‌ ‌is‌ ‌backed‌ ‌by‌ ‌celebrity‌ ‌investors‌ ‌and‌ ‌great‌ ‌partners‌ ‌such‌ ‌as‌ ‌AT&T,‌ ‌Revolution's‌ ‌Rise‌ ‌of‌ ‌the‌ ‌Rest‌ ‌Seed‌ ‌Fund,‌ ‌and‌ ‌Toyota.‌ ‌Through‌ ‌a‌ ‌partnership‌ ‌with‌ ‌Blue‌ ‌Star‌ ‌Families,‌ ‌Caribu‌ supports ‌all‌ ‌currently‌ ‌serving‌ ‌U.S.‌ ‌military.‌ ‌For‌ ‌more‌ ‌information,‌ ‌visit:‌ ‌‌http://www.caribu.c‌om‌.