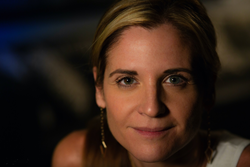 We are pleased to announce that Glennon Doyle is the 2021 Author Ambassador for Independent Bookstore Day.
SAN FRANCISCO (PRWEB) March 19, 2021
Glennon Doyle, activist and author of the #1 New York Times bestseller Untamed, a Reese's Book Club selection that has sold over two million copies; the #1 New York Times bestseller Love Warrior, an Oprah's Book Club selection; and bestseller Carry On, Warrior, is the "patron saint of female empowerment" (People) and has always been a champion of independent bookstores.
We are pleased to announce that Glennon Doyle is the 2021 Author Ambassador for Independent Bookstore Day. During the height of the pandemic, Glennon appealed to her millions of social media followers to support independent bookstores and signed thousands of exclusive special editions of Untamed to encourage her readers to buy local.
Glennon is championing indie bookstores because: "I have been to one million independent bookstores. I have met the booksellers who founded them and own them. I have fallen in love with them. Zero jerks own independent bookstores. They just don't. They are — always — people who believe in and deeply invest in communities and art and ideas. And during this pandemic, in which we have lost one local indie per week, we need to prioritize investing in these local businesses who invest so much in us."
As this year's Independent Bookstore Day (IBD) ambassador, Glennon is available for interviews to discuss her work, independent bookstores, and Independent Bookstore Day. Former IBD ambassadors include Washington Nationals pitcher Sean Doolittle and bestselling authors Tayari Jones, Celeste Ng, Emma Straub, and Lauren Groff.
Independent bookstores, like so many small businesses, were hit hard by the pandemic. More than 70 independent bookstores closed this past year and many others are still in danger of closing. Bookstores also rallied during the pandemic: Forty-two new indie bookstores opened in 2020, online sales at independent bookstores increased by 680 percent, and hundreds of stores pivoted and found new ways to support their communities and spread their love of books. And in spite of the pandemic, more than 700 independent bookstores across the country are participating in this year's 7th annual Independent Bookstore Day on Saturday, April 24.
This year's IBD will be a hybrid event that includes socially distanced in-store and virtual author events and activities as well as the sale of sixteen literary exclusives and special projects available in limited quantities at participating IBD stores and on their websites. These items are available only on Saturday, April 24, including a story by Stephen King and Joe Hill in book form for the first time; a signed, special edition Nigella Lawson book of essays and recipes; a special bound transcript of a conversation between poet Nikki Giovanni and Glory Edim of Well-Read Black Girl; a print of The ABCs of Black History for children; and many others.
Preview photos and full descriptions of the sixteen 2021 Bookstore Day exclusives here.
Independent Bookstore Day began in California in 2014 and became a national event the next year. Dozens of publishers have sponsored IBD and a host of authors, such as Neil Gaiman, George Saunders, Roxane Gay, Angie Thomas, James Patterson, Stephen King, and many others, have donated work in support of the event.
Facebook at Facebook.com/BookstoreDay
Twitter @BookstoreDay
Instagram @indiebookstoreday
#IndieBookstoreDay
For more information, contact:
Elka Karl, Publicist
hello@elkakarl.com / 510.508.7328
or
Samantha Schoech, Program Director
IBD@bookweb.org / 415.846.6131