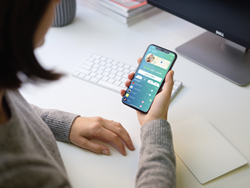 We recognize that parents need our solution now, more than ever.
SAN DIEGO (PRWEB) April 07, 2020
OurPact, the top-rated family screen time management solution, has announced today that their application has been made available, free of charge, to help parents manage their children's technology usage during the Coronavirus crisis.
With schools transitioning to digital learning platforms, and families encouraged to stay at home, screen time has risen dramatically in recent weeks. For many already-overwhelmed parents, the struggle to establish limits on technology through school lockdowns is proving complicated. While an increase in digital activity can be expected – and warranted – during this crisis, the risks of excessive device use prevail, and experts are encouraging parents to remain mindful of screen time recommendations.
To help parents establish boundaries around screen time, the top-rated OurPact app is offering families three months access to their Premium features, which includes web filters, device-usage schedules and allowances, and the ability to whitelist educational apps during 'school' hours. To use the app, parents simply establish management preferences for their individual children; from there, OurPact controls their device access automatically. If parents want to block children's tech access on-demand, they can do so remotely from within their OurPact app, making it the perfect hands-off solution for families.
"We recognize that parents need our solution now, more than ever," says Amir Moussavian, the Founder and CEO of OurPact. "Digital devices will be critical to navigating through this crisis, but so too will be routine, structure, and boundaries – especially for younger kids. This is our way of helping families maintain some balance and stability over the coming months."
The new version of OurPact released this morning allows new users to join their existing community of over 1.2 million families, with waived subscription fees through the COVID-19 stay-at-home orders. Parents can redeem their promotion through OurPact's mobile iOS or Android parent apps, or by signing up for an account at ourpact.com.
About OurPact:
OurPact is the flagship product for San Diego-based software company Eturi Corp. The cross-platform, cross-network application allows parents to remotely manage their children's iOS and Android devices through automated schedules, screen time allowances, individual app controls, web filters, and GPS monitoring. With tens of thousands of 5-star reviews, it's been dubbed a modern parenting necessity. To learn more or try OurPact for free, search for OurPact in the iOS App or Google Play Stores, or navigate to ourpact.com.