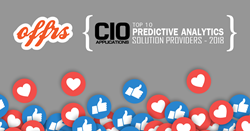 Predictive analytics has a leading role in uncovering otherwise hidden, yet highly-motivated home seller leads for our agents across the country, making offrs.com an indispensable asset as we leave 2000's era RE tech and enter into the 2020's
SARASOTA, Fla. (PRWEB) July 19, 2018
offrs.com receives CIO Applications' 2018 top rating for Predictive Analytics in Real Estate. The annual award, published by Silicon Valley-based print publisher, CIO Applications, recognizes top performers by industry with a focus on predictive analytics innovation, industry impact and measured business results from practical application.
This year's Top 10 award recipients include familiar cornerstone influencers as well as many rapidly-growing disruptors in their respective markets. Recognizing the power of predictive analytics as a strategic data analysis tool remains a priority for CIO Applications who covers this and other, similar trends with regard to technology's overall influence on national markets.
"Predictive analytics has a leading role in uncovering otherwise hidden, yet highly-motivated home seller leads for our agents across the country, making offrs.com an indispensable asset as we leave 2000's era RE tech and enter into the 2020's," says Adam Orsini, National Sales Coordinator at offrs' National Headquarters in Sarasota, FL.
CIO Applications' research has continued to uncover new trends across multiple industries, tracking new and established disruptive players within each industry segment. This year's announcement provides continued insight on the state of predictive analytics technologies including AI and non-AI-based custom data-crunching algorithms.
"Agents are already feeling the impact from an all-time-low national housing inventory and a high-influx of new agents entering into the field." continued Mr. Orsini "But offrs has received a lot of industry attention over the last two years and the secret's getting out. Independent brokerages and agents are now waking up to the next-generation lead solutions we provide."
About offrs.com
offrs.com is the nation's leading innovative provider of predictive analytics-driven lead generation and lead nurturing solutions for real estate agents. Headquartered in Sarasota, FL and with regional offices and representatives nationwide, offrs.com empowers over 5,000 agents from national and independent brokerages across the nation. For more information, visit http://www.offrs.com/info.