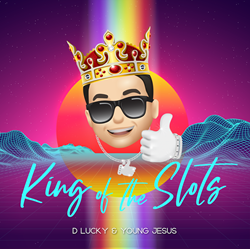 Just Like That!
LAS VEGAS (PRWEB) March 08, 2021
"KING OF THE SLOTS"
D LUCKY AND YOUNG JESUS

Brother! It's amazing what you're doing. You have some amazing skills, better than anyone I know. What makes it even better is you giving to people you don't even know. @ke_a_ka (Instagram 2/21/21)
"My mindset is so strong, and my energies are so worthy every time I win. Giving back is so encouraging." – Dlucky.
@Dluckyslots Thanks for inspiring me to manifest my dreams with the visions and works of faith. I will be rich! Just Like That!! Thanks for the Tips! (@bigtate33)
#1 Slot Player in the World, D Lucky, turned his attention away from the slots to the streaming world. Along with the talents of up-and-coming artist Young Jesus, D Lucky broke into the hip hop music scene.
Giving his fanbase a deeper scope of his reality and theirs to come, we are nearing the release of D Lucky and Young Jesus's highly anticipated debut single 'King of the Slots.'
Availability for the single will be through iTunes, Tidal, Pandora, and many more nationally known retail and digital outlets on March 9th of this year.
With a huge social media platform, @Dluckyslots (2.2M Instagram followers), D Lucky transitions with familiarity from the top of the slot world to the top of the music chart. Fast Cars. High Life Night Life. Work Smart; Play Hard. Top Slot.
Surrounding the release date (3/9/2021), D Lucky will host Live Feeds for the celebration and preview of 'King of the Slots.'
Follow on D Lucky on Instagram @dluckyslots
D Lucky's inauguration to the music industry has been a surprise to millions. The basis for his decision is true to character. Changing the game is how D Lucky works for his supporters. With his help and inside tips, anyone can become 'King of the Slots.' He wants to see his followers post real time videos of their slot play and singing that lyric, "I'll be winning big." To D Lucky, being King means sharing power.
"I'm the leader in this game that you really must follow." - D Lucky.
In conjunction with the release of 'King of the Slots,' D Lucky has improved and refocused his vision with Instagram. He is giving his fans real insight into his slot play expertise with local pop-ups and a tip guide for an added advantage to cashing out.
"Just Like That." – D Lucky.