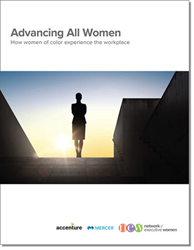 "Companies that assume all women's workplace experiences, barriers to success and career trajectories are the same marginalize the unique experiences and perspectives of women of color."
CHICAGO (PRWEB) October 15, 2018
Women of color are having much different workplace experiences than their white peers and will remain underrepresented in management and executive roles if companies do not focus on barriers to their success, according to "Advancing All Women," a new report by the Network of Executive Women in partnership with Mercer and Accenture.
Just 15 percent of managers, senior managers and executives at the retail and consumer goods companies surveyed are women of color — a figure that will decline over the next 10 years if there are no changes in talent strategies.
The good news: Women of color could hold one in four of those roles by 2027 if companies address hiring, promotion and turnover challenges.
"Companies that focus on 'all women' in their organization — and assume that all women's workplace experiences, barriers to success and career trajectories are the same — marginalize the unique experiences and perspectives of women of color," said NEW President and CEO Sarah Alter. "Organizations like these do not benefit from diversity of thought and perpetuate the women of color achievement gap."
Key influencers
As a group, women of color pointed to two factors influencing their intent to stay with a company: A feeling of belonging and satisfaction with their ability to achieve long-term career goals. These were the only two factors consistently selected by women across all ethnic and racial groups surveyed.
In both areas, companies are falling short. Only six in 10 women of color report feeling a sense of belonging, compared to seven in 10 white women.
"Corporate cultures that are not inclusive encourage 'covering,' as women of color face conscious and unconscious biases against their gender, race and, for some, religion," Alter said. "Uncomfortable being authentic at work, women of color often feel pressure to hide aspects of their lives, leading to greater workplace stress."
Women of color also reported less satisfaction than white women with their ability to achieve long-term career goals at their company. Forty-seven percent of Hispanic women, 41 percent of Black women and 38 percent of Asian women said they feel good about their ability to reach their goals, compared to 50 percent of white women.
"Most companies still have some serious road to travel to get to workplace equality for women and an even farther distance for women of color," Alter said.
The report includes strategies to move toward more gender- and ethnic-equal workplaces. Download the full report at newonline.org/allwomen.
ABOUT NEW
Founded in 2001, the Network of Executive Women represents more than 12,000 members, 850 companies, 115 corporate partners and 22 regions in North America. For more information about NEW and its learning programs, events and insights, visit newonline.org.