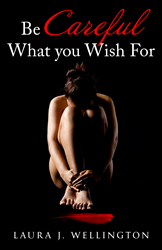 MADISON, Conn. (PRWEB) September 02, 2020
"Be Careful What You Wish For" (Words Matter Publishing) revealed its cover to the press and consumers last week, igniting a fury of excitement. A paranormal love story, this powerful work of fiction weaves the real-life circumstances of the author, Laura J. Wellington, throughout the bold, emotional and gripping tale.
Back cover book blurbs speak to the compelling nature of the book, two of which can be found here:
"If you can read Be Careful What You Wish For without tears flowing like a broken hydrant, you are not of this species or have never been profoundly in love. And you don't know how important love is to life and "feeling alive". -- David N. Marchese
"I'm speechless. I bawled my eyes out finishing Chapter 15. It revealed one of my greatest fears. "Be Careful What You Wish For" is riveting. You are carefully guided through so many emotions, feeling every bit of joy, sadness and excitement that Evie Remington went through. Once I started it, I couldn't put it down till it was finished. Loved it." -- Christina Cewe
Not unlike Nicholas Sparks, Wellington seems to be able to reach into the hearts and souls of readers and pull out tears. Thus, film companies are already showing interest.
The book releases October-November 2020. Wellington is also offering the opportunity to win a signed copy, One Hope wine, and her virtual attendance at readers book clubs through a very creative contest. Details can be found here.
"I wanted to make this into more than a routine cover reveal as this book is anything but routine. It will change you along with your views on how far love can go." -- Laura J. Wellington, Author.
To learn more, see http://www.laurajwellington.com or read this link.
Contact: Tammy Koelling, Words Matter Publishing, tammy@wordsmatterpublishing.com