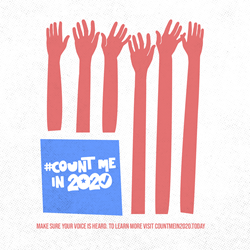 #CountMeIn2020 is a bi-partisan effort seeking to create a groundswell of empowerment calling fellow United States citizens to share their registration status and polling locations, in addition to demanding adequate administrative support from election officials across the nation.
SAN FRANCISCO (PRWEB) September 29, 2020
Today, in advance of the first 2020 Presidential Debate, #CountMeIn2020, a social media campaign, and informational website CountMein2020.today, launches to encourage conversation and action amongst the voter community as Election Day 2020 approaches.
#CountMeIn2020 is a bi-partisan effort seeking to create a groundswell of empowerment calling fellow United States citizens to share their registration status and polling locations, in addition to demanding adequate administrative support from election officials across the nation. There are two major goals: first, to engage with existing voters and motivate discussion about their current plans to vote, and second, to provide resources for citizens to confirm their registration to ensure their voice is counted.
In this crucial election year, with election rules varying from state to state, it is important to know the facts -- and they are more complicated than one might think. For example, while 23 states and Washington D.C. have made allowances around voting in light of the Covid-19 pandemic, 5 including Texas, Louisiana, Mississippi, Tennessee and Indiana still require an excuse beyond "covid-19 fear" to cast a mail-in ballot. Failure to understand one of these points could prevent citizens from a say in who becomes the next President of the United States, in addition to the elected Senate and all of the House of Representative officials. Further, the partisan divide between giving citizens the option to vote-by-mail vs in-person will force many to choose between one's health and right to vote through an ongoing pandemic. Voters at risk for COVID-19 or who will make the personal choice to remain quarantined will need all the facts in order to ensure their preferred method of voting is accessible or to know where to turn if it is not.
The #CountMeIn2020 campaign is an undertaking of Demonstrate, a leading full-service marketing and communications agency based in San Francisco. "It is of paramount importance this election year that voters are coming out of the woodwork, from those who have held back in the past to those who are eligible to cast a ballot for the first time, and to see unprecedented voter representation from all eligible social and cultural groups in November," said Joey Hodges Founder and CEO of Demonstrate. "Storytelling is in our DNA, and if we can influence voter turnout to even a minimal extent by joining this narrative, our efforts in launching #CountMeIn2020 will have been worth it."
#CountMeIn2020 Social Media Campaign Overview
The country has faced monumental challenges this year, and at a moment where the democratic process is made difficult by a pandemic, financial hardship, varying perspectives on supporting USPS, and much, much more, it's time to meet voters in this moment. The #CountMeIn2020 social campaign seeks to inform, inspire, and mobilize followers to learn of new and effective ways to stay civically engaged and to go into November 3rd, 2020 with 100% confidence that every vote is cast and counted—and encourage others to do the same.
To do this, the campaign asks voters across the country to take part in the #CountMeIn2020 challenge by posting on Tuesday, September 29th (the first presidential debate) through Election Day by tagging their state representatives asking them to #CountMeIn2020 by sharing in what state they are registered, how they will be voting and tagging peers to do the same along with a picture of their raised hand.
Social media templates can be found HERE.
Website Resource
This November, you have options and CountMeIn2020.today has collected info in a digestible format from USA.gov in addition to official state level resources. Whether individuals are voting in person, by mail, or through a county election office, the #CountMeIn2020 website is a resource for those looking for a starting point when it comes to understanding and updating your registration status, how to receive voting materials, and cast your ballot.
Campaign Video & Assets Toolkit
Launching as part of the campaign is a #CountMeIn2020 video and assets toolkit which will be appearing through Election Day across @countmeintoday Instagram as well as Demonstrate's Twitter and Facebook social media channels. The video chronicles voter participation and engagement and the evolution of that narrative from the founding of our nation through today. The toolkit includes a social media profile sticker and various GIF and clipart assets available for use including standard red, white and blue colorways in addition to expanded palettes spanning diversity, LGBTQ+ and Trans.
Campaign video can be found HERE
Assets toolkit can be found HERE
About Demonstrate
Founded in 2015, Demonstrate is an award-winning, independently owned, boutique full-service marketing and communications agency with headquarters in San Francisco and an office in New York, New York. Boasting a team of highly imaginative social innovators, the agency helps clients navigate the current cultural landscape and align their initiatives with relevant trends and niche markets. Demonstrate excels at developing and executing insight-based, integrated marketing programs consisting of strategic brand communications planning, public relations, creative strategy and content production, influencer and social campaigns, experiential events and paid media. For more information about the agency, please visit wearedemonstrate.com. Follow Demonstrate on Facebook, Instagram, LinkedIn and Twitter.
Media Contact:
Demonstrate
countmein2020@wearedemonstrate.com