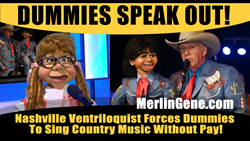 Dummies Speak Out!
NASHVILLE, Tenn. (PRWEB) June 27, 2019
A heartbreaking scandal, now referred to as, "DummyGate", has just surfaced in Nashville, Tennessee. Details have recently emerged regarding the nature of this sad tale of abuse and corporate greed.
A Nashville Ventriloquist has been forcing his ventriloquist dummies into singing and performing country music without any salary or compensation. Various news agencies have accused Nashville Ventriloquist "Merlin Gene" of falsely luring his ventriloquist dummies into working for him for free, by promising them success in the Country Music entertainment industry. The dummies, "Arjay Buechel", and "Polly Wynotte", have been working with Nashville artist Merlin Gene for several years now. The dummies have been forced to endure long periods of time locked inside trunks and suitcases. The ventriloquist dummies claim that Merlin Gene has promised them recording contracts, and has falsely mislead them.
Merlin Gene has supposedly preyed on the ventriloquist dummies' emotions, by exaggerating the possible outcome of performing in his Country Music variety shows. The ventriloquist dummies have brought their claims to the attention of news reporters, and plan to possibly leave The Merlin Gene Show. The ventriloquist dummies have issued public statements that they may pursue their entertainment careers on their own. In addition, the dummies may also take proper legal action to recoup salary, wages and compensation that should be due.
The Ventriloquist, Merlin Gene, has refused to directly address these accusations.
https://www.youtube.com/watch?v=FwbVT8n_rEY&list=PLuChlrFEXftwXPZwDAEjbqCM-pw17CSQI&index=2&t=0s
(Note: This is a parody release, and is purely fictional, published for entertainment purposes)