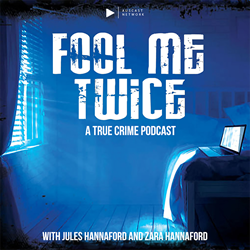 Jules' raw and honest personal account of her struggles is a beautiful example of how owning our own stories gives each of us the power to write a brave new ending.
HONG KONG (PRWEB) September 18, 2019
Searching for love online, Jules was lured to another country and subsequently swindled out of thousands of pounds by a professional con-artist. She was assaulted and threatened by him, and the series depicts the slow erosion of her grip on reality, the dangerous red flags that are easy to miss, and her fight for justice or, at the very least, closure.
Eight years after her ordeal, Jules's daughter, a writer, was interested in knowing more about individuals who fall for scams, and what could motivate someone to perpetrate a sweetheart scam such as the one her mother endured. Zara narrates the podcast from her perspective as a concerned daughter and journalist.
Their project evolved from an autobiography of the same name, written by Jules herself, into a nine episode podcast series. Jules's story is woven into reporting on the psychology, social context and common threads of stories experienced by other victims. Ultimately we learn that this can happen to anyone, and victims are not confined to any particular age, race, or social class. Gathering information from experts in fields of psychology, web security, and financial scams, Jules and Zara identify the factors which suggest whether a person is likely to become a victim. They collect tips and advice from advocates against romance scams, including how to avoid and also how to extricate oneself from dangerous situations.
People who scam are hard to pin down, as honesty defeats the very purpose of doing what they do. In an amazing turn of events, Jules tracked down a scammer from Ghana who agreed to be interviewed. He gave us a rare insight into the inner workings of the mind of someone whose profession is to use lies and invented personas to gain access to money.
'Fool Me Twice' podcast promo: https://youtu.be/715uRflm4jM
This podcast will be available on the 25th of October 2019 on all podcast platforms including:
Auscast Network: https://www.auscastnetwork.com/home/fool-me-twice
Apple Podcasts: https://apple.co/2lGEPru
Spotify: https://spoti.fi/2lXJXau
Produced and edited by Jules Hannaford
Narrated, written and directed by Zara Hannaford
Sound design by Shayde Furlong
'Fool Me Twice' theme song performed by Angele Meyerhoff
Further contact:
Instagram: https://www.instagram.com/foolmetwicejh
Facebook: https://www.facebook.com/Fool-Me-Twice-403544433443161/
Twitter: http://www.twitter.com/juleshannaford/
Linkedin: https://bit.ly/2CjvdaB
'Fool Me Twice' book won a Gold Award from the Nonfiction Authors' Association:
shorturl.at/nwz06
Available on Amazon:
USA: https://amzn.to/2Ha7r6I
UK: https://amzn.to/2D6TVN2
Canada: https://amzn.to/2QEdnEt
Barnes & Noble: https://bit.ly/2QIiljA